Don't Miss This New Billie Eilish Documentary on Apple TV+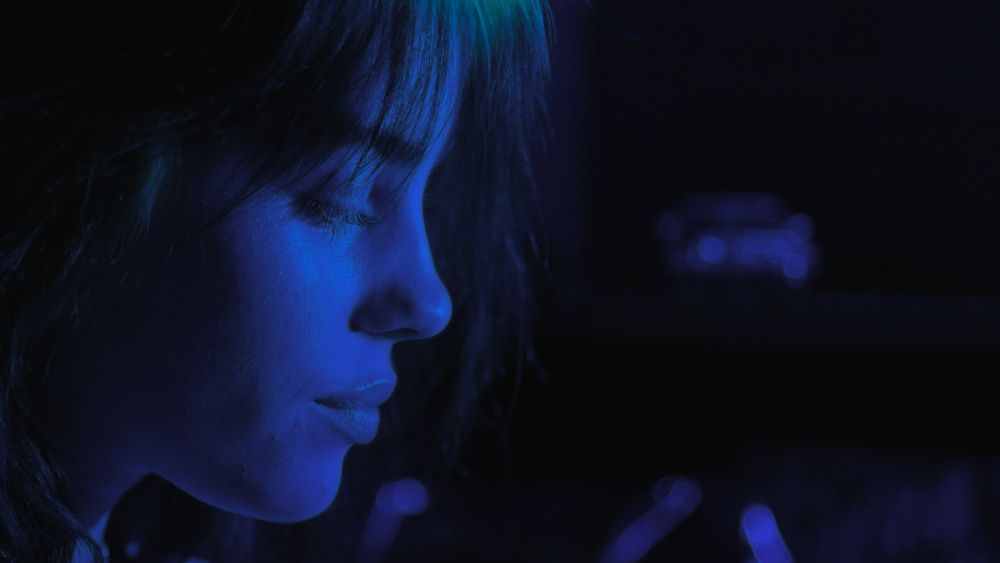 Director RJ Cutler's new film Billie Eilish: The World's a Little Blurryfollows the star through a career-defining year writing and touring her first full-length album, right up until the day the world shut down
There's a moment pretty early on in the new Billie Eilish documentary The World's a Little Blurry when a discomfiting sense of familiarity sets in. The two-plus hour film, which chronicles the creation of Eilish's When We All Fall Asleep, Where Do We Go album and ensuing tour, feels like a flashback—a time capsule of pre-pandemic collective memories: the sensorial overload of live shows in crowded venues packed with screaming teenagers; the outpouring of emotion triggered by accidentally running into someone you've loved; the visceral friction of reluctant interactions with strangers; the last Coachella.
"It's like the world screeched to a halt within weeks of our wrapping," Director RJ Cutler tells Tatler. "In fact, I think my last shoot with Billie was on March 9th, which was a Monday night. And March 13th, which was a Friday night, was the night the country shut down."
(Related: Etiquette During the Covid-19 Pandemic: Do's and Don'ts When Interacting With Others)
Through an intimate narrative in which everyone who is or has ever been a teenager will likely recognise a piece of themselves, Cutler and his film crew follow Eilish over the course of a whirlwind career-defining year, from her childhood home in Highland Park where she still lives with her parents Maggie and Patrick, around the world and back. With unfettered access and the trust of the family, Cutler was also able to include never-before-seen footage from Eilish's childhood—an early peek at the musical prodigy and how her creativity and talents were nurtured from a young age.
"Having been born in 2001, Billie's entire life has been captured, to some degree, by a video camera," Cutler says. "Some of Maggie's footage is absolutely astounding: a point of view that only a mother could have. And they knew they were going through something special while they were creating the album, so they made sure to find ways to record key moments."
Billie Eilish first made waves in the pop culture landscape when, as a 14-year-old, she and her brother Finneas wrote, produced, and uploaded the song Ocean Eyes on SoundCloud. A music video, a record deal, and a hit EP followed quickly thereafter, and Eilish headed out on tour in 2017.
"From the moment I met Billie [in 2018], I believed we were onto something special," Cutler says. "My producing partner Trevor Smith and I were invited to meet with Billie and her family and we went to their home and we sat around the picnic table in their backyard. There was a trapeze. And a lot going on. The house was filled with things that people had sent her. She was 16 at the time and I was engaged from the moment we met. In part, because I instantly felt that there was a certain amount of miracle going on that was beyond comprehension.
"Who is this young artist who seems so fully formed but is so clearly still becoming?" Cutler continues. "Where does it come from? Is she from another planet? And then there's this very human person. There's this person who's a daughter and a sister and a kid and very much a human being. When I talk about the miracle, it's not just the art, it's also the empathy. It's also the pain she's experiencing—and the joy—on behalf of her audience. It's the connection to millions. It's something mythic."
(Related: Tatler Tunes #1: Singapore Tastemakers Share Their Curated Playlists To Uplift The Community)
While this documentary is an obvious must-see for Billie Eilish fans, the film is also compelling viewing for anyone who, after the year we've all had, just wants to feel something again. Watching Eilish, an empath and an artist, whose highs are way higher and lows are way lower, is a reminder that there are emotions beyond the depersonalised grief of this global pandemic and the flatline sameness of ordinary everyday life under lockdown and social distancing. One minute, she's thrashing around onstage, neon hair flying, a larger-than-life superstar the spotlight; a moment later, she's a diminutive girl in an oversized hoodie, weeping uncontrollably in the arms of her childhood crush, Justin Bieber.
"That's the beauty of this kind of filmmaking," Cutler says. "It allows us to see these profound truths about life. If you do it well and you have the right relationship with your subject and they really give you access and they're true to you and honest, you can experience a moment like that."
As Eilish basks in a halo of the success of her first full-length album, becoming the youngest person to sweep all four Grammys key categories—Best New Artist, Record of the Year, Song of the Year, and Album of the Year—in 2019, she's also grappling with her own mental health, and there's a strong undercurrent of pain present throughout the documentary, always there, just below the surface.
(Related: 11 Netflix Documentaries to Inspire You to Make 2021 Your Most Positive Year So Far)
There's a happy ending, though, at least, in the Hollywood version. Near the end of the film, a newly-licenced Eilish is driving down the street in her car.
"I'm nominated for six Grammys and I have my dream car," she says. "Finneas has his dream car. It's raining. I have my doggy in my car. I had donuts last night. I'm not in a relationship, thank the lord. My relationship with my family is good. I am pretty, somewhat. I am famous as ****. Life is good."
And just like in life, this feels like a respite, a moment of happiness when everything is OK, finally, even if it's only temporary.
"That scene is not just fame and Grammy nominations," Cutler says. "She's feeling good about how she's feeling physically. She talks about her relationship with her family. She talks about her dog. She talks about eating some donuts. So she's in a good place. And she says life is good. And that's what the movie is about. The movie is about Billie Eilish's journey to Life is Good. Just for a moment, just for a moment."
Billie Eilish: The World's a Little Blurry is available to stream on Apple TV+.