Fitness Junkies, This Is The Hotel Stay You Need To Book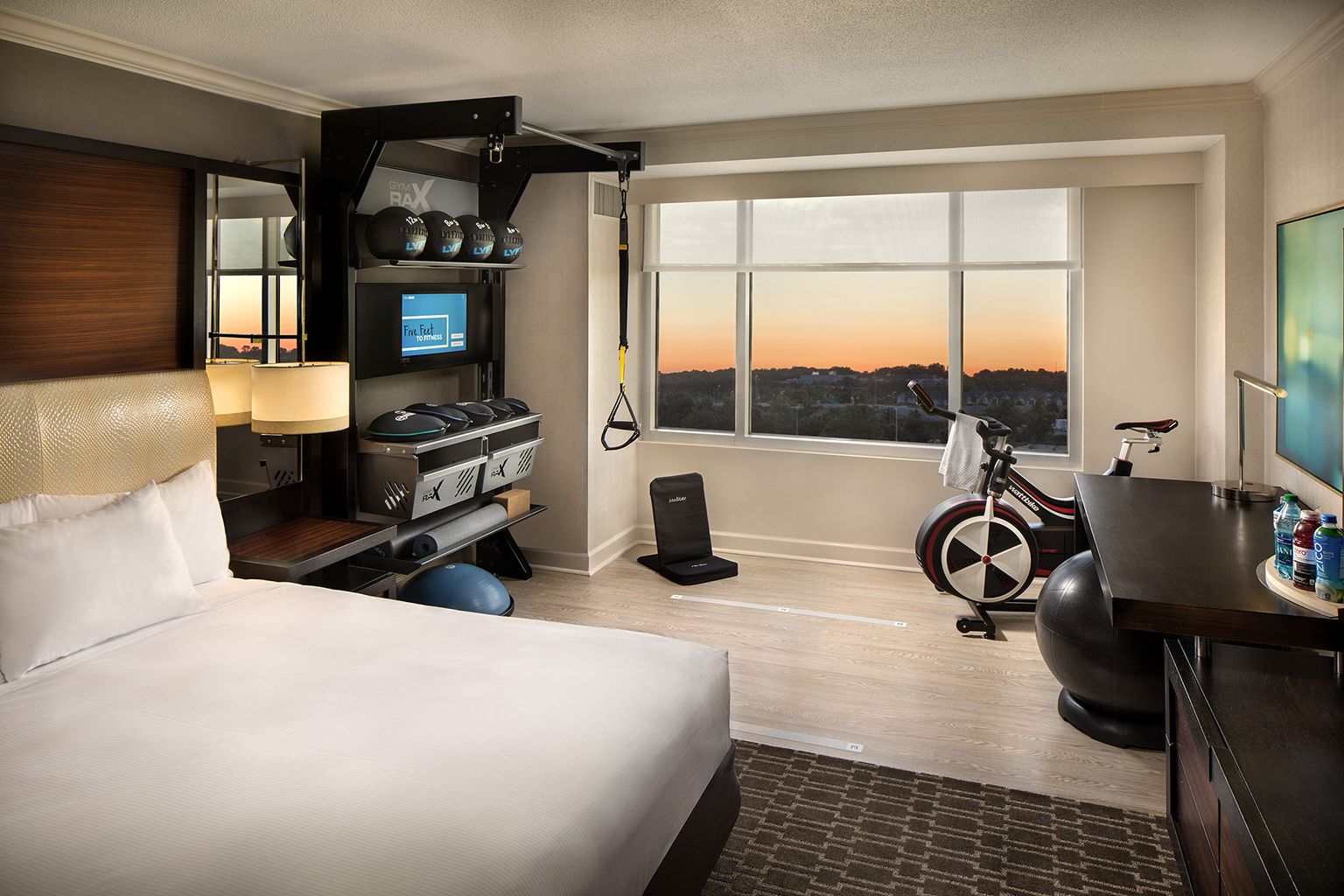 Yup, there's going to be a gym in your room.
The Hilton Hotels hope to offer fitness fans an even easier way to continue their workouts when travelling by including a variety of workout equipment and accessories in its guest rooms.
Five Feet to Wellness will provide guests with indoor bikes for long or short interval style training, Gym RaxTMtraining stations with apparatus for strength, core, suspension workouts, and more than 200 bespoke fitness videos offering guests classes in HIIT, Yoga, Stretch, Recovery, and more, and all in the privacy of their own hotel room.
And it doesn't stop there. With wellness now meaning more than just sport and fitness, Hilton has taken an equally holistic approach with Five Feet To Fitness, including a meditation chair for the mindful traveler, blackout shades for a restful nights' sleep, Biofreeze to ease sore muscles, and a selection of protein drinks to refuel after your workout.
(Related: Hilton gets in on boutique hotel trend)
Hilton hopes the move will be a step towards modernizing hotel fitness experiences and offering a more tailored and personalized approach—a big step away from 20 years ago when Hilton became one of the first major hotel brands to standardize hotel gyms.
"A guest room that combines a sleep and fully integrated fitness experience delivers an impressive new dimension of convenience and personalization—an industry first," said Ryan Crabbe, Senior Director, Global Wellness at Hilton. "Five Feet to Fitness has been thoughtfully engineered to serve as a guest's personal wellness stage, complete with sports performance materials and best-in-class gym accessories. Guests will quickly realize we have gone much further than simply placing a piece of equipment in a room."
However, the chain is not the only hotel brand to be putting an emphasis on fitness. Starwood Hotels also recently upped the well-being factor in their Westin hotel chain, teaming up with fashionable spin studio Peloton to add the company's state-of-the-art bikes into fitness centers and guest rooms across the US. Guests can use the bikes to join live Peloton classes, or opt for Beyond the Ride strength, cardio and yoga workouts using the hand weights and yoga accessories provided in guest rooms.
(Related: The Tatler Guide to Tulum, Mexico)
In addition to hotels moving into the wellness trend, gyms are also getting into the hospitality industry, with sleek and stylish fitness club Equinox set to open its first hotel in New York City in 2019. Naturally based around a strong health and wellbeing theme, with the club's largest ever gym and access to indoor and outdoor pools, the project looks set to be another haven for the new generation of well-being warriors, for whom a week off work does not mean a week off working out.