10 Moschino Spring/Summer 2020 Picasso Masterpieces That Will Add An Artful Twist To Your Wardrobe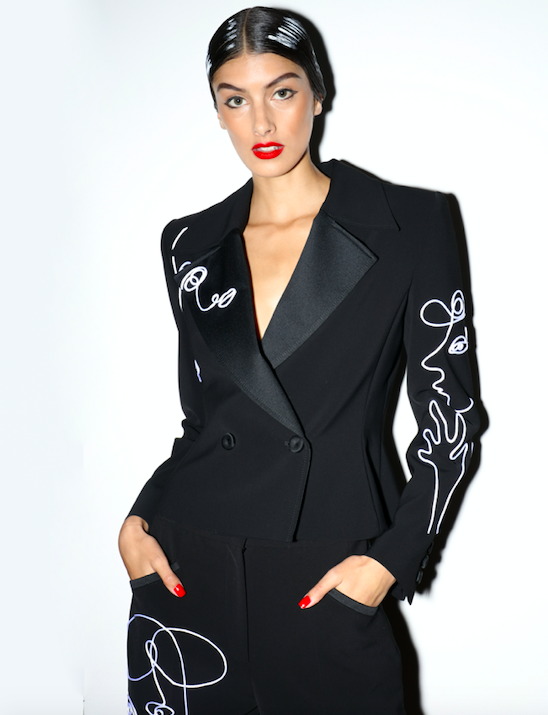 Why hang your art pieces when you can wear them?
If we could pick one word to describe last year's most memorable fashion moment, it would have to be campy. The Met Gala 2019 theme was "Camp: Notes on Fashion", and just a few months later, the King of Camp himself, Jeremy Scott, delivered a collection of wearable art (literally) for Moschino's spring/summer 2020 runway show.
Paying homage to Pablo Picasso, the abstract nature of the Spanish artist's work came through in an aesthetic sensibility that's theatrical, kitschy and of course, campy. Combining high art and pop culture that is synonymous with the Italian house, each look presented models as the canvas and the clothes as art pieces "painted or sculpted" onto them.
(Related: Met Gala 2019: The 'Campiest' Outfits On The Pink Carpet)
Kaia Gerber channelled the Girl With a Mandolin in a larger-than-life structured guitar cocktail dress. Bella Hadid played the Harlequin in a sequin diamond-pattern clown-suit, and then there was Cara Taylor as a living artwork in a gilded frame.
From paintings to sculptures and abstract cubism, Picasso's iconic oeuvre was presented in wearable works of art. We have curated 10 Moschino spring/summer items inspired by five key Picasso artworks for those who choose to not display their art investments on walls but don them in appreciation instead. Swipe right to shop.
1/5 Head of a Woman, 1958
A sharp blazer, white shirt and jeans featuring a clean and modern interpretation of this deconstructed masterpiece will be evergreen wardrobe staples for decades to come.
2/5 Le Marin, 1943
3/5 Les Demoiselles d'Avignon, 1907
The nude colour palette on this paint can leather bucket bag was inspired by Les Demoiselles d'Avignon, one of Picasso's famous cubism paintings. The other kitschy artist accessory to tote around is the paint palette leather clutch.
4/5 Homme et femme nus, 1968
Call it a visual metaphor or a studied translation, fans of Moschino and the artist will appreciate the exaggerated dimensionality of this outfit that recalls Picasso's Naked Man and Woman. This talking point ensemble (2D sleeves and balloon skirt) is ideal for an art gala or gallery opening where the outfit will be most valued and appreciated.
(Related: 6 Must-Visit Design and Fashion Exhibitions in 2020)
5/5 The Weeping Woman, 1937
These dresses aren't just simply clothes—they are Jeremy Scott's works of art. Referencing Picasso's The Weeping Woman, the reimagined prints were hand-painted in the studio and then digitised onto the collection. ­