Girard-Perregaux's Iconic Cat's Eye Watches Turn Deep Blue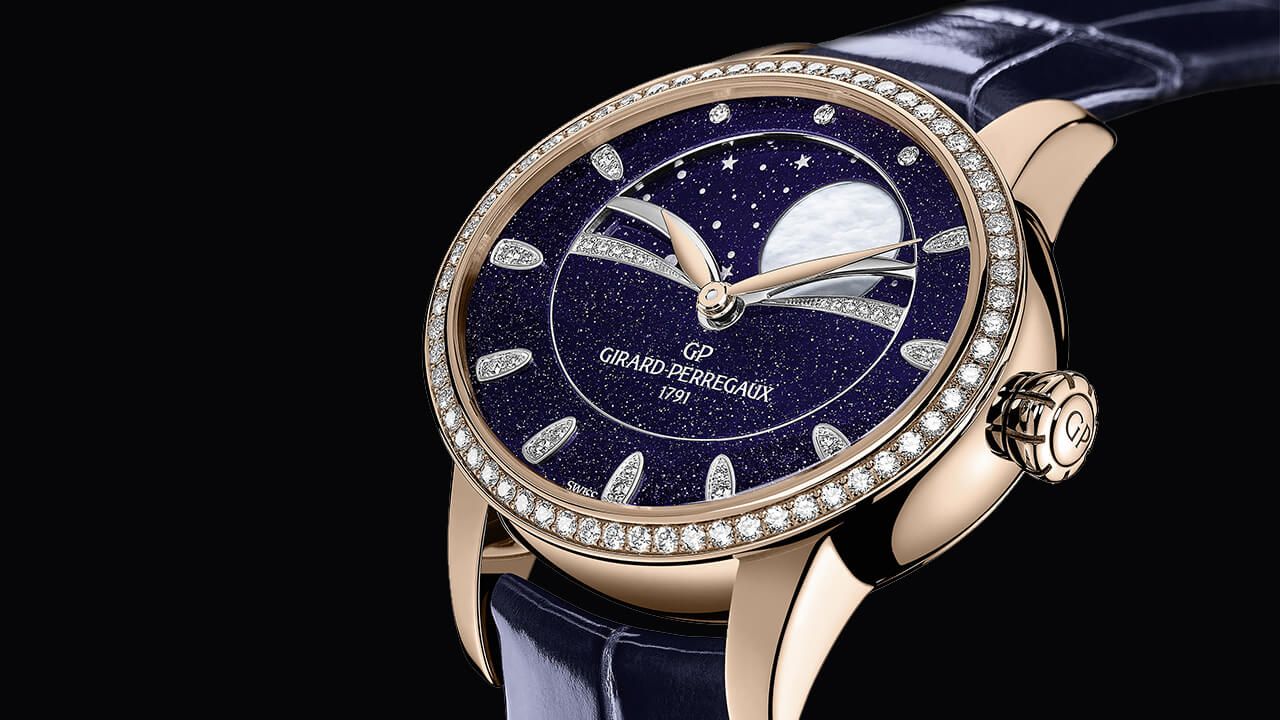 The watchmaker's love for aventurine is apparent in its latest ode to the beautiful material shown in three iterations of its iconic Cat's Eye timepiece
There is an unmistakable affinity between Girard-Perregaux and aventurine, a material the Swiss watchmaker has chosen to feature in multiple variations of its iconic Cat's Eye ladies timepiece over the years. It is a choice that, quite aptly, did not come out of the blue, seeing how aventurine perfectly matched the earlier Cat's Eye creations, including the Celestial and Day & Night models. For 2019, aventurine is once again at the centre of the latest Cat's Eye launches, used prominently in the dials of three key additions to the line.
The shimmering appearance of aventurine makes it look so much like a natural gemstone that many are surprised to find out that it is actually a man-made material. Legend has it that aventurine came into existence in the 18th century when a glassmaker accidentally spilled copper filings into his materials, producing a creation filled with shiny, sparkling flecks that gave it an entrancing quality. As fate would have it, this fortunate mishap gave the world yet another beautiful material to make precious objects with.
Luxury watches, of course, provide an excellent canvas with which to showcase beautiful materials, and while other brands favour natural hard stones such as malachite and lapis lazuli, Girard‑Perregaux has seemingly set its eye on captivating aventurine.
This year's Cat's Eye stars come in the form of a simple, automatic watch, a moonphase ticker and a tourbillon. The Cat's Eye Majestic Aventurine, which is equipped with the self-winding calibre GP03300-0121 that boasts 46 hours of power reserve, may be simpler than the other two but is no less dazzling with a clean aventurine dial set and drop‑shaped diamond hour markers, as well as another 60 brilliant-cut diamonds all around its pink gold bezel. What makes this piece stand out from the rest of the collection is that its ovoid case, unlike the usual designs, is arranged vertically and beautifully extended by tapering lugs.
The Cat's Eye Celestial Aventurine, on the other hand, features the signature oval case in a more traditional horizontal alignment, which is actually something of a rarity in the horological world. The pink gold case and dial are gem-set with 95 brilliant-cut diamonds of nearly one carat. The moon in its moonphase indicator is elegantly marked out with mother-of pearl and accompanied by scattered stars that seem to make companions out of the shimmering specks in the aventurine dial. Underneath its beautiful exterior is a moonphase complication so accurate that it will only require a correction in 360 years.
Finally, there is the Cat's Eye Tourbillon Aventurine, the piece de resistance of the trio of new models. While there have been previous tourbillon models in the Cat's Eye range, this new creation stands apart with its exquisite gem setting. Baguette diamonds trace out a radiating pattern across the dial and a bow-like shape across the tourbillon carriage, imbuing the watch with a feminine touch. The white gold case, lugs and buckle are also set with baguette diamonds, while the flower‑shaped crown is topped off with a rose-cut sparkler. Fitted with the manual-winding calibre GP09700-0015, the tourbillon boasts 70 hours of power reserve and is water‑resistant up to 30m.
All three watches are fitted with a midnight blue alligator strap, in line with the colour theme that we think has never been more bewitching—a fact that every woman will surely agree with.