All The Gorgeous Jewellery From The Fiona Kotur Marin x Swarovski Collection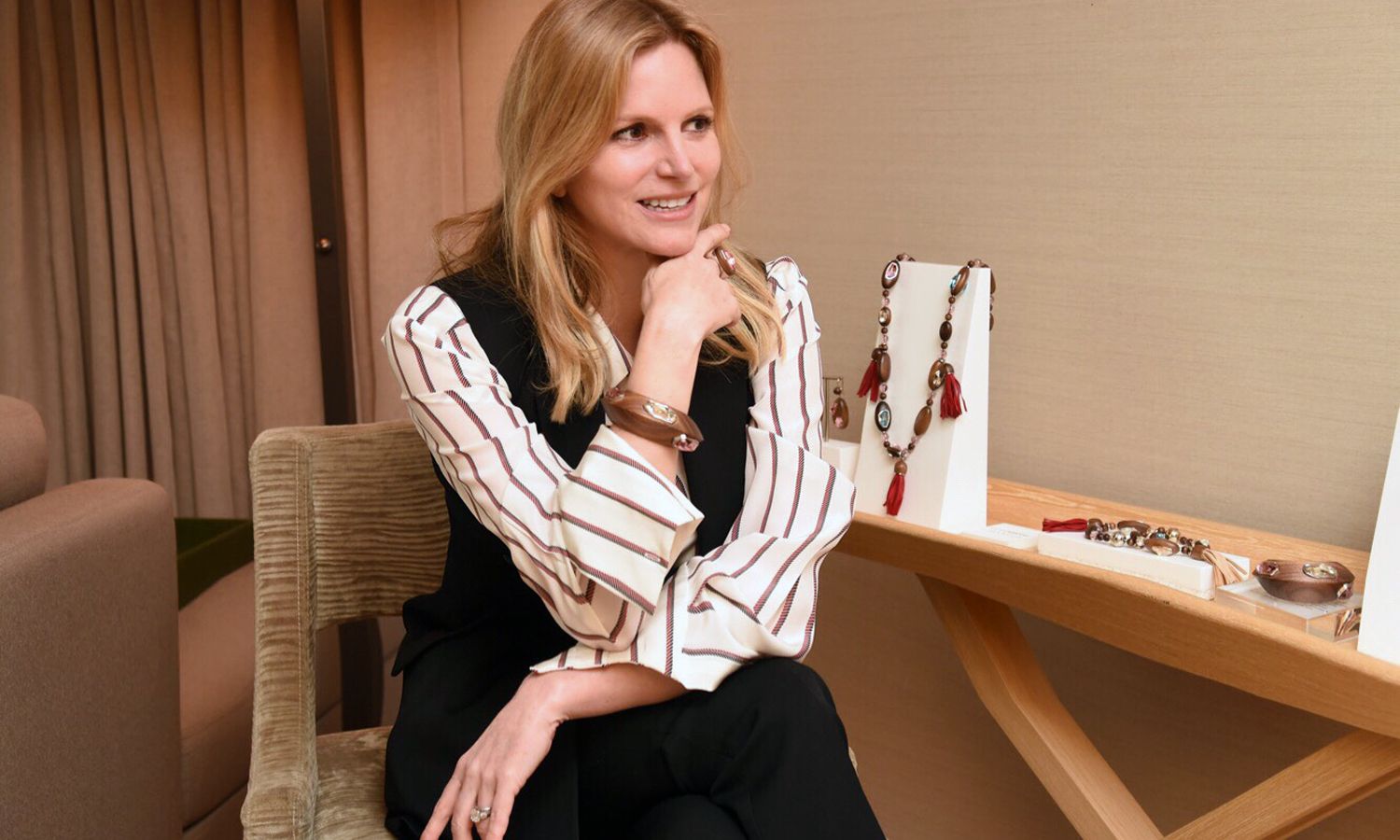 'Wood Crystallised' is bound to be a big hit.
---
---
---
---
---
---
---
---
Down-to-earth is one of the best ways to describe Fiona Kotur Marin. Despite being the designer of some of the world's most sought after haute couture handbags and accessories, she is unassuming and easy going when we chat in the library at Upper House, Hong Kong. It's that balanced and earthy attitude that Fiona wants to convey in her latest creative collaboration with Swarovski: unusually choosing to work with walnut, Wood Crystallised is a stunning coalition between wood and stone. Fiona tells us about the inspiration for the collection and working with Swarovski.
How did the collaboration with Swarovski come about?
Fiona Kotur Marin I met Nadia Swarovski when I was in LA, visiting one of my showrooms. We were talking about another project, and she commented on a wooden bracelet I was wearing. We started talking about jewellery and bracelets and crystals, and the conversation flowed very organically from there. It's a huge honour to be part of the collaboration with these other designers and so interesting to see how each person has been inspired by the crystals.
Why did you choose to work with wood?
FKM I like the way that it breathes, moves and grows, I love the warmth of wood, and I really liked the idea of combining that with hard, lucid crystals. I wanted to see how these two materials would interact. Walnut has a really beautiful grain and colour: it's got such a warm tone and it's hard which you need when you're working with it. I love the texture and depth, so once I'd chosen walnut the Swarovski team worked on finding it sustainably. We had discussed our priorities before, and it was really important to me and to them that we sourced this material responsibly.
What were the challenges of working with wood?
FKM I've worked with wood before in my own collection of bags, so I know how tricky it can be. The biggest challenge is that wood moves. It expands and contracts with humidity. Part of its beauty is that it is natural and living and breathing, but then you also have the problem that it's not just an inanimate object — it has its own agenda sometimes. The whole collection started with the cuffs, and that big chunk of wood is not as easy to control as the smaller beads, either. We had to work within the parameters, anchor it with a metal lining, work on a way to set the stones. There were a lot of very technical aspects that I think you don't expect from wood.
How do you think the collection evokes a sense of nature?
FKM Human touch is very important, and it makes you connect in a sensory way with whatever you are wearing. I think there is something very soothing about wood: it's not just about nature. Wood has a story, it lived, it has a history, and I think that connects you to everything. The crystals are also a part of that same story too; they're a very different element but it's still natural. It's like the lightning and the rain coming together. I like the idea of these two opposing elements combined coherently. We're all made up of these elements, and I think that connecting it all together is important.
Do you have a favourite piece in the collection?
FKM I really do. I hate to choose among the kids but... I love the cuffs. I love seeing that much wood, it's very sculptural. I also think accessories — handbags, shoes, hats, jewellery — are a way to make a really strong personal statement. Look at Iris Apfel, she would load them up to her elbows. I personally wear a lot of cuffs, I think they are a great way to feel confident — they become like my worry beads, and I suppose that links back to nature because it does ground you. They're very calming.
Fiona's collection will be available via her website and Swarovski from February 2017