Beauty Talk: Patrizio Stella Of Chopard Parfums On Doing Good And Feeling Good
Chopard is celebrated on the red carpet for its exquisite high jewellery and luxurious timepieces, but the Swiss maison is adding one more aspect to its name—haute parfumerie, with an ethical and sustainable approach
After more than two decades of partnership with Coty, Chopard established its own sustainable fragrance house last year, guided by a concept statement in its Journey to Responsible and Sustainable Perfumery: "an ethical sense that accompanies every action, a long-term commitment to managing the environmental, social and governance impacts associated with its operations".
Chopard Parfums debuted with The Gardens of The Tropics—four haute creations for men and women—at the Cannes Film Festival 2017, dreamed up in collaboration with master perfumers Alberto Morillas and Nathalie Lorson. Continuing its streak of "luxury naturals perfumery", it most recently launched Chopard Happy, inspired by Chopard artistic director Caroline Scheufele's "Do Good, Feel Good" philosophy.
We sit down with Chopard Parfums CEO Patrizio Stella to find out how Chopard's expertise in jewellery and watches plays a part in its perfume creations, and about the fashion house's venture into "luxury naturals" perfumes.
(Related: Beauty Talk: Master Perfumer Alberto Morillas On His Latest Creations)
Chopard has its origins as a high jewellery and luxury watch brand. How does this identity translate into its perfumes?
Patrizio Stella (PS) It's simple. There is one Chopard philosophy, embracing all of Chopard creations and operations. Chopard creations are first and foremost a story of skilled hands and craftsmanship, of exceptional raw materials, of savoir-faire, of passion and creativity, of love and true respect for nature.
Likewise, as a Maison de Parfums, Chopard places natural, positive and ethical luxury perfume-making at the heart of its inspiration, putting the greatest value into its fragrances and pursuing a Luxury Naturals Perfumery, with a do good, feel good mindset.
(Related: Chopard Glitters At Cannes Film Festival 2017)

What makes a Chopard perfume unique?
PS To a great extent, our philosophy of luxury natural ingredients, issued from ethical sourcing, translates into a distinctive and surprising fragrance signature. All of our fragrances are also crafted in collaboration with some of the most iconic perfumers of our times.
This, together with the brand's unique universe of inspiration, confers on Chopard perfumes the quality, creativity and personality that only nature, natural ingredients, and a unique savoir faire can bring into perfume.
What, to you, makes a perfume exceptional?
PS The original ability to translate the brand, the product and the creator's emotions into a perfume that can tell a true story. Like a memorable music song, a tasty food or a great painting, you need to feel the heart of that story and that the story is also talking about you. Naturally, simply and positively.
Why brand Chopard Parfums as a naturals perfumery?
PS Chopard Parfums' philosophy is guided by artistic director Caroline Scheufele's personal creative vision, inspired by nature, positivity, natural ingredients, and of course, by ethics on top of aesthetics.
The translation of her vision into luxury naturals perfumery came quite spontaneously. Flower, citrus, spice or wood essences, just to name a few, are among the most precious ingredients nature can offer to perfumery—and we want their infinite beauty and powerful emotional energy at the heart of our fragrance signature.
Natural fragrances tend to be more muted and ephemeral compared to their synthetic counterparts, and are also costlier to produce. How does Chopard overcome these challenges?
PS It is all about reaching the right balance. In our vision, natural ingredients are the heart of the composition. They are there to confer the richness, the personality, and a unique intensity of emotions to our fragrances.
In other words, we always privilege natural ingredients to their synthetic counterparts whenever possible, but we also know that to make a great fragrance, natural essences need to be enhanced and complemented by other virtuous quality ingredients, that are not necessarily drawn from plants.
Natural ingredients are precious resources that need to be treasured, so they are often costlier, and rightly so. Ours, in particular, come from ethical sources and are among the most premium ingredients found in perfumery today, so we do in fact put a significant value into our fragrances to make them special. This is the essence of Chopard's vision of ethical luxury.
(Related: CrazyRouge Presents: Chopard & Guo Pei Paris Haute Couture)

How does the "do good, feel good" philosophy come into play with the Chopard Happy collection?
PS Caroline's positive approach to life has been expressed through iconic jewellery creations, and with Chopard Happy, her "do good, feel good" brand philosophy is realised through a unique olfactory experience.
Nature is amazingly rich in feel-good scents—citrus, green leaves, berries, flowers, just to name a few—that are able to trigger our brain's "happy molecules" and good mood substances.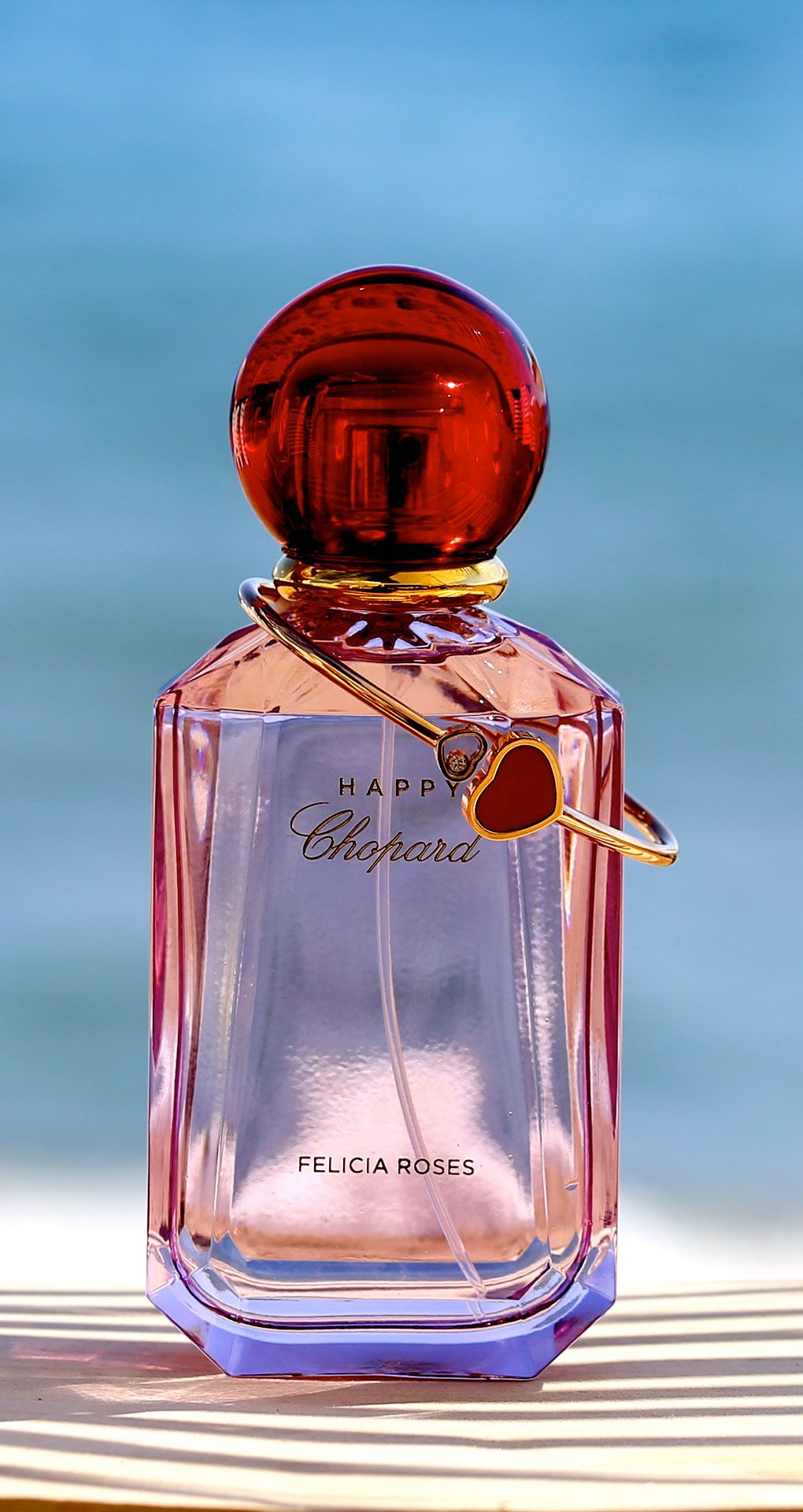 Just like a recipe for happiness, Felicia Roses and Lemon Dulci each combines a selection of natural ingredients and essential oils known to generate happy and uplifting emotions through their scent.
In line with the "do good" philosophy, both of the Eaux de Parfums showcase some of the most pristine and premium raw materials, responsibly sourced across the world through the Naturals Together sustainability programme.
(Related: What Makes A Perfume Worth Wearing?)

What is your feel-good scent?
PS My feel-good scents are the scent of the olive-trees before the sunrise and the breeze of the sea at the sunset, all surrounded by the big blue sky. They immediately bring me back to the warmth, the simplicity, the energy and the great hopes of my childhood in Southern Italy.