Chanel's Métiers D'Art: The Definitive Guide To The Ateliers
By Daphne Chen-Cordeiro
May 29, 2018
This is the real reason why Chanel works in a completely different way from every other fashion house out there
Take any Chanel look off the runway, and let's break it down. Who made the double-C buttons? Who moulded the hat? Who wove the tweed? Who embroidered the fabric?
There is a group of small specialised ateliers (considered an extension of the main Chanel ready-to-wear and haute couture ateliers), that are behind every single detail that makes the ensemble, Chanel. They are the ultimate collaborators, magnifying the standard of craftsmanship in every creation. Over the decades, Chanel has invested in these ateliers, while allowing them to operate independently—a business move that no other fashion label has taken.
(Related: Discover What's Inside A Chanel Métiers d'Art, Where Haute Couture Magic Happens)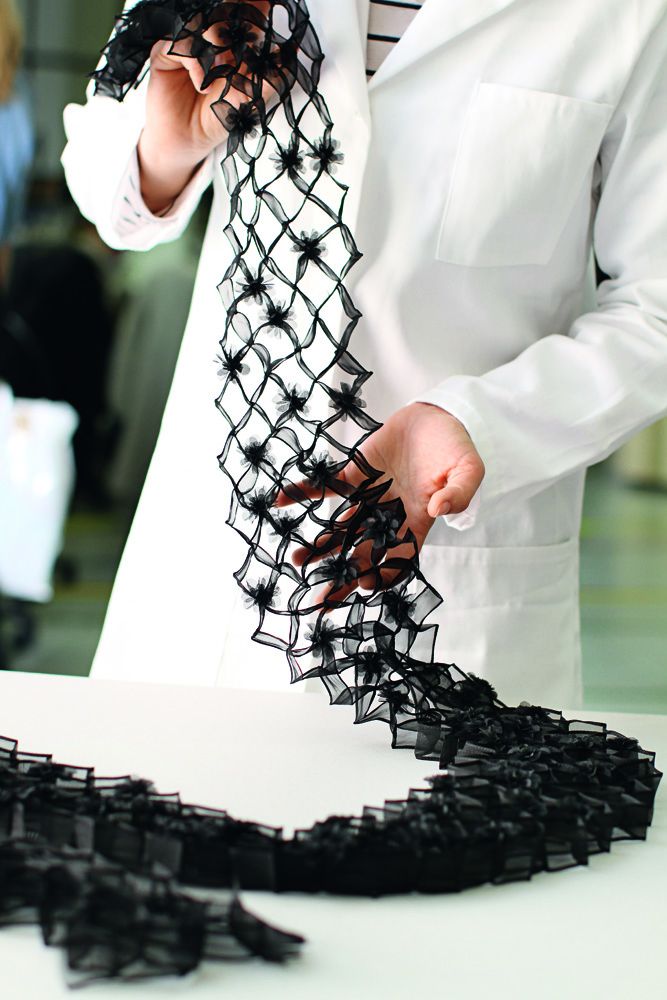 How many ateliers does Chanel own?
To date, Chanel has procured a portfolio of 22 ateliers, which are divided into two categories:
There are 10 Métiers d'art or specialised houses, and each is known to be the leading savoir-faire workshop in their field. They include embroidery ateliers Lesage and Montex, weaving atelier Act 3, plumasserie and floral artisan Lemarié, pleating atelier Lognon, fabric maker Paloma, glovemaker Causse, bootmaker Massaro, hat-maker and milliner Maison Michel and goldsmith Goossens.
And there are 11 production sites: Roveda, Gensi, Desrues, Barrie, Ateliers de Verneuil-en-Halatte, Bodin Joyeux, Mégisserie Richard, Henri Lacroix, Moulinage du Riotord, Denis & fils and Hugo Tag. Lastly, there is one more a production site where Chanel has a minor stake in: Sophie Hallette.
What is the difference between a Metiers d'art and a production site?
The 10 Métiers d'art partners are experts in a particular craft in which the work is hugely done by hand. The artisans focus mostly on haute couture pieces and the dedicated Métiers d'art collection, shown in December. Chanel is only maison in the world that dedicates an entirely separate collection to these ateliers to showcase their extraordinary work.
The 12 production sites focus on items created in bigger volume for Chanel's collections around the year. These ateliers also lean towards machine work, as opposed to hand.
(Related: Chanel Metiers D'Art 17/18 Show In Hamburg: What To Own)
Why does Chanel invest in them?
"For us at Chanel, it's a guarantee that this creativity can continue to exist for the next 50 years."
- Bruno Pavlovsky, Chanel's president of fashion.
Since 1985, and later under its subsidiary Paraffection, Chanel has been acquiring this treasure trove of savoir-faire houses.
Paraffection loosely translates to 'for the love of', indicative of the driving force behind this business scheme, which is to sustain, preserve and protect these storied French ateliers in an industry where they are shrinking, to the point of being endangered as manufacturing is outsourced outside Europe (for cheaper artisanship) and new-generation craftspeople are in short supply.
The commitment to working with the Metiers d'art began with Gabrielle Chanel. Each, with its own specific craftsmanship, has contributed to many of the brand's iconic emblems. Chanel's signature 16-petal camellias have been exclusively created by the house of Lemarié since 1960s while shoemaker Massaro is behind the iconic two-tone shoes since 1957.
It's interesting to note that the Paraffection ateliers don't just work exclusively for the fashion house: they function as independent entities and continue their relationships with other prestigious (and rival) fashion houses.
What is a Chanel Metiers D'Art show?
Every December since 2002, Karl Lagerfeld works on an annual collection to celebrate the craftsmanship that these partners bring to the table. The Kaiser explains: "For the Metiers d'art collection, a lot of people imagine it's very heavy but for me, it's the absolute opposite—it's something very light and happy."
The cities of Tokyo, New York, Monte-Carlo, London, Moscow, Shanghai, Byzance, Bombay, Edinburgh, Dallas, Salzburg and Rome have all served as backdrop and inspiration for the Metiers d'art collections—and for its 16th edition (presented last December in 2017), Karl Lagerfeld returned to his birth town—and Germany's largest port city—for a show that paid tribute to Hamburg's seafaring history. The collection arrives in boutiques this May.
What's coming up next?
All 10 Metiers d'art ateliers will be housed in a dedicated new building, come 2020. The site— headed by architect Rudy Ricciotti—is in the neighbourhood of Porte d'Aubervilliers, between the 19th arrondissement of Paris and the commune of Aubervilliers.
In other words, Paris' best craftsmen and craftswomen will be all under one roof and fronted by France's most successful ready-to-wear and haute couture fashion house. With this move, Chanel has strengthened its stature as an ambassador and a front-runner of haute couture.