The Best Grooming Spots For The Modern Gentleman
'Tis the season to be gorgeous, and everyone feels the pressure to perform, including the gentlemen among us. Here are our top five recommendations to help you look spiffy
1/5
The dark wood interiors and calm manner of the barbers at Sultans of Shave will put you at ease and assuage any grooming-induced alarm. Founded by Lewis Lim, Tan Ting Xi, and Derrick Tan, this contemporary establishment was intended to revive the dying trade of traditional barbering here in Singapore. After a stint in London to immerse themselves in the best of barbering culture, the founders created Sultans of Shave to do just that. Now, they have three different locations that each offer a deluxe shaving experience. This is also the perfect place to come for some father-son bonding—Sultans of Shave offers a father and son grooming experience that will have you both out the door looking your best.
2/5
Intended to be the one-stop shop for any and all men's grooming procedures, We Need A Hero is the brainchild of Cynthia Chua, the founder and CEO of Spa Esprit Group. With everything from haircuts and hot towel shaves to body waxing and brow trimming available on the menu, We Need A Hero can truly be a source of salvation during any grooming-induced crisis. And while the place doesn't serve alcohol, you can opt for the Ginseng & Tonic facial if you need a quick pick-me-up.
3/5
Named after the road in London famous for its distinguished style and grooming, Jermyn Street is the specialist barber, offering solely haircuts and 'tonsorial art services' (or shaves, as most people call it)—you won't find facials and or hair colouring services here. But what Jermyn Street does, it does extremely well. Head barber Steve Chapman was named 'Classic Barber of the Year' by the British Barber Association and has imparted those impeccable skills to his team. So if you would like to look like a 'rakish marquess' or 'dashing baron', as their menu options are named, then this is the place to go.
4/5
Perfect for the gentleman who likes a little grunge and a lot of hilarity in his grooming routine. The Panic Room's service menu alone should give you a hint of what to expect—they offer 'swee swee haircuts' that are 'inclusive of a happy ending or two'. The barbers at The Panic Room are professional and unpretentious, so expect to be offered good cuts, shaves, and conversations. The Panic Room also carries a huge array of grooming products for you to prolong their good work at home, but we always have a good laugh at their selection of cheeky in-house merchandise. Anti- never shower club t-shirts, anyone?
5/5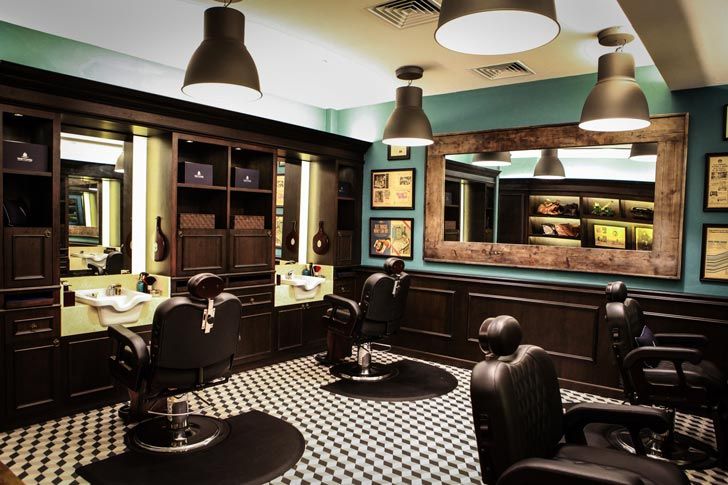 Established in 1805 and Royal Warrant holders to H.R.H. The Duke of Edinburgh, Truefitt and Hill cannot be beaten when it comes to true luxury and heritage. With outposts from Azerbaijan to the USA and South Korea, Trueftt and Hill is out to evangelise the world to their brand of prestige barbering. The Singapore outpost offers haircuts and shaving services as expected, but also offers facial threading and skincare masks. It is also the only grooming establishment on this list that offers manicure and pedicure services, so you can look perfectly groomed, even to the tips of your feet. In true luxury fashion, Truefitt and Hill also offers its own brand of grooming products—we're fond of the Clubman aftershave splash.