5 Minutes With... Manish Malhotra And Kajal Fabiani
A favourite with the Indian elite, the duo will present their first-ever fashion show together in Singapore this March.
Hailed as the Tom Ford of India, Manish Malhotra's name and brand are synonymous with high-end glamour and fashion. While he started his career in the fashion industry as a model, his passion for cinema and clothes quickly saw him pursue a very successful career as a Bollywood costume designer as well as gain an impressive international clientele, including the likes of Kylie Minogue.
The dapper designer is known for his haute take on traditional Indian attire and clever use of colour and texture, with a fondness for luxurious fabrics such as brocade, silk and velvet filled with embroidery and embellishments.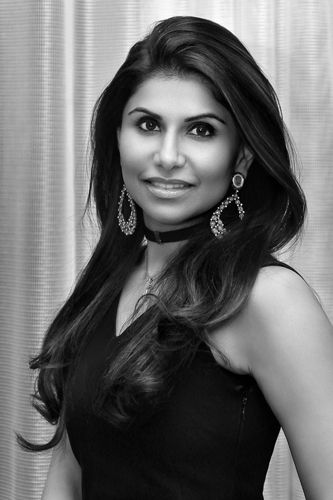 And now for the first time ever, Malhotra will be doing a fashion show in Singapore on March 25 alongside fellow Indian designer Kajal Fabiani at Atlas Bar. A fine jewellery designer, Fabiani was trained at the Gemological Institute of American and established her line in Mumbai in 2011.
Creating pieces that seamlessly combine bold sensuality with a raw feminine attitude, Fabiani loves working with unusual raw materials from icy diamonds to yellow uncut diamonds to create out-of-the-ordinary pieces. Fabiani will be showcasing her fine jewellery collection on the runway under the brand name Kaj Fine Jewellery.
Hosted by Singaporean-based couple Shazreh Rahman and Shayan Rahman who are dear friends of the designers (Shayan Rahman represents the second generation of leadership of BEXIMCO), the designers discuss Indian fashion and their inspirations for the upcoming show.
You'll be showcasing at the fashion show together; can you tell us about your relationship with each other as well as with Shazreh and Shayan Rahman?
Manish Malhotra (MM) I met Shazreh and Shayan a few years ago in Mumbai through some common friends. I love how they have such a fine eye for detail and a love for good quality pieces. They really respect and appreciate the work that goes behind the clothes.I was really keen to do a show in Singapore and given our close relationship, they offered to host me.
I think Singapore doesn't get to see Indian clothes very often, so I think it's nice to showcase the different silhouettes from something simple to an over the top and glamorous sari that has been stitched to look like a gown. It will be a revolutionary show- expect surprises! This might not be what people usually expect from Indian fashion. I think the show will reach out to a mainstream audience who don't know me as well.
Kajal Fabiani (KF) Manish has been a very close friend for many years now. We got to know each other and bonded during a pilgrimage up in the Himalayas. He is a genuine, loyal, caring and of course, an incredible designer. I always feel like a princess in his creations.
As for Shazreh and Shayan: they're like family. They are very generous and real. Shazreh is one of the most stylish and glamorous friends that I have. We have so many wonderful memories together from our London college days till today, and I look forward to building many more!
More than a work event, this is about all of us putting together something exciting and fun for Singapore. Being a Singaporean myself (yes, I was born here) this country holds a very special place in my heart.
(Related: 5 Minutes With...Gigi Hadid)
Your brands are known for their high fashion take on traditional Indian clothing and jewellery, what made you decide to explore that within your collections?
MM Personally, I've always been drawn to decadent things. When I first started my label, I was all over the place: I was designing all sorts of things and had no proper direction. About two years later, I started to concentrate on Indian clothes. That gave the label and my work a bit more perspective, so I developed that aesthetic further and applied it to my collections, from the embroidery, the type of cuts and even the finishing.
KF There is a niche in the market for easy-to-wear traditional Indian jewellery. In the past, women would only wear this kind of jewellery at weddings. Now, I feel like we are able to style it differently and wear most of these pieces even to casual meal. I wanted to create a line that women could end up wearing more often, and not just keep in her safe. For example, an uncut diamond choker that can be worn with a white shirt and jeans.
(Related: 5 Minutes With...Doutzen Kroes, Piaget Ambassador)
What has been the most memorable piece that you have designed and who was it intended for?
MM The problem that I have is that I love change. So whatever I did two years ago I'll feel like I can do better now. I've been grateful to have the opportunity to design so many things but I don't get stuck on a singular piece, I'm always looking forward to see what I can do better.

KF The most memorable piece I designed was for a client in Europe. Her husband commissioned me to make a bespoke necklace, using rare Zambian emeralds totalling over 200 carats.
The Manish Malhotra and Kaj Fabiani fashion show will be held on March 25 at Atlas Bar. The show is a private event and will be invitation only. The trunk show will be held on March 26 from 12-7pm at Windows West, Four Seasons Hotel.
For more information on the event please call +65 91849474 or email shazreh.shayan.rsvp@gmail.com