Tatler Tours: Nadya Hutagalung Takes us Around Queenstown | The Best Food, Activities And Spots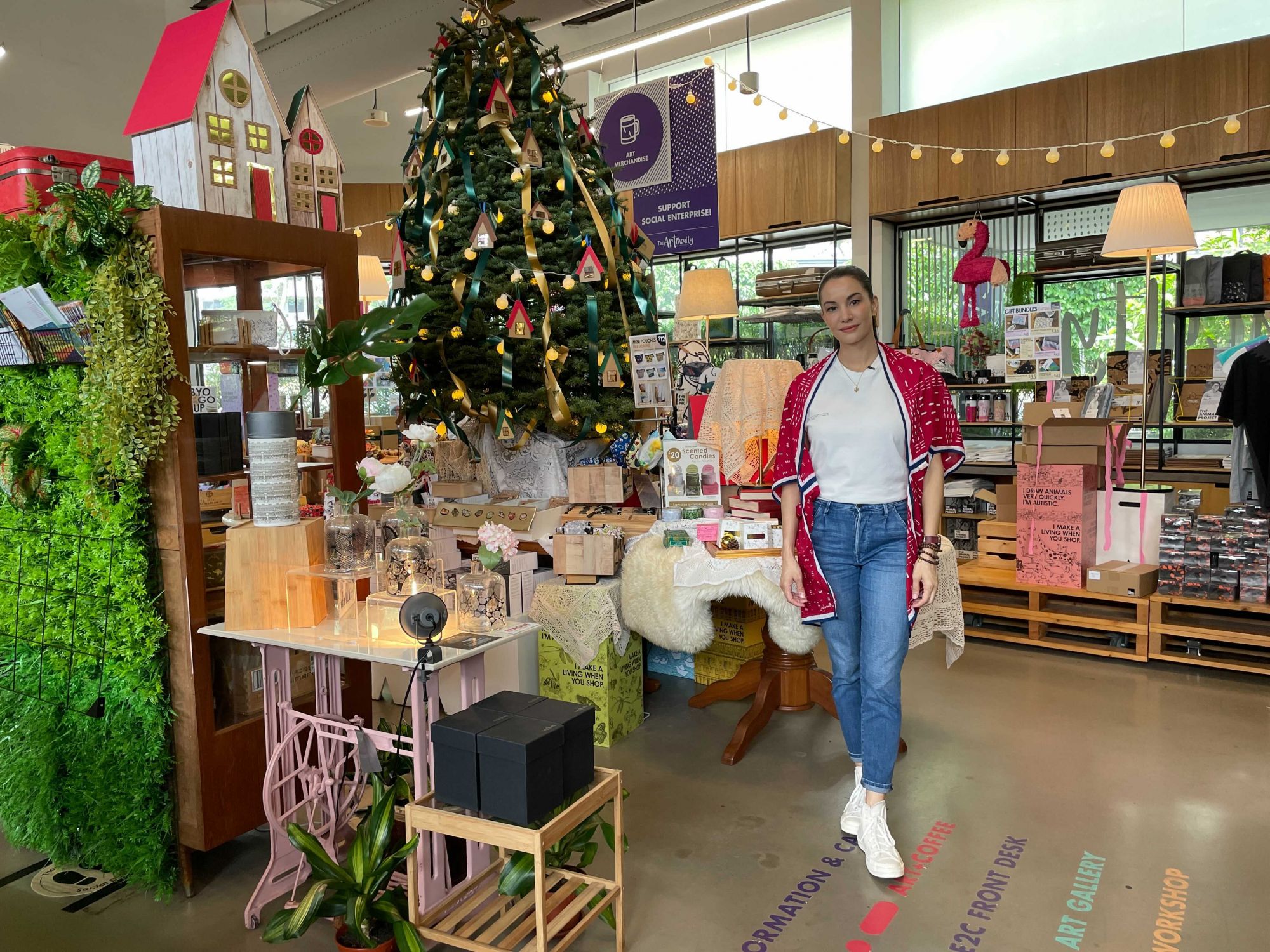 Eco-activist, UN ambassador and media personality Nadya Hutagalung takes us around Queenstown for the fifth episode of Tatler Tours, giving us a glimpse into the hidden gems within the first satellite town in Singapore. We explore The Art Faculty, Queenstown Public Library, Edible Garden City and more
Ask any long-term resident of Queenstown and they would tell you about its colourful history. From being the first satellite town in Singapore to the extensive efforts in developing the housing estate in the region, you'd be surprised at what Queenstown has to offer. Today, despite its quaint and quiet facade as a residential estate, there is more than meets the eye to the regular passer-by. The area is home to a myriad of establishments, including the iconic Ikea store and the nation's old sports complex that once filled our television screens every National Day in the '70s and '80s.
In a bid to rediscover this part of Singapore, Tatler enlisted the help of eco-activist and media personality Nadya Hutagalung to guide us through her favourite spots in the area that truly show the unique offerings that the neighbourhood has to offer.
Watch the video below:
1/5 Queenstown Public Library
Claiming the title of the oldest branch library in Singapore (after the original National Library building along Stamford Road was torn down in 2004), the Queenstown Public Library, now in its 50th year of operation, has provided folks around the region with ample resources to supplement their learning since 1970. It is one of the 26 libraries under the National Library Board, but despite that, operates independently to curate programmes for visitors. Situated towards the back of the library's ground floor is the community garden, a space for one of its programmes where volunteers would gather every fortnight to engage in various gardening activities, prior to the pandemic.
Like all libraries, visitors would be able to find a vast array of works to suit their reading needs. Queenstown Public Library houses an impressive 240,000 books, magazines and audio-visual materials for the public to freely peruse. But what's interesting about this public institution is that it's known for many firsts. Namely, it was the first to have a fully air-conditioned branch in 1978, to computerise its loan system in 1987, to host free monthly movie screenings in 2012, and to be gazetted for conservation by the Urban Redevelopment Authority in 2013.
"[Coming to the library] is something we really like to do as a family," shares Hutagalung. "My youngest has been coming here since she could remember and it's wonderful to see how she's grown and is now into books from the young adult and comic section."
2/5 Nature Cafe
Nature Cafe prides itself in offering sumptuous vegetarian fare without the use of garlic, MSG, onions or wine and has been one of Hutagalung's favourite spots to dine at after chancing upon the restaurant through friends who were visiting from overseas. Although the eco-activist herself frequents the franchise at Kallang more often, the location at Queenstown is tucked away in an unassuming corner next to a hawker centre and serves up the same standout dishes inspired by Asian food—which so happens to be Hutagalung's favourite to order.
Must-haves include their acclaimed braised beancurd stew and satay dishes that are packed full of flavour, with the former presented over fire. Western picks include a delectable aglio olio dish, garden salad and pumpkin soup—all of which are part of their Christmas menu this season.
For Hutagalung, a visit to Nature Café is also part of a detox routine when she's in need of rest and personal downtime. It typically starts with a floating experience in a sensory deprivation tank, before heading to the restaurant for Asian comfort food that serves to nourish her body and delight her senses.
3/5 The Art Faculty
Place The Art Faculty high on your list the next time you need to do your holiday shopping, as a trip there allows you to shop with a cause. Visit the Autism Resource Centre (Singapore), a social enterprise that celebrates the abilities of those on the autism spectrum and related challenges by selling their art and designs on functional gifts for visitors to purchase. A portion of the proceeds will then go towards the differently-abled artists so as to allow them to earn an income all year round and learn the importance of financial independence.
"There are so many products here that are definitely things I would have in my home," exudes Hutagalung. "There are also products that would support a sustainable lifestyle, such as the reusable straws, chopsticks and beeswax [food wraps] which we love."
4/5 Enabling Village
Enabling Village is where The Art Faculty is located at, and it is an inclusive community space that blends universal design with social innovation and accessibility, where differently-abled individuals are empowered to lead independent and fulfilling lives.
For a start, the village is designed by lead architect Phua Hong Wei from Singapore architecture firm Woha, and built over the course of 22 months. The result is a lush sanctuary boasting the nation's indigenous flora and fauna for all to use and enjoy. Not only are all public areas of the village wheelchair-accessible, event spaces are also equipped with induction loops that transmit directly to the hearing aids for users who need them. A braille map is available at the concierge desk within the compound, with braille labels and earphone ports at the POSB ATM machine to facilitate day-to-day errands. Whilst there, service dogs are also welcome for visitors with low vision.
5/5 Edible Garden City Queenstown Farm
Helmed by Gen.T honouree Bjorn Low, the folks behind social enterprise Edible Garden City are on a mission to take urban farming to a whole new level. And rightfully so, since it is the future of our cities. The farm is located along Jalan Penjara, where the now-defunct Queenstown Remand Prison used to be situated at. "It's always nice to come into a negative space and inject some positivity. Over the last five years, we've tried to build an urban farm here—one that creates a social and environmental impact, as well as community engagement."
A trip there and you would find the space to be truly one of a kind, surrounded by soaring skyscrapers and flats that characterise the neighbourhood's residential offerings. But look closer, and you'll notice thriving food gardens that boast some of the freshest herbs, flowers, and vegetables—ones that you would typically find in restaurant kitchens across town too. Low led the way during our visit, and on the guided tour introduced Hutagalung to a variety of fresh harvests. The eggplant patch—one of Low's proudest crops having harvested over 400kg in the last four months—are one of them, as well as the indigenous ulam raja plant, where notes of its green mango flavour were used to produce the enterprise's first beer, The King's IPA.