On a Grand Scale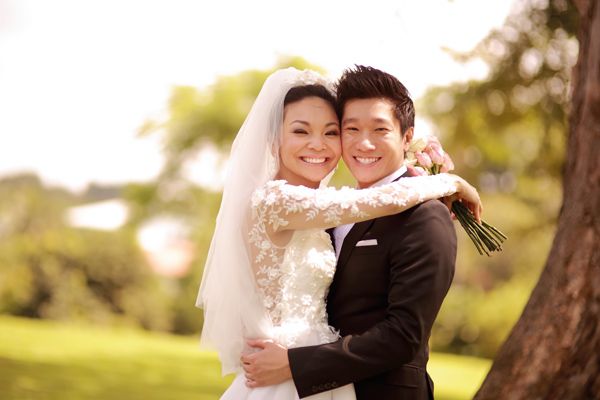 For Bryan Tan and Sherly Tanuwidjaja, a series of breathtaking outfits plus an exclusive island venue, moving vow exchange and outrageous after-party made for a celebration of epic proportions.
They may have endured an 18-month long-distance courtship while he was based in Hong Kong and she was based in Singapore, but Bryan Tan and Sherly Tanuwidjaja, both high-flyers at the same international investment bank, rarely missed a weekend together. "By our count, we only missed four weekends during that period," reveals Sherly. "Bryan might have been Cathay Pacific's favourite customer then!"
The painful separations after a weekend together, and Bryan's redeye early Monday morning flights back to Hong Kong and train rides straight to work without a proper night's rest came to an end when he was given the opportunity to head a team in Singapore in 2013. Two months after moving back, during a birthday celebration he had planned for Sherly at one of the exclusive Ocean Suites at Resorts World Sentosa, he went down on one knee and asked for her hand in marriage.
The Theme & Concept
A big-hearted couple loved by many, Bryan and Sherly orchestrated a weekend of celebrations for their family and friends, who included college mates from Stanford and Cornell universities where they had studied respectively. With a wedding guest list that included friends and family from Germany, Russia, Indonesia, the US, the UK, India, Australia, China, Canada, Hong Kong, France, Italy and Brazil, they were determined to create an unforgettable weekend for all. The celebration began on the 6th of June at hip watering hole Scoop on Ann Siang Hill with delicious cocktails and Thai canapés complemented by entertaining photo slideshows and tributes to the couple. "While the actual wedding day would be a whirlwind of activity, the welcome drinks event allowed us to spend some time with our closest friends and family," shares Sherly.
From chic and sophisticated, the mood turned to boisterous and downright wacky at the gatecrashing ceremony the following day. Decked out in bright silk kimonos, flip-flops, dark shades and loud boxer shorts, the groom's "brothers" braved a series of impossible challenges before Bryan was finally granted access to Sherly.
The solemnisation ceremony and Chinese tea ceremony at Capella Singapore later that day were followed by a lavish dinner banquet at the hotel's Grand Ballroom. "On top of the lush backdrop and impeccable service, we loved the fact that the hotel has such an exclusive feel that you don't quite feel like you are in Singapore," says Sherly.
During the black-tie evening, guests partook of an eight-course Chinese dinner carefully planned by the newlyweds' parents and the head chef of Cassia restaurant. Together with the Summertimes Big Band, songbird Melissa Tham serenaded the room with bossa nova tunes before a string of touching speeches were delivered. The airing of a hilarious video produced by the bride's friends had guests in stitches, while an acoustic rendition of Train's Marry Me performed by Bryan together with groomsman and founder of Micappella Peter Huang took the bride by surprise.
The Highlights
The bride always steals the show, but perhaps even more so at this wedding where Sherly's dramatic wardrobe changes made for a visual spectacle. Walking down the aisle during the ceremony, she was a picture of refinement in a charming Tan Yoong gown. The Singaporean couturier says, "Sherly wanted something grand yet contemporary. After trying on a few gowns, she was most impressed with my latest design, 'Dragon Fly, Phoenix Dance', a nude tulle ballgown with laser-cut white taffeta ribbon detail. She loved the voluminous poofy skirt. I recreated the entire graphic details along the same concept, and added vintage lace with
beads on the waist, creating a fresh new look for her."
For her first change, Sherly wore a cobalt lace confection conceptualised by her mother and made in Indonesia. For her next change, she again turned to Tan Yoong, who designed an updated red lace cheongsam that oozed glamour. At the after-party, the bride let her hair down in another red frock from Indonesia.
During the solemnisation ceremony, the couple exchanged self-written vows which left many a damp cheek in the room. It was the first time Sherly had seen her father cry. Another highlight was the latter's impromptu speech. He sent waves of laughter across the room with his humour and had many nodding in agreement at his words of marriage wisdom.
Looking back on his big day, the groom says, "I believe what made this event so extraordinary was that it felt intimate, and that our family and friends from all over the world could experience the depth of our love for each other. It was everything we intended it to be and more."
You might also like:
The Wonder Years: Elaine & John Kim
The Wonder Years: Maniza & Iqbal Jumabhoy