Iron Man
Art & Design
April 8, 2013 | BY Claire Hanson
Chef, Herb Faust, is an Aussie legend. Not only does he transcend cultural boundaries with his up-tempo cross-cultural approach to cooking, but he beat the Iron Chef. Singapore Tatler caught up with him for an exchange about food, culture and life
Herb Faust is best known for being the only contestant to beat an Iron Chef on Australian television 7Network's Iron Chef Australia. Beginning his career as a chef almost two decades ago, little did he imagine he would end up with the moniker of Australia's Iron Chef.
In 2010 he took the call. It was a once-in-a-lifetime opportunity to appear in the Australian iteration of cult television cooking show, Iron Chef. Later, inspired by his win, he and his wife, Deanna, launched their culinary adventure: Herb Faust Food, offering a range of unique private dining experiences for customers in their own homes.
Herb is now in demand as a food presenter and host for gastronomic events. In March, he was guest chef at two wildly successful events as part of the TASTE Great Southern festival in Western Australia's deep south, where he paired canapés with cocktails at Denmark's Mrs Jones Café, and presented a seasonal menu to gastronomes at Denmark winery, The Lake House.
Herb is an ambassador for Taste of Harmony, a national organisation dedicated to recognising and celebrating the rich cultural diversity that exists in Australian workplaces. When he's not working, he spends time with his family and catches up with mates for a skate or surf.
Q: What are the key elements of a successful dining experience?
A: Well-executed and presented dishes demonstrate the chef's imagination and understanding of flavours, textures and techniques. The wait-staff presenting the food should share the same passion and interest in each dish, keeping the knowledge alive and bridging the gap between the kitchen and the customer. Finally, a well-matched glass of wine that complements the dish definitely helps complete the package.
I love experimenting with food so there's always an element of fun and surprise in each dish. I also love seeing how dishes evolve over the season as I try new ways of preparing and plating food. I make a point of describing each dish as it is served by our wait-staff to our customers, giving guests a more intimate connection with the food they are enjoying.
Q: Favorite global destination for food/dining?
A: Right here in Australia. With the success of cult television programs such as Masterchef and Iron Chef, food and cooking have never been more popular. They have raised people's expectations of a good dining experience, which has, in turn, forced the restaurant industry to step it up to whole new level. We have some amazing restaurants in Australia, headed by world-renowned chefs, as well as up and coming professionals looking to make a name for themselves.
I love the diversity of Asian food, from the street food of Thailand to high end dining in Hong Kong.
Q: How does your cultural identity influence your approach to food?
A: I'm half German and half Thai. My Thai heritage in particular is reflected in my approach to food. I've always been fascinated by the fresh, seasonal ingredients used in Thai cuisine which provide such a delicate balance of flavours, but that also require strong technique to execute. It's an approach that has always inspired me.
Q: Favourite food memory from childhood?
A: One of my most influential food memories was at the temples and monasteries of the Buddhist Society of Western Australia. When my mum was alive, she was heavily involved with the society so most weekends we would go to offer food to the monks. There was always an amazing array of authentic Thai food on offer and these meals sparked the beginnings of my love for food and cooking. I also noticed how taking time to share a meal really brings people together. There is a great sense of community within the Buddhist Society that I am grateful for having grown up in, and I still visit the monastery from time to time to share the experience with my family, taking a quiet moment to reflect and remember my mother and brother, who have both passed.
Q: What are your favorite Great Southern sourced ingredients to work with?
A: I love using fresh, locally sourced ingredients. You can almost taste the dedication and energy of the people behind the produce. The wines of the Great Southern region have an amazing reputation, which is always a big drawcard. And I love fresh, locally sourced seafood, like King George Whiting and Albany oysters. Torbay asparagus is in high demand when it's in season and this year I enjoyed working with beautiful fresh figs and raspberries from the region, as well as getting to know a variety of whiskies from the Great Southern Distilling Company.
Q: How important to food culture are events such as Taste Great Southern?
A: They help strengthen and further develop a vibrant food culture. Food is one of the few things in the world that transcends culture and religion, and in that sense it brings people together. They can also strengthen community bonds, as I witnessed at Mrs Jones' Café in Denmark. Owner, Ali Osborne, had well-known local chef, Dan Sharp, helping out in the preparation of the food for the night, while Roberto of The Lakehouse mixed cocktails. I noticed and admired the sense of generosity and cooperation present.
Food and wine festivals like Taste Great Southern attract new visitors to regions they may not have considered before, and encourage them to try and buy new and exciting local produce. These events really celebrate our sense of community engagement, diversity and great food.
Q: Tell us about some of the dishes you prepared at Taste Great Southern this year
A: My most interesting food and alcohol matching experience to date was with the Great Southern Distilling Company, where I worked with its director, Cameron Syme, to create a five course degustation experience to match their awarded Limeburners Single Malt Whisky varieties. The most interesting and challenging variety to work with was the Limeburners Single Malt 'Directors Cut' Barrel Strength Whisky. At 60% alcohol by volume, it certainly had some kick, but when the alcohol was cooked out, the whisky displayed a deep complexity of flavours. I matched it with a 72-hour cooked beef short rib, green mango nahm prik and a rice milk custard. This was finished with a beautiful, aromatic whisky caramel I made by whisking together a sugar caramel with a mix of the Director's Cut Whisky, ground star anise, and white peppercorns.
I created a three-course lunch at The Lake House, Denmark, a scenic and picturesque venue. For the first course, I used locally sourced fresh figs. They were perfectly firm and sweet, and had beautiful red flesh adding vibrancy to my goats cheese and jamon roll served with orange juice and a hazelnut crisp.
Second course featured milk-fed White Rocks Veal which has superior colour and texture, with a delectably delicate flavour. I served the veal breast with coconut ash, tomato and sherry jelly, confit potato aioli, broccolini, and dried olive.
My dessert of soft-set chocolate, real peppermint cream, honeycomb and raspberry sour showcased Torbay raspberries. They were picked the day of serving and were fresh, plump and deliciously tart. I was amazed to see a yellow variety, which added an element of surprise and spectacular colour to the dessert.
Q: Let's talk food industry movements: slow food, the use of GM ingredients, the supermarket monopolies..
A: The slow food movement is a concept that is hard to argue against. Eating locally grown, seasonal food, produced in an environmentally friendly way is becoming increasingly popular and is an ethical and healthy way to live. In our fast-paced world, however, it is not always easy to adhere to this way of life, and convenience and budget restraints sometimes take precedence.
The jury is out in regard to genetically modified ingredients. While I believe scientists have the best intentions of using this technology for the greater good, such as to reduce allergies, increase productivity, and even improve taste, I also understand the general hesitation to embrace this concept before we know enough about its safety, environmental and economic implications.
As with most things in life, it's about striking a balance that works with your lifestyle. In our business, for example, we support local wholesalers whenever possible, which ensures the freshest, most seasonal ingredients are used in our cooking. We also, however, embrace experimentation with food ideas, which sometimes steers us away from traditionally available produce. Our fennel pollen, for example, is sourced from California where it grows wild and is hand-picked and exported world-wide.
Q: Favorite luxury ingredients to cook with?
A: I love working with luxury ingredients but a couple of favourites stand out, including truffles and local scallops. We have great truffles in the South West and emerging potential to be the biggest producers of truffles in southern hemisphere. I love the unique, earthy flavour of truffles, and their ability to take on different flavours. Fresh Western Australian scallops caught off Rottnest Island are also amazing. They're plump, firm, and retain their size when cooked. Once you've tasted a fresh scallop, you won't want to eat a frozen one again!
Q: If you have a day to yourself, how do you spend it?
A: A day off is a genuine treat when running a catering business! When I do manage time away from the kitchen, I love spending time with my beautiful wife and our two children. When I have some time to myself, I head to the ocean for a surf, or if there aren't any waves, I love skateboarding.
Trending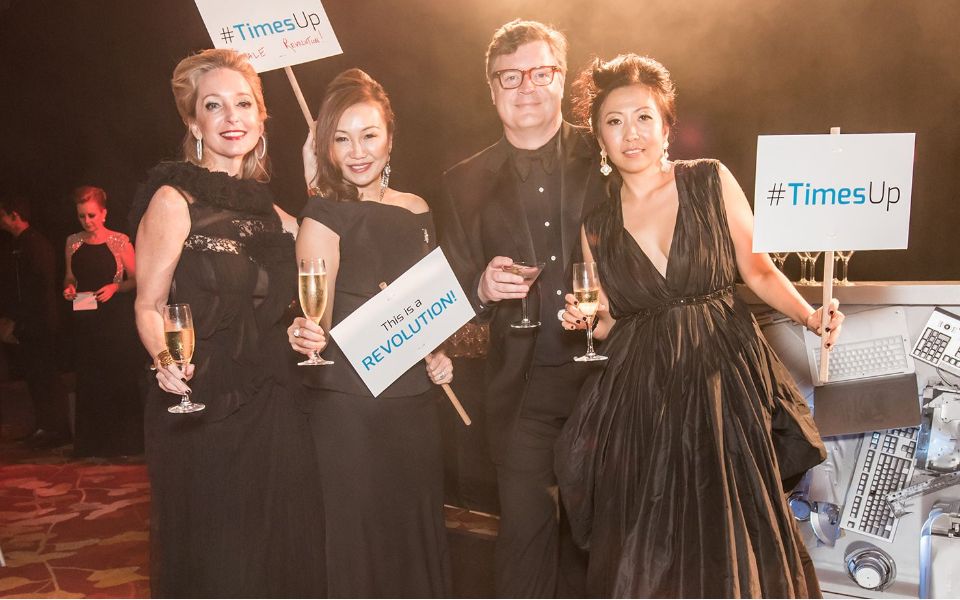 Revolution—The Theatre Ball by Singapore Repertory Theatre
March 13, 2018 | BY Terence Lim
photo_library
Franck Muller's Crazy Hours 15th Anniversary Party
March 5, 2018 | BY Karishma Tulsidas
photo_library
7 Millennial Royals To Follow On Instagram
March 5, 2018 | BY Chloe Pek
Perfectly Romantic: Stephanie Yap and Cheo Mingyou
March 4, 2018 | BY Wanlin Low
photo_library
Nana Au-Chua's Annual Chinese New Year Celebrations
March 1, 2018 | BY Karishma Tulsidas
photo_library