Farewell, Oscar de la Renta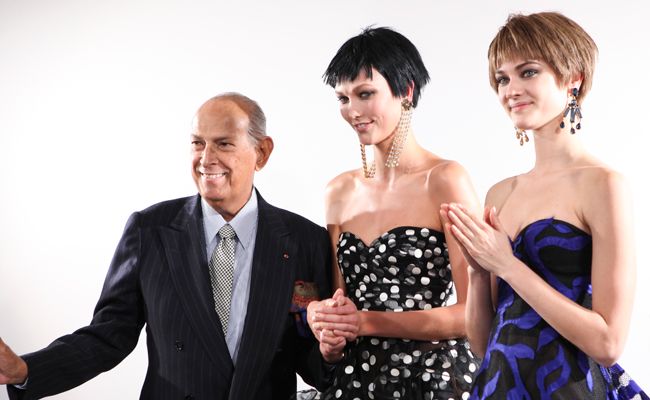 Society's most stylish ladies pay tribute to the doyen of American fashion.
American designer Oscar de la Renta
Oscar de la Renta's elegant red carpet gowns, with its exquisite details and impeccable construct, were a favourite among the high society set. Here, society's most stylish ladies join the world in paying tribute to the doyen of American fashion.
Ginny Wiluan, Susanna Kang dressed in an Oscar de la Renta gown, Celina Lin
"What a great loss of a legendary fashion doyen to first ladies, celebrities, and brides. His creations are always a perennial favourite at red carpet events. He managed to stay relevant despite being in fashion for so many years. Every piece in his collection was a labour of passion and work of art. Take my recent purchase specially brought down for the Audi Fashion Festival. It's a gown from the archives that was specially recreated and is the only piece in the world. The entire gown is embroidered with silver threads and features two beautiful chevaliers on horseback at the hem. The silver threads had to be hammered down before thousands of silver beads were stitched on the fabric."
Nana Au-Chua wearing an Oscar de la Renta gown to the Singapore Tatler Ball
"So sad to hear that Oscar de la Renta passed away on Monday. He was my all-time favourite designer. I have worn his gowns and dresses for most of my adult life. He will be dearly missed. Rest in peace, Oscar!
Tjin Lee
"Oscar de la Renta was one of the most iconic and inspiring designers of our time. We had the privilege to work with him and his team to bring the A/W 2014 collection to Singapore - a first in Asia - last year, and seeing his collection up close and personal in all its glory and breathtaking splendor will forever be an experience I will remember and cherish."
Paige Parker
"He loved making women beautiful! Mr. de la Renta wasn't about shock and outlandish drama – he created stunning red-carpet gowns and clothes that women adored. His pieces encouraged women to feel confident and to enjoy life. Fashion genius he was!"
More tatler_tatler_stories: