10 Decadent Gifts To Spoil Your Pets With This Christmas
Fido and Tiger have been good boys this year, so don't leave them out of the gift-giving season. Here are 10 gifts that your pup and puss will love you for.
1/10Hand-painted Renaissance pet portrait
Admittedly, this might be more of a gift for the owner than their pet—but don't let that stop you. Ensure all visitors to your home are aware of your four-legged friends' beauty by commissioning a hand-painted portrait depicting them in Renaissance style. All varieties of pet are welcomed, whether they be fish, fowl, cat or dog (no word on insects, however).
Available at RenaissancePet.
2/10Medusa Gala pet bowl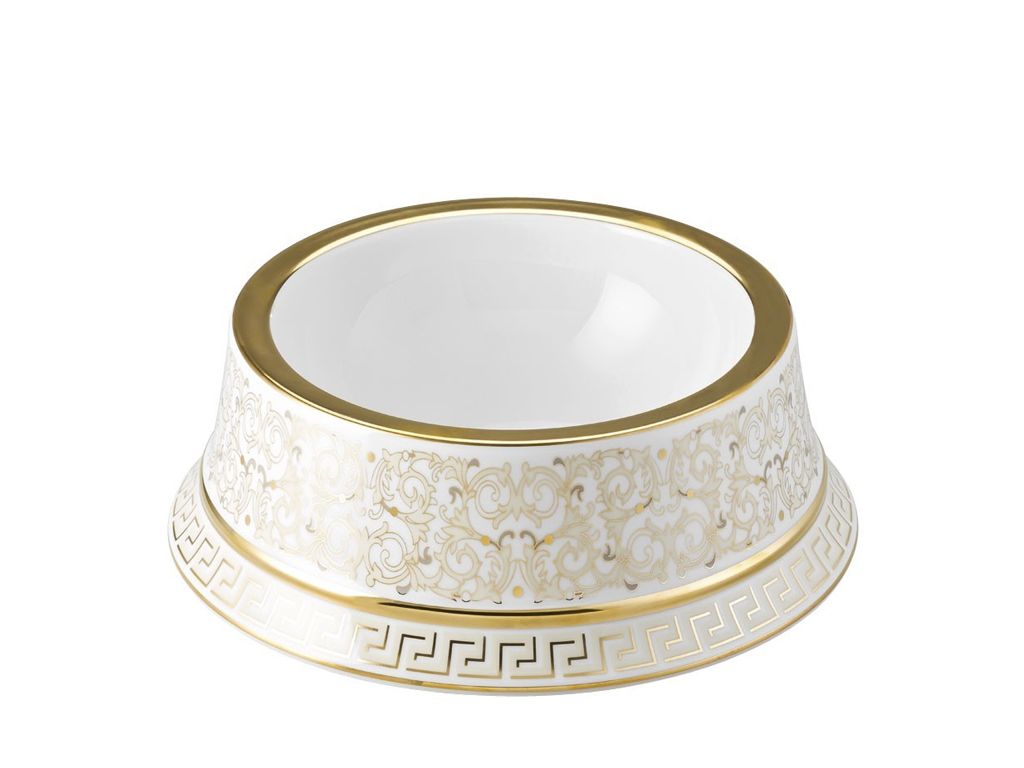 If you—like most cat-owners out there—have an inclination towards worshipping your feline, then this is the gift you should lavish upon your pet. Crafted from porcelain at Rosenthal, one of the world's leading producers for fine china, the Medusa Gala pet bowl from Versace Home is luxuriously exquisite. Gold motifs nod towards the opulence of ancient Greece—worthy of your prized pooch or puss to dine from.
Available at Versace Home.
3/10Kazuko bathrobe
Hugh Hefner he is not…but he (or she) is ready for a spa day! Take the phrase 'pampered pooch' to a whole new level with this luxurious bathrobe. From pet designers Moshiqa, choose from several variations, from the fiendishly fluffy Kawaii to the elegant ruffled Principessa. Your pet will be channelling star style—celeb spottings in the label include Leonardo DiCaprio's Django and Lady Gaga's Asia.
Available at Moshiqa.
4/10Denim and Diamonds Swarovski bed
Is your prized pooch a diva or a rockstar? Either way, they'll recline in luxury on this Swarovski-encrusted bed. Over 20,000 of the stones cover all sides of the bed, which is upholstered in denim-effect faux fur. It also comes with a lavender insert, so your pet can have both sweet dreams (the herb is said to aid sleep) and a sweet fragrance.
Available at Yvette Ruta.
5/10Tiffany & Co. dog collar
Spoil your pooch with a gorgeous collar in Tiffany blue. Crafted from quality Italian leather and palladium-plated hardware, is there a more luxurious gift worthy of your pet? Match it with your favourite Tiffany & Co. jewellery and you two will be stealing the show on evening walks.
Available at Tiffany & Co.
6/10Copycat Art Scratcher – Mona Lisa
Is your feline a connoisseur of the arts? Then he will definitely appreciate this exquisite copy of the Mona Lisa from Lord Lou. Your cat can even add his own touches to the piece as he sees fit—and hopefully leave the original artworks alone.
Available at Lord Lou.
7/10Furbo dog camera
We know how it feels to leave Fido all alone at home. Which is why the Furbo dog camera is perfect for pet owners to connect with their pups when they are out. Not just any nanny camera, Furbo comes with an app that allows you to call out to your pooch via a microphone and dispense treats—because he is such a good boy, of course!
Available at Furbo.
8/10Louis Vuitton dog carrier 50
Bring your pup out in style in a classic Louis Vuitton monogram carrier. The double zip-around closure makes it an easy task to put Fido in, and a breathable mesh window gives him a good view and plenty of fresh air when you are out and about. Personalise it with your dog's initials via custom hot stamping.
Available via Louis Vuitton.
9/10Swarovski crystal covered dress
Oscar Wilde once said: "You can never be overdressed or overeducated." Whilst he probably wasn't referring to our canine chums, it's still a maxim to live by for this dress. Amp up the glamour in a Swarovski crystal-encrusted gown, custom-made to your little madam's measurements. A head-turner if ever there was one.
Available at KO Couture.
10/10Over-sized cat tree
While cats do not grow on trees—we can still dream, though—they definitely love climbing them. Let your pet feel the call of the wild with this giant cat tree, crafted from real wood. Custom-made in the United States to your particular specifications, it's best for home owners with a lot of space, with its height starting at 12 feet.
Available at CustomCatFurnitureUS.