"Instagram, For Me, Isn't About Likes" Says Cheryl Wee
By Daphne Chen-Cordeiro
October 30, 2018
How does the new mother feel about putting baby Marc's picture on social media?
We're in a bit of a pickle. Entrepreneur, scion of the Jean Yip empire and Generation T honouree Cheryl Wee has requested that we avoid a front-on shot of her three-and-a-half-month-old son, Marc during this Tatlings shoot.
Here's our problem: Marc adores the camera.
Right now, the child is held up high by his mother. His dad Roy Fong is cooing, singing and calling—but nope, Marc doesn't care for it. He looks straight into the camera lens. Maybe we shouldn't have been this surprised. After all, the cherub does have thespian blood running through his veins, with Roy's acting gigs as a child and Cheryl's entertainment background.
"Yes he always does this! Whenever we try to take a photo for social media, he keeps looking at the camera," exclaims Cheryl.
But why the request for a side profile? After all, he has been seen occasionally on Cheryl's highly-followed Instagram account—although she started off with an intention to obsure his face, but in recent weeks has revealed more of it.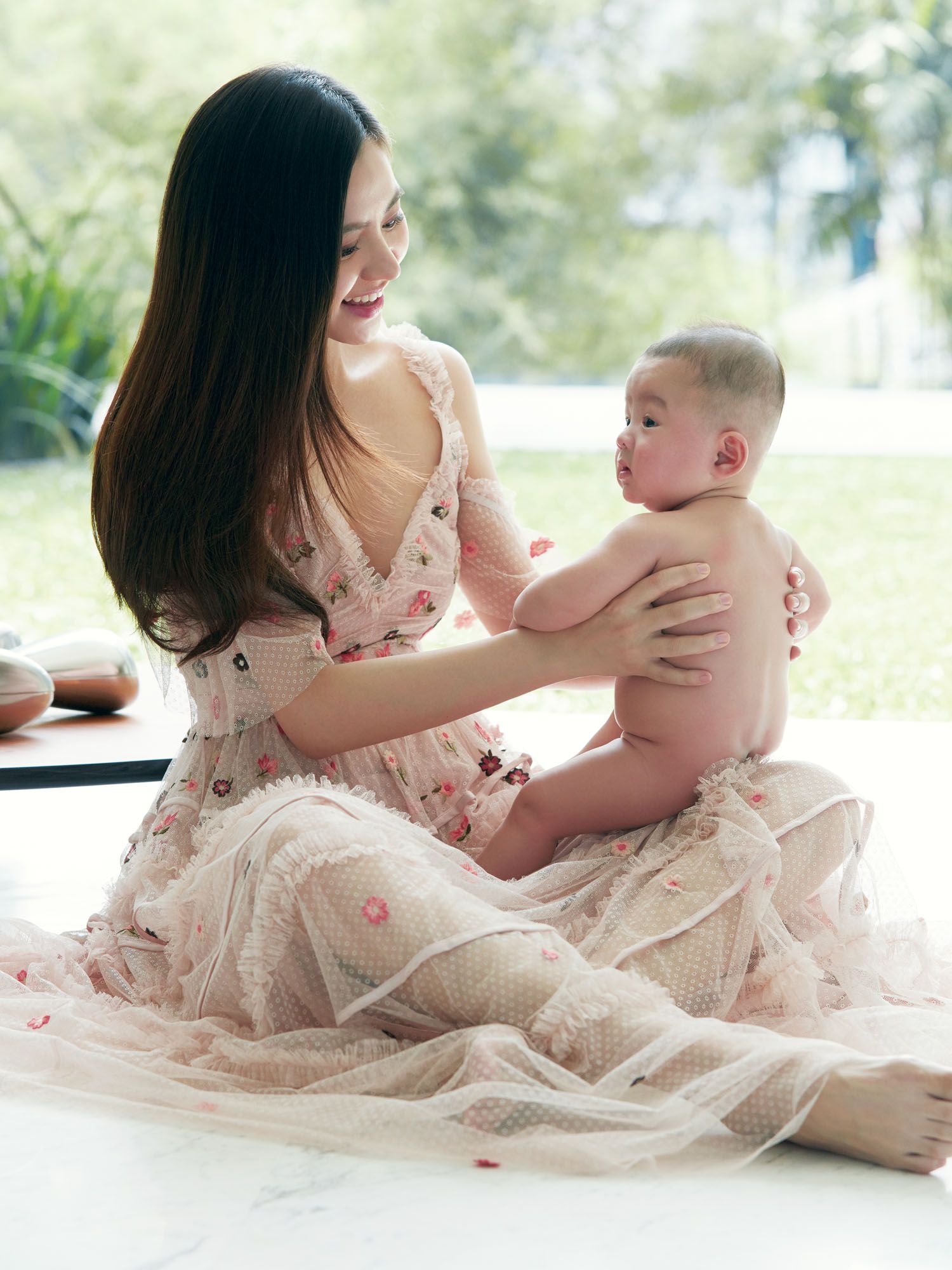 What's your take on Marc's pictures on social media?
Cheryl Wee (CW) My family is particular about putting his pictures online. They're being conservative and want to maintain some privacy. My parents have always been very protective of us too, especially when we were children. We weren't well-to-do then but my grandfather drove us around, and were hardly allowed stayovers. That's why my sister and I are so close—we didn't go out much. She was my sole play buddy.
I'm not super strict about pictures of Marc online, but I'd try to avoid a big, upfront shot of his face. If my close friends take a picture, I'd tell them not to post it. But for people we're not that close to, I'll have no choice because it's a bit awkward to make this demand.
Wasn't that hard to control at his 100-day celebration then?
CW I only told my close friends. I didn't want to seem stuck up. Thankfully, there was no issue because he was asleep most of the time and in a pram. At the same time, I didn't want to fuss and get stressed over this either.
Besides being protective, is there another reason for it?
CW When I started singing, a lot of people had preconceived notions about me. They said, "Oh, you must be very spoilt" and it's not very fair that I wasn't seen for my work instead. Plus, stereotyping is so common. When Marc grows up, we don't want people to say, "Oh, you're who and who's son." He should be allowed to grow up and be his own person and let people see him for who he is. That's part of the reason why we don't want to expose him too much.
(Related: #Tatlergram: Cheryl Wee and Roy Fong's Wedding Ceremony)
While Marc isn't frequently on social media, you are. You were posting on Instagram Stories during the middle-of-the-night feeds, and it was all very honest and raw.
CW Social media, for me, isn't about likes. It's about putting your journey out there and to have someone to relate to. My motto in life and (my business) Cheryl W. is to inspire others to find their best selves. Firstly, I need to be constantly inspired by other people. And secondly, to inspire other people, you should always spread the good things. In sharing, you inspire other people to find their best selves.
Even in motherhood, being your best self doesn't mean you have to be a 24/7 mum. It doesn't mean that you have to breastfeed exclusively for six months. Everyone's version of what "best" means is very different. But how we arrive at that version is through grabbing and experiencing different things, and putting our own concoction together.
How did the online community react to your openness?
CW Quite good. That's when I found a bit more meaning to social media. Because when you just share a picture, with a caption "me and my baby"—to me, it feels quite pointless. The interaction and support, on the other hand, is good. I feel like I am part of this community, even though social media is supposedly cold and distant.
What topics got you the most responses?
CW When I asked the question: "How do you put a baby to sleep?" Another one was about power pumping, and when I shared my reviews of lactation cookies. They were all on Instagram Stories—because I didn't have time to take pictures! People DM (direct messaged) me questions too, some told me that they were giving birth, and asked for recommendations. It's great that I can pass on what I've learnt in my journey to other mothers.
(Related: Cheryl Wee Curates A Capsule Wardrobe)
Besides social media, how has motherhood been for you?
CW Definitely different from what I expected. I always thought that I would be like my mother who went back to work quickly—in fact, 12 days after she gave birth to me.
To be honest, my mother is not the most maternal. But it's not her fault; she had no choice. She told me: "As long as she doesn't work, there'll be no food on the table because there is no money." Customers come to the shop to get their hair done by my mum and dad, so it was really tough for them. She took care of not just our little family but her five brothers and sisters, and my grandparents.
So I thought I'd want to focus on my career too. But once Marc arrived, I realised I wanted to spend a lot more time with him. Weekends with him are not enough. So right now, I'm just doing the best I can. It's a constant struggle.
When did you head back to work?
CW On my 40th day, and I started with half days. Having a mum who went back to work after 12 days as a benchmark… I thought that 40 days is a very long time. But I was excited to go back to work too. I was in the middle of making products to be gifted to guests during Marc's 100th day party. It's a set of baby lotion and baby wash—made from oats, avocado oil and lavender oil. I was developing it while I was pregnant, and I rushed back to work to do the final touches after my maternity leave.
Is that under the Cheryl W. brand?
CW For the party, I called it Marc by Cheryl W. because he is the one who inspired me to create it. I want to get more feedback and improve it. Consumption of these products is very high, and I would like to create a line that is well-made and chemical-free. By the end of this year, I would like to sell it. My dream is not just a physical salon store, but retail products. The Cheryl W. wellness drinks were inspired by my eating disorder and weight-loss journey. Now the baby line is inspired by Marc, and that's why I was excited to be back at work too. My own business—that's definitely my other baby.
Fashion Direction Daphne Chen-Cordeiro
Art Direction Matilda Au
Photography Joel Low
Styling Cheryl Chan
Hair Jenny Han/Jean Yip
Make-Up Larry Yeo using CoverFX cosmetics