TWG Tea's Taha Bouqdib And Maranda Barnes Talk Tea And Global Ambitions
TWG Tea co-founders Taha Bouqdib and Maranda Barnes celebrate a decade in Singapore at the helm of a company that has put a vogue spin on an ancient beverage, and tell Hong Xinyi about how they created a worldwide brand
All romantic comedies kick off with what screenwriters call a "meet cute"—when boy encounters girl and sparks start to fly. Taha Bouqdib and Maranda Barnes have a really good meet cute, as we find out when we ask the couple behind TWG Tea about their first encounter.
Maranda, who is originally from Chicago, started violin lessons when she was three years old, and moved to France in her teens to study French while attending the Conservatoire de Paris, before studying comparative literature at The American University of Paris. During her years in the French capital, she frequented tea salons, and it was in one of them that she first encountered Taha.
A Frenchman of Moroccan descent, Taha had been working in the tea industry since he was 23 years old. When the two met, he was an executive at a Parisian tea specialist. "Over the next four years, we would always say bonjour when we saw each other in the salon and exchange a little bit of small talk. Towards my last semester of university, I happened to be in the salon alone, and he told me later that it was the first time I had been there without my parents or friends," Maranda recalls, the happy memory lighting up her face. Taha, who was no fool, seized this rare opportunity to ask her out. "I said yes, obviously, and the rest is kind of history."
Maranda, who radiates bubbly warmth, recounts this story for us as she gets dolled up for our cover shoot in TWG Tea on the Bay at Marina Bay Sands, while Taha slips out briefly to check on the brand's other tea salon in the integrated resort. When he returns to get groomed for the camera, we grab the chance to ask him for his memory of the couple's meet cute.
"We met in Paris, around a cup of tea," he says, with the gentlest of smiles, and that is about all we can coax out of him. The courtly discretion of his version is quite endearing, but he proves much more forthcoming when the focus shifts to the story behind TWG Tea.
(Related: An Inventive Gastronomic Experience At TWG Tea)
Taha and Maranda got married in Paris in 2003. By then, the former had been a Parisian for over 20 years, and "at the time, I was sure that I would never leave Paris", he says. But a year later, an opportunity to start a new tea label in Singapore presented itself. At that point, Taha and Maranda had just become parents—their son Adam is now 15 years old—and it was this personal milestone that made a leap into entrepreneurship that much more appealing for them.
"We had some complementary talents," says Maranda. She had accumulated several years of experience in marketing and communications, while Taha was well versed in not just the tea trade, but also the world of luxury retail. "We just felt, why were we working for other companies when we could be doing something amazing together? When we had Adam, we thought: 'Now is the time to start something of our own. We have another generation we are responsible for now, it's not just about us anymore.'"
Building their own business would also allow them to spend more time with each other, a prospect Taha welcomed wholeheartedly. "Many couples are afraid to work together, but they don't know how comfortable this can be when it comes to making decisions," he says. "When I have doubts about something, I know she will tell me the truth. That is a big help."
"Many couples are afraid to work together, but they don't know how comfortable this can be when it comes to making decisions"
Trending tea
We get a sense of how in sync the couple is when we ask if they had any reservations about the prospect of making such a big change in their lives. "No, not at all. It felt like we had nothing to lose and everything to gain," Maranda says emphatically. Taha adds this poetic flourish: "It's like you are standing in front of water and you don't feel that it will be cold if you jump in. You need it more than you are afraid of it."
In 2007, the couple visited Singapore for the first time while on holiday and fell in love with the city. "We went everywhere—the markets, the malls, the Botanic Gardens," Taha remembers of that first trip. "The people I met were very impressive; for me, they are the soul of this country. I felt that I could build an extremely strong base here and grow the brand very quickly." Three months later, they had relocated from the City of Light to the Garden City. It was a swiftly made decision, but by no means an impulsive one; they were convinced that this would be the perfect base for a new luxury tea label with global ambitions.
(Related: Welcome To The Wonderful, Colourful World Of TWG Tea)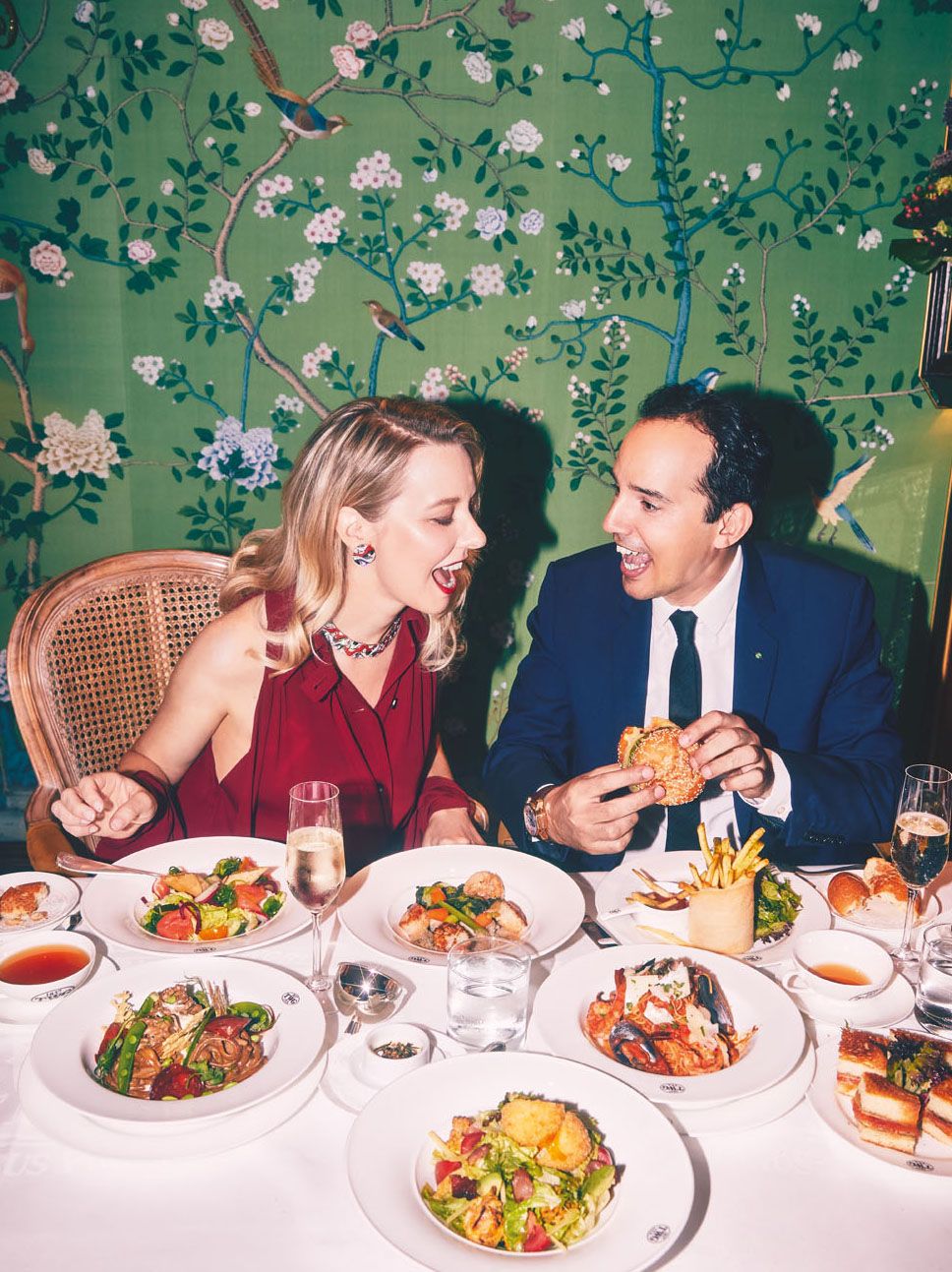 Indeed, to hear Taha talk about Singapore would convince pretty much anyone that this dapper cosmopolitan should be made a tourism ambassador immediately. Singapore's reputation for being clean and trustworthy is an invaluable asset for a food and beverage brand seeking a global footprint, and the country's administrative efficiency and transparency is a clear boon for businesses, he reminds us. These are familiar arguments, but his enthusiasm is infectious.
"Singapore has an amazing image. Wherever I go in the world, I am always proud to talk about Singapore. Without this country's spirit in the brand, we may not have what we have today. We cannot forget what Singapore has given us."
"Without this country's spirit in the brand, we may not have what we have today. We cannot forget what Singapore has given us."
That includes a splash of heritage. The year 1837 that features in the TWG Tea logo refers to the year Singapore founded its Chamber of Commerce, thus becoming a trading post for teas. Maranda, the company's director of corporate communications and business development, discovered this little fact while researching Singapore's history at the National Library. The company launched in 2008 with salons in Republic Plaza and Ion Orchard, paying homage to its home base with the Silver Moon Tea, blended by Taha to complement the taste of mooncakes.
(Related: The Art Of Pairing Traditional Mooncakes With Teas)
By 2009, its premium teas were being served on Singapore Airlines' Suites, First Class and Business Class. The next year, it opened its first overseas location in Tokyo and its products started being sold in London's prestigious department store, Harrods. Today, there are 70 TWG Tea Salons & Boutiques in 19 countries, and its 800-odd single-estate, fine harvest and exclusive tea blends from 46 tea-producing regions are distributed in 42 countries.
Besides tapping on his extensive network of premium tea producers, Taha, TWG Tea's president and CEO, had a very distinct idea of the retail environment he wanted to create for the brand's salons and boutiques. "A traditional European tea salon is more colonial and… dusty," he says, choosing his words carefully. "We wanted to create a luxury brand that was brighter and more comfortable, while still being discreet."
One strategy he deploys is to choose locations that are in close proximity to luxury fashion boutiques. "We want to be a special destination, not something you can find on every corner. A place where someone buying from Dior or Louis Vuitton will feel comfortable, like they are entering another part of the same club. At the same time, it is still an affordable luxury."
Another aspect of the brand's luxe vibrancy is expressed through TWG Tea's eye-catching tea canisters, which come in a rainbow of hues. That is one way to convey the message that this is no fusty old-world tea salon, says Taha, who shares the story of how he selected the bubblegum pink hue for the packaging of the Amour de Thé blend. "I saw two young girls with their mum at our Ion Orchard salon, and they were looking for a pink tea canister, but we didn't have one then. That made me very sad, and that's why I created the Amour de Thé blend with the pink canister. This is how I do things, by observing our customers every day."
Making the world of exclusive teas appealing for a younger generation is an important way to grow the brand. "Anyone can be a part of TWG," Taha believes. "We are not just a tea store, we offer a lifestyle experience and we express that through colours and images. I always tell the staff not to sell a product but to share the history and knowledge of tea with customers. Once they have that knowledge, the customers will come back."
To that end, Maranda spearheaded the TWG Tea Institute to strengthen training and development for staff and global franchise partners. Based in the company's Singapore headquarters at Havelock Road, the institute was launched in 2017 after a two-year incubation period and offers courses on tea brewing and appreciation not just for frontline staff, but also those in departments such as human resources. The goal: to ensure everyone understands the brand's products and values thoroughly. (Bonus: everyone in the office knows how to brew a fantastic pot of tea for pantry breaks.)
This endeavour took over $1m to realise, and it is already paying off. Since the launch of the pilot training programmes, the retention rate of TWG Tea's Singapore employees has more than doubled.
"We are not just a tea store, we offer a lifestyle experience and we express that through colours and images."
Reading the tea leaves
Having a rigorous training system in place is a crucial strength as Taha and Maranda continue the brand's expansion in new markets. The past decade has been spent establishing an extensive Asian presence, particularly in major tea‑producing and tea-drinking countries such as China and Japan, and that is entirely by design. "We want to make sure we have the trust of our Asian customers," says Taha.
This year, TWG Tea debuted its first standalone stores in London's Knightsbridge and Leicester Square—the latter even boasts the first TWG Tea Museum, which showcases vintage tea wares from all over the world. There are more European stores on the agenda, as well as plans to expand the brand's footprint in the North American market in one to two years' time. The US, in particular, "is an untouched market with regards to tea, and there is a lot of potential", says Maranda of her homeland.
The challenges when it comes to these new markets will be distinctly different from those they encountered in Asia. "Here, it was about convincing very experienced tea drinkers to think of tea as part of a lifestyle experience, rather than a traditional or restaurant experience," says Maranda. In Europe and the US, on the other hand, the mission will be to introduce consumers to a wider variety of teas.
One thing is for sure, though. As they continue this adventure they started together 10 years ago, they know that they always have each other to count on. Taha points out his wife's indomitable enthusiasm. "She's always at 100 per cent. I have never seen her off her game, or not be able to move on from a setback. She's always excited about what we are doing."
Ask Maranda to name her husband's biggest strength, and she proves similarly effusive. "He is the life and breath of the company. He is incredibly passionate, detail-oriented and inspiring, while also being kind, with a wonderful sense of humour. I can't ask for a better partner, in work and in life."