10 Reasons Why Devialet Is Tech's Next Big Thing
French audio technology start-up Devialet is already revolutionising the way we listen to music with the Phantom speaker and Expert Pro line of home audio systems.The next step? Bringing the best sound to every device you own.
Here's why Devialet should be on your radar now—before it becomes a household name in the not-too-distant future.
1/10
Their investors have included some of the biggest names in business, tech, music, and luxury. Think LVMH head honcho Bernard Arnault, Android founder Andy Rubin, and hip-hop mogul Jay-Z (who has eight Phantoms at home). They've also already got an impressive celebrity following: Karl Lagerfeld (he reportedly owns 20 Phantoms), Kanye West, Jared Leto, Jennifer Garner, and Will.I.Am to name a few.
2/10
Their unparalleled sound technology has garnered them 62 international awards and over 100 patents since 2007. It's not an understatement to say Devialet has revolutionised the audio industry multiple times over, starting with the groundbreaking ADH technology invented by co-founder and chief engineer Pierre-Emmanuel Calmel in 2004. Short for Analog-Digital Hybrid, it blended the two opposing amplification technologies for the very first time, delivering stadium-filling sound from a miniscule source. In the audio world, this was like bringing colour to television—in other words, absolutely game-changing stuff.
3/10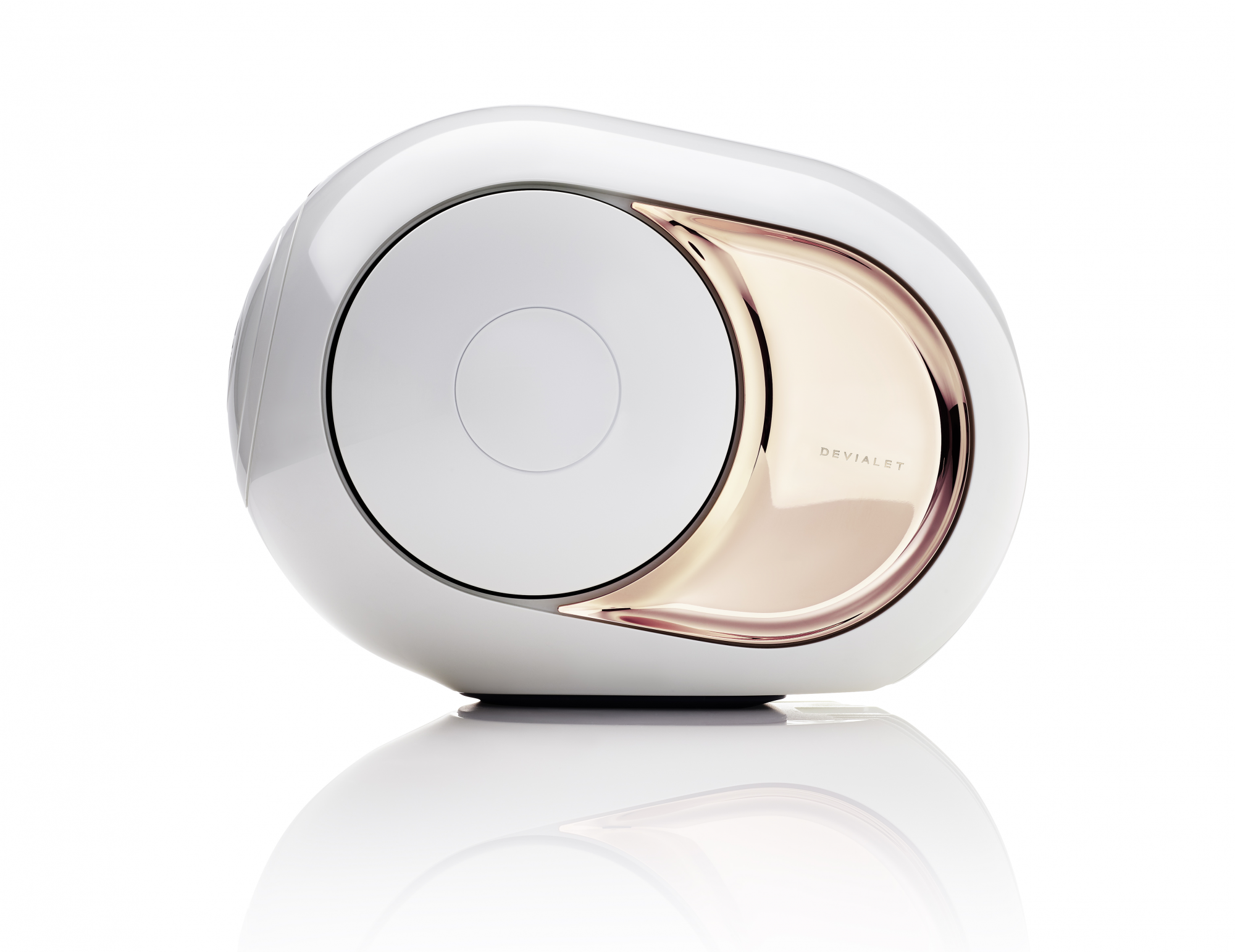 They're often called "the Apple of Sound." Just like Apple's trailblazing iMac back in the late '90s, Devialet's flagship Phantom speaker has become an instantly recognisable icon of design for its sleek sci-fi look and cospherical shape. It's even sold in select Apple retail stores, its looks blending seamlessly with the tablets and smartphones on display. Coincidentally, Steve Jobs was also a huge audiophile, and we're pretty sure the visionary himself would have approved.
4/10
The president of France is a loyal fan. Even before he was elected to lead the nation earlier this year, Emmanuel Macron had already owned a Phantom for two years, when Devialet was just a little-known French tech start-up. Nowadays, when the president is photographed in his office, a familiar white orb is often looming in the background.
5/10
The Paris Opera is letting them build a shop in the Palais Garnier—for the first time ever. The new Devialet "sound discovery area" is the first store ever allowed inside the iconic opera house, whose structure is strictly protected by French conservation law. The 10-year collaboration also introduces the world to Live On Phantom, an exclusive streaming service that allows Phantom owners to experience live performances at the Opera Garnier in real time, as if they're in the audience, no matter where they are. Concert lovers, pay attention: today, it's opera; tomorrow, it could be Coachella or the Beyonce world tour.
6/10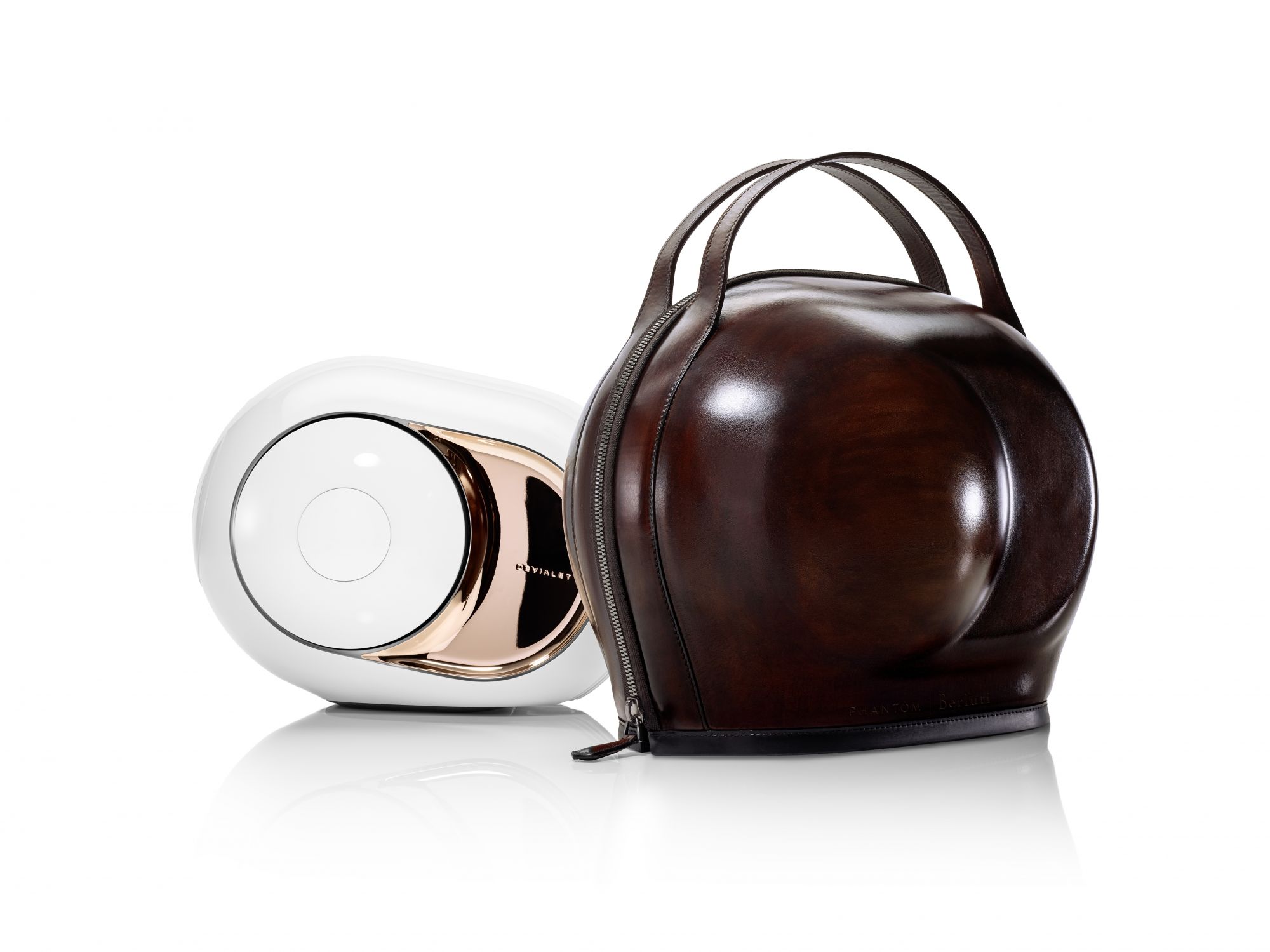 Luxury brands are eager to work with them. Earlier this year, French bespoke shoemaker Berluti created a made-to-measure limited-edition "Cocoon" carrying case in tobacco-hued leather for the Phantom. Devialet's next high-profile collab? They're teaming up with Louis Vuitton to create a custom DJ trunk, inspired by the luxury house's legacy travel trunks. You read it here first.
7/10
They're bringing rare recordings by legendary artists back to life. Devialet's The Lost Recordings project works with music archivists and record label Fondamento to unearth and restore lost performances by some of the greatest jazz artists of all time. Ella Fitzgerald, Thelonius Monk, and Sarah Vaughan are just some of the musicians whose never-before-heard recordings have been resurrected and remastered on vinyl. Aficionados can finally complete their collections.
(Related: Devialet Presents The Lost Recording of Sarah Vaughan)
8/10
They're opening stores all over the world, at breakneck speed. In the past year, Devialet has opened multiple standalone stores in key cities like New York, Hong Kong, and Singapore, quadrupling its presence in Asia by the end of 2017. It's a sign of things to come—the new store at Marina Bay Sands, just opened in July, is already being expanded to become the brand's biggest store in Asia.
9/10
Their sound technology is going to be everywhere in the future. And we mean everywhere. Your TV, your computer, your smartphone, your car. Devialet's goal is to put their tech inside every device with sound output, giving millions of people access to "the best sound in the world". A recent partnership with Sky in the UK uses their tech to enhance TV viewing, and they're already working with a luxury automobile manufacturer to develop a Devialet in-car sound system.
10/10
It's not about the tech—it's about the emotion. Listening to a Devialet machine for the first time has moved men to tears—Bernard Arnault and co-founder Quentin Sannié admit as much—and you don't have to be an audiophile to understand why. Their innovative tech delivers sound with such clarity, precision, and heart-stopping realism that it feels like the musician is in the room with you. Not convinced? Head down to a Devialet store and listen for yourself. This revolution is real—just don't say we didn't warn you.