Should You Make A Bespoke Wedding Gown?
Forget about settling for an ill-fitting wedding gown that took you months to find. With a bespoke creation, you'll be saying "yes" to the dress at first sight.
Finding a wedding dress that's flattering and fitting is trying enough, let alone one that also reflects your style and personality. It is not impossible, however; with time, patience, and luck, you'll meet the gown of your dreams. The right designers can advise on the most flattering silhouette for your body while ensuring no detail is left out.
When creating a bespoke gown, you are an integral part of the creative process, so you'll work closely with the designer from your first meeting to the final fitting session.
Bespoke wedding gown ateliers, Silhouette The Atelier and Rebecca Caroline offer a peek into the meticulous creation process of a bespoke gown.
What is the typical timeline for creating a bespoke gown?
Minda Gomez of Silhouette The Atelier (MG) During the first session four to six months before the wedding or up to eight months for complicated designs, we usually discuss and confirm the gown design. The first fitting takes place one to two months later. Here, the bride-to-be will wear a skeleton of the dress. After this, we start adding the lace and working on the details. There will be three to four fittings. The final fitting is done 10 to 14 days before the wedding.
What kind of prep work should brides-to-be do prior to meeting you?
MG Come with some photos of the types of gowns you like. This could come in the form of a mood board of sketches, photos or magazine cutouts, or you can show us your Pinterest wedding board. It will give the designers a better idea of your design preferences before they offer more refined recommendations.
(Related: Singapore Tatler's The White Book: For Brides-To-Be)
What should brides-to-be consider when choosing a gown designer?
MG It's important for them to feel comfortable with the designer, and that both parties understand each other, which is why communication and honesty are key—the bride has to be honest about what she expects and what she wants; and the designer has to be clear about what can or cannot be done.
What's the most common problem that can arise when making a bespoke gown?
MG Brides-to-be wanting to change the design and even the cutting of the dress after it has been made. To avoid this, we inform clients that once the dress is made, any drastic changes, such as reshaping the silhouette, will incur a fee. If we encounter brides who cannot decide what they want, we would advise them to go for off-the-rack gowns instead of bespoke gowns. That way, they can instantly see how the dress looks on them instead of having to imagine how it might look on them. We've also had pregnant brides, which means we would have to work on an extremely tight timeline for the fittings so as to avoid any major alterations closer to the big day.
How do you prepare for and cope with unexpected gown mishaps?
MG We conduct stringent and thorough checks on the dress before the wedding. That aside, we also brief brides-to-be on the measures they can take in the unlikely event of a mishap. We also offer the option of an additional service where one of our staff follows the bride around on the actual day, functioning as her personal gown assistant.
(Related: On A High Note: Dawn Wong & Neo Yaosheng)
What are the most requested gown features?
MG Plunging necklines, backless styles and heavy beading.
Any tips for a smooth gown-making process?
MG Know what you want, but give the designer space to work on the dress of your dreams.
What prep work should brides do before meeting you?
Rebecca Caroline (RC) The initial meeting involves heavy input from the bride. You should do simple research on the wedding theme and venue, and have an idea of the silhouette and style of dress you want. Alternatively, we can guide you and help to personalise a perfect look for you.
What decisions are better made by the designer, and conversely, what decisions are better made by the bride-to-be?
RC When it comes to the cutting of the dress, it's best to trust the designer as we know what cut will flatter the bride's figure. But where the colour is concerned, the bride-to-be would know the colour that best complements her skin tone, plus she may want one that matches her wedding colour theme.
(Related: How To Start (And End) Every Honeymoon)
Are there certain intricacies a bride-to-be may not know about?
RC Brides with a fuller body should avoid fabrics that can cling to the body, like silk satin. Thicker fabrics or lace will help camouflage problem areas. To distract from the area, we can also place lace embroidery or beads to accentuate parts of the body the bride wishes to flaunt.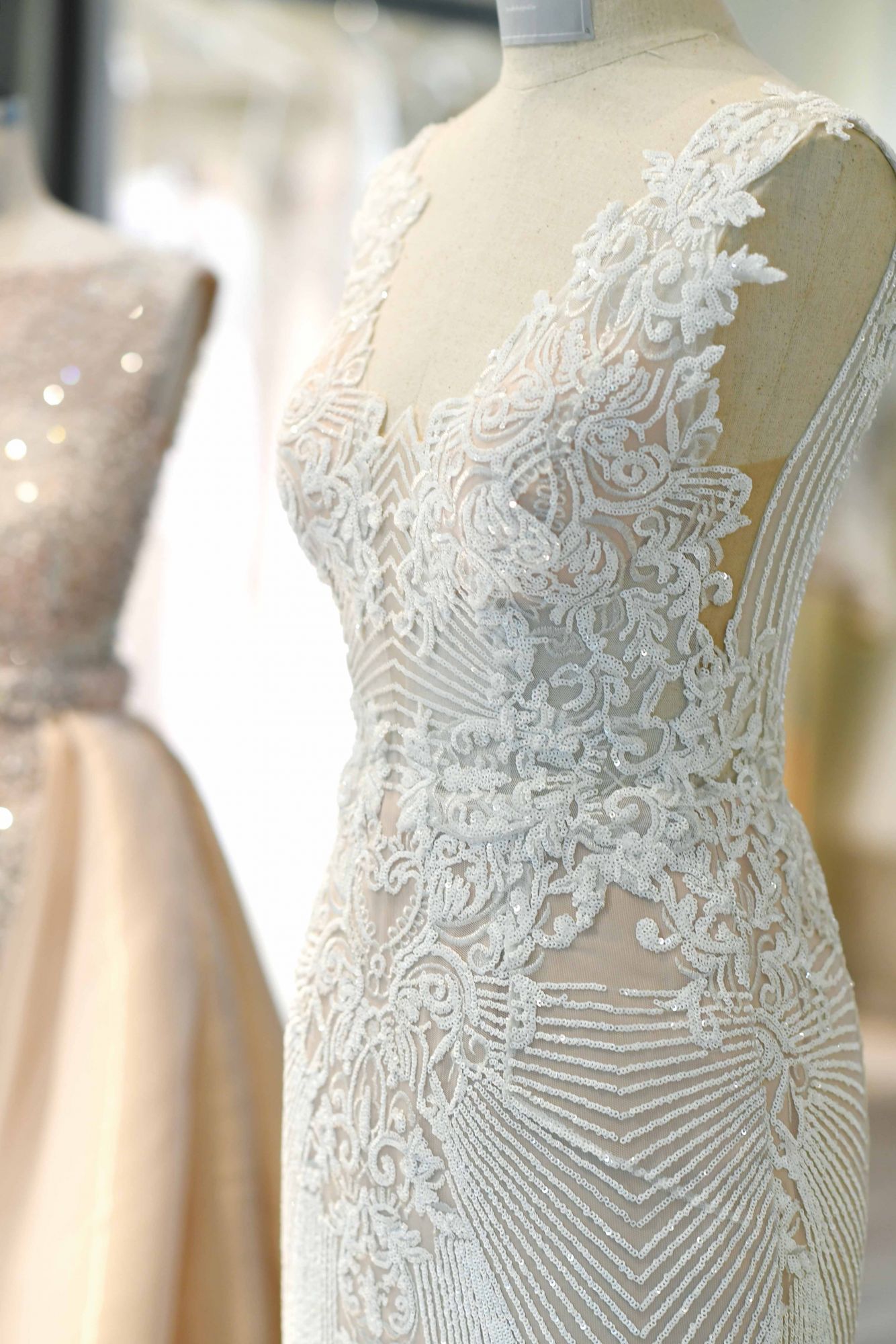 How can brides-to-be choose the right designer for their bespoke gown?
RC Choose a designer who understands what you are looking for and is able to actualise your vision and ideas in their creation. The right designer certainly would not add stress to the bride-to-be!
What happens after the gown design is finalised?
RC We then do our own research and visualisation. We'll drape onto a mannequin the various fabrics to be used in the dress as well as map out the placement of any detailing such as lace and sample beadings. We will show this simple mock-up to the bride on her next visit to give her a better visual idea of the final outcome. During this stage, we also discuss details such as the type of neckline and length of train.
What should the bride bring to the fitting session, and should she wear her hair in a style similar to that for her actual wedding day?
RC Shoes are important as we will need to alter the length of the gown according to the height of the shoes that will be worn on the wedding day. We wouldn't want the bride to lift the gown each time she walks! They can wear their actual wedding day hairstyle during one of the last fitting sessions to see if the overall look is complementary.
How do you handle brides who want a say in the entire creation process, from material selection to colour matching?
RC It's good that brides know what they want. It will make it easier for us to achieve their desired gown if they are upfront with us about their likes and dislikes. Of course, if their choice is really not suitable for them, we will suggest alternatives. For instance, if a bride insists on having her dress designed in a way we know would look unflattering on her, we would have her try two ready pieces—one close to the design she insists on having and the other being the one we think would fit her better. This way, she'll get a better idea of what suits her.
Is insurance necessary for bespoke gowns?
RC No, unless you are planning to have an overseas wedding and need to insure the dress against loss and damage.
Silhouette The Atelier, 20 Emerald Hill Road, Tel: 6733 7197, silhouette.com.sg; Rebecca Caroline, 1 Nassim Road, 02-02, Tel: 6734 1242, rebeccacaroline.com.sg