"I Took The World's Longest Flight From Newark To Singapore": Here's What To Expect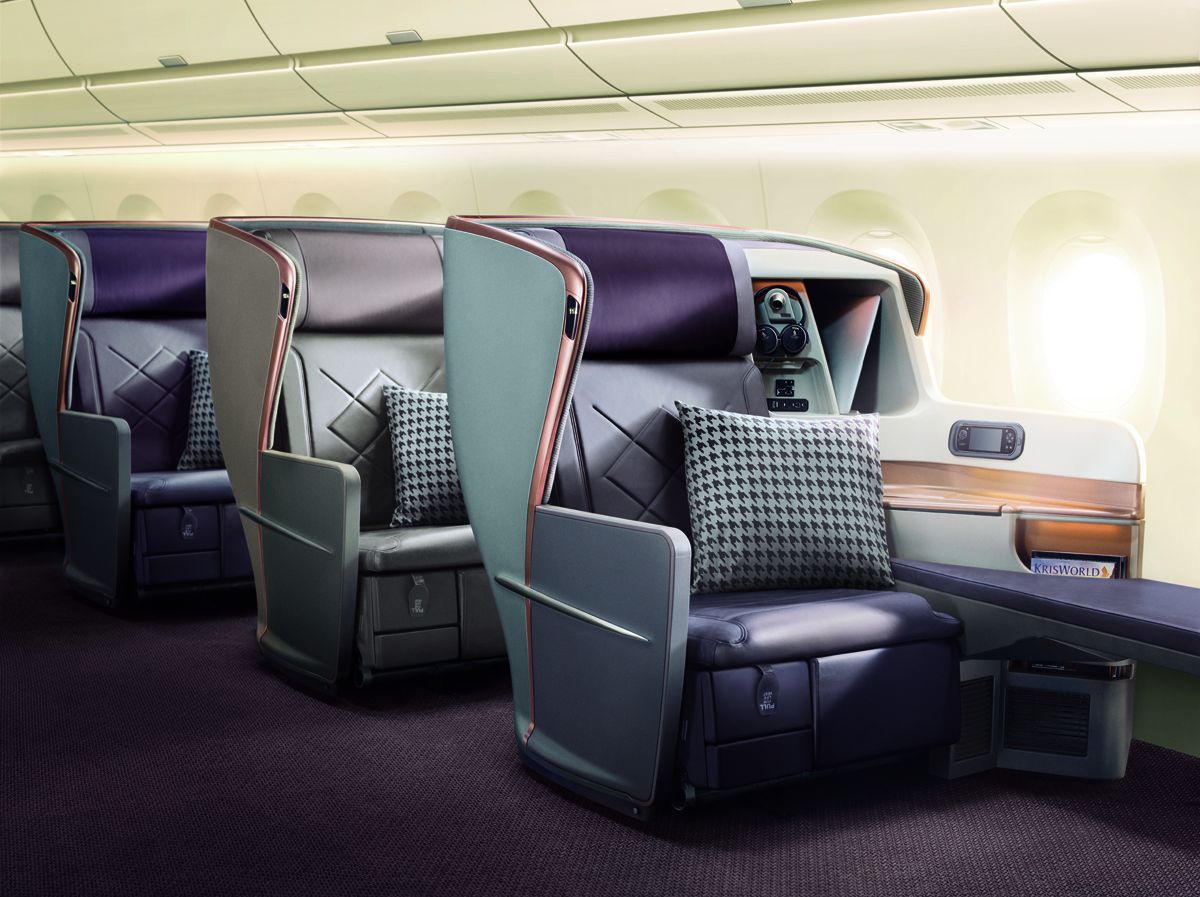 At just under 19 hours, the world's longest flight from Newark Liberty International Airport to Singapore Changi Airport is not for the faint-hearted traveller. Here's our review of the journey
1/6 Ahead of the trip
The moment I knew that I would be headed to New York for work in October, I requested to be booked on the new non-stop Singapore Airlines flight between Singapore Changi Airport and Newark Liberty International Airport.
At just under 19 hours, the world's longest flight shaves away a good four to five hours off from a journey with a single stopover, and I was glad for the time savings. Alas, I was due to arrive in the Big Apple a couple of days ahead of the first flight out from Singapore, but I was fortunate enough to secure a seat on the plane's inaugural return trip from Newark to Singapore on SQ21.
2/6 The cabin
This is the first A350-900ULR (ultra-long range) aircraft that Singapore Airlines has taken delivery of, and there are 67 Business class (with a 1-2-1 configuration) and 94 Premium Economy (with a 2-4-2 configuration) seats available for booking. To help passengers cope with this long flight, tweaks such as a better air filtration system, reduced cabin pressure, and 16 million LED-based lighting to simulate sunrise/sunset were incorporated.
At 28 inches (71cm) wide, the Business class seats are spacious and look very similar to the seats on other A350 Singapore Airlines flights. The most sought-after seats would definitely be the bulkhead ones, which have a much larger footrest area.
Having flown into New York via Frankfurt on Business class on the A380 and enjoyed the very generous 34-inch wide seats, the A350 seats do look smaller in comparison. However, they still come out tops in contrast to competitors like British Airways (25.25 inches), Emirates (20.5 inches) and Eva Air (22 inches).
3/6 The Premium Economy seats
For this flight, I was seated at 34H in Premium Economy, and though there was no flatbed to be enjoyed, the seat width at 19 inches (48cm) and pitch of 38 inches (96cm) when fully reclined meant that I was in for a fairly comfortable ride. Most importantly, the addition of an adjustable footrest meant I could stretch out better. The seat was definitely much plushier than a regular Economy one, and I appreciated that the rectangular pillow provided good back support.
There are a couple of noticeable modifications to the Premium Economy seat aboard this flight, and they include less bulky seats, a higher seatback pocket and a re-designed cupholder (located at the end of the armrests).
Tip: From rows 40-42, the seats are laid out in a 1-4-1 configuration, which means that if you happen to score the windows seats for those rows, you'll have extra storage space plus no one to climb over (or have climbing over you) during toilet breaks.
(Related: Here's How To Make Your Travel Experience Extraordinary)
4/6 Entertainment
Singapore Airlines has always been known for their world-class entertainment system, and for this 19-hour flight, they have included an additional 200 hours worth of movies, shows, and music to be enjoyed, on top of their usual 1000+ hours.
As with any long flight, I had pre-downloaded a couple of e-books and episodes of my favourite Netflix programmes on my mobile phone, but found myself enjoying Ocean's 8, Fresh Off The Boat and The Big Bang Theory on the 13-inch screen instead. The touchscreen means you won't even have to use a remote control, but you may choose to pair your phone as a secondary device if you like. Singapore Airlines collaborated with wellness brand Canyon Ranch to produce a series of sleep, dining and exercise strategies and this includes two stretching videos to promote overall well-being.
A pair of noise-cancelling headphones were already provided in the seatback pocket during departure, but I chose to use my own headphones instead. I'm happy to report that I enjoyed quality sound even though my earphones had only one jack, versus the issued headphones with a three-prong jack, and I didn't have to fiddle around trying to find the optimal placing for the jack to avoid any sounds of static. P.S. This sounds like a such a minor issue, but I'm sure people who rather use their own headphones—like me—would know exactly what I'm talking about!
There are also two USB charging outlets in Premium Economy. One is found next to the screen, while the other one is located at the top bit of the seat rest.
5/6 F&B
Book The Cook was not available for my flight, but I was looking forward to trying out something from the airline's collaboration with Canyon Ranch, which apparently clocks in only 700 calories per meal. Unfortunately, the healthier option turned out to be Herb Roasted Chicken Breast (which I'm not personally a fan of), so I opted for the Pan Fried Fish in Thai Choo Chee Curry instead. The dish was pretty flavourful and I polished up most of it, along with the rice.
There were snacks (Hershey's Cookies and Cream Bar, Original Sun Chips, fresh fruits, etc) and sandwiches (Vegetarian Tortilla Wrap and Multigrain Bread with Jerk Chicken) offered mid-flight, but I missed out on trying those as I was fast asleep.
At around the 13-hour mark, dinner was served. My first option of Baked Three-Cup Chicken with Asian Vegetables and Fried Rice was incredibly popular and had run out by the time the stewards reached me. Not wanting to do fish again, I got the Pulled Pork Shoulder in Mustard Sage Sauce with Sauteed Vegetables and Polenta. The veggies and polenta were tasty and I finished all of it, but I did find the pork to be a bit on the drier side and took only a few bites.
Perhaps because it was an inaugural flight, that champagne was offered generously throughout the journey. My seatmate enjoyed at least 3-4 glasses, though the teetotaler (I'm kidding, it was the dehydration I was worried about) that I am, abstained from any. Besides the usual soft drinks and juices, a mocktail of pineapple juice and coconut water, which was delicious, was also served. About two hours or so before descent, we were offered a vegetarian-friendly Four Cheese Pizza.
6/6 Tatler tips
We departed from Newark at 10.45am, and keeping the 12-hour time difference with Singapore in mind, I made sure to sleep as much as I could during the first part of the journey. We were scheduled to arrive into Singapore at around 5pm, and though I was still very sleepy (the cabin was kept dark for most of the trip), I tried my best to stay awake for the last four to five hours so that I would be "tired" enough to fall asleep according to local time.

There is wifi available on board this flight, and as with most other Singapore Airlines flights, Business class passengers get to enjoy 30MB worth of data for free. What's interesting is that if you were to fly to New York with a stopover at Frankfurt, you would actually receive 60MB worth (30MB for each leg of the trip) of data instead. For some reason, I also found that my data seemed to be consumed much faster on this flight compared to the SIN-FRA-JFK one.

Aside from socks and an eye mask (and slippers in Business class), Singapore Airlines does not give out an amenities kit. For the first three months of this flight, Business class passengers will receive a special kit which includes some hand cream, fabric spray and stain remover, etc, but items like toothbrushes, mouthwash, and facial mists are available in the bathrooms.

Flights are incredibly dehydrating and your skin suffers as well. Once I boarded the flight, I took off all my makeup with wet wipes and proceeded to apply the Kiehl's Ultra Facial Cream. At around the 9-hour mark, I washed my face with the Sulwhasoo Gentle Cleansing Oil (which I find is not as drying as a foam cleanser) and applied a generous layer of the Laneige Water Sleeping Mask in Lavender. I also regularly spritzed on the Kate Somerville Nourish Hydrating Firming Mist and kept the This Works Stress Check Breathe In roll-on oil within handy reach.

Being wary of deep vein thrombosis (blood clots that could be caused by inactivity), I wore compression leggings on the flight, got up every few hours and did stretches at the back of the plane.
(Related: Private Suites, Doubles Beds And Swivel Chairs Aboard Singapore Airlines)