Must-See: Amazing Presidential Suites Around The World
Suite dreams are made of these.
Whatever the occasion, there are times in life that call for something wonderfully over-the-top: It's for times like these that the world's most outstanding presidential suites were created.
Where do you stay when a standard hotel room just won't do? Here are five contenders which are big on space… and bigger still on wow factor.
(Related: Ireland's Wild Atlantic Way: The Culinary Road Trip You Have To Hear About)
---
1. Hotel Principe di Savoia, Milan
It's no surprise that Italy's city of style, Milan, is home to a presidential suite that could turn as many heads as its world-famous fashion shows.
Located on the 10th floor and reachable by its own private elevator, the suite covers 5,400 square feet, which comprises three bedrooms, a formal dining room, and a bar. It doesn't stop there—the suite enjoys its own private Pompeian-style spa with a pool, whirlpool, jacuzzi, sauna and Turkish bath.
Furthermore, it's a veritable antique collectors' paradise and is decked out in Empire-style antique furniture, 19th-century Venetian mirrors, marble and bronze wall lamps and plenty of Murano glass light fixtures. The suite's bedroom and dining room are furnished with French crystal, Limoges porcelain and silverware.
US$19,300 per night, dorchestercollection.com
---
2. St. Regis, Abu Dhabi
Perched 656 feet off the ground and literally hanging in the middle of the 48th and 49th floors of the two Nation Towers, it's the world's highest suspended hotel suite, offering 360-degree views of the Arabian Gulf and the Abu Dhabi skyline.
The two-storey suite opened in March 2014 and boasts three bedrooms, a private elevator, plus its own cinema, gym and a private spa. The master suite includes an en-suite bathroom, library, lounge, entertainment and dining area, decked out in Art Deco-inspired furniture and crystal chandeliers.
US$20,000 per night, stregisabudhabi.com
---
3. The Raj Palace, Jaipur
This former centuries old Indian palace was converted into a heritage hotel in 1997 and is famous the world over for its striking opulence, which merges luxury and history.
Taking it a notch further is the hotel's Shahi Mahal Presidential Suite—a four-storey apartment fit for royalty. It includes 16,000 square feet of living space, a private entrance, an elevator, and its own roof terrace and swimming pool.
The suite is home to four bedrooms, a large living room, dining room and plenty of gold and silver accents from the furniture down to the fabric. Each room is also finished with priceless artworks.
US$45,000 per night, rajpalace.com
---
4. Hilltop Estate, Laucala Island in Fiji
The Hilltop Estate is like a resort within a resort, nestled away in Laucala's Nawi Mountain landscape. The four-acre expanse overlooks white sand beaches, coconut groves, and rainforest jungles.
Owned by Red Bull founder Dietrich Mateschitz, the residence is occasionally available—by application only. The master suite offers its own library, a living room, a large private pool with a waterfall and adjacent hot tub, and a large master bedroom with a solid wood soaking tub.

It is the crown jewel of nearly two dozen luxury villas, boasting panoramic views of the island and sea. With 120,000 square feet of bedroom space, total seclusion, a private cook, chauffeur and nanny, and access to a private airstrip, it's little wonder a whole host of celebrities and world dignitaries have stayed here.
US$44,000 per night, laucala.com
---
5. Hotel President Wilson, Geneva
A previous winner of the "World's Leading Hotel Suite" title at the prestigious World Travel Awards, this 18,000-square-foot suite offers unobstructed views looking over Lake Geneva and Mont-Blanc in Switzerland, and is the largest of its kind in Europe—it's believed to be the world's most expensive, too.
The suite offers amenities you'd expect in the White House or a royal palace—12 bedrooms, an executive boardroom, exclusive art, butler, chef, private elevator, and even a security team, bulletproof glass, panic room and helipad.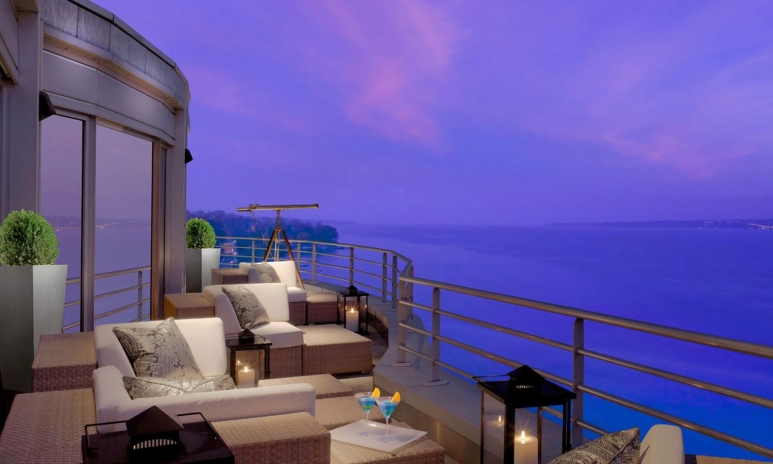 No surprise, then, that the suite has previously played host to the world's rich and famous including Michael Jackson, Richard Branson, Rihanna and Bill Gates.
US$80,000 per night, hotelpresidentwilson.com
---
(Related: The Tatler Guide to Tulum, Mexico)