The Projector's Karen Tan Opens Singapore's First Socially-Distanced Pop-Up Cinema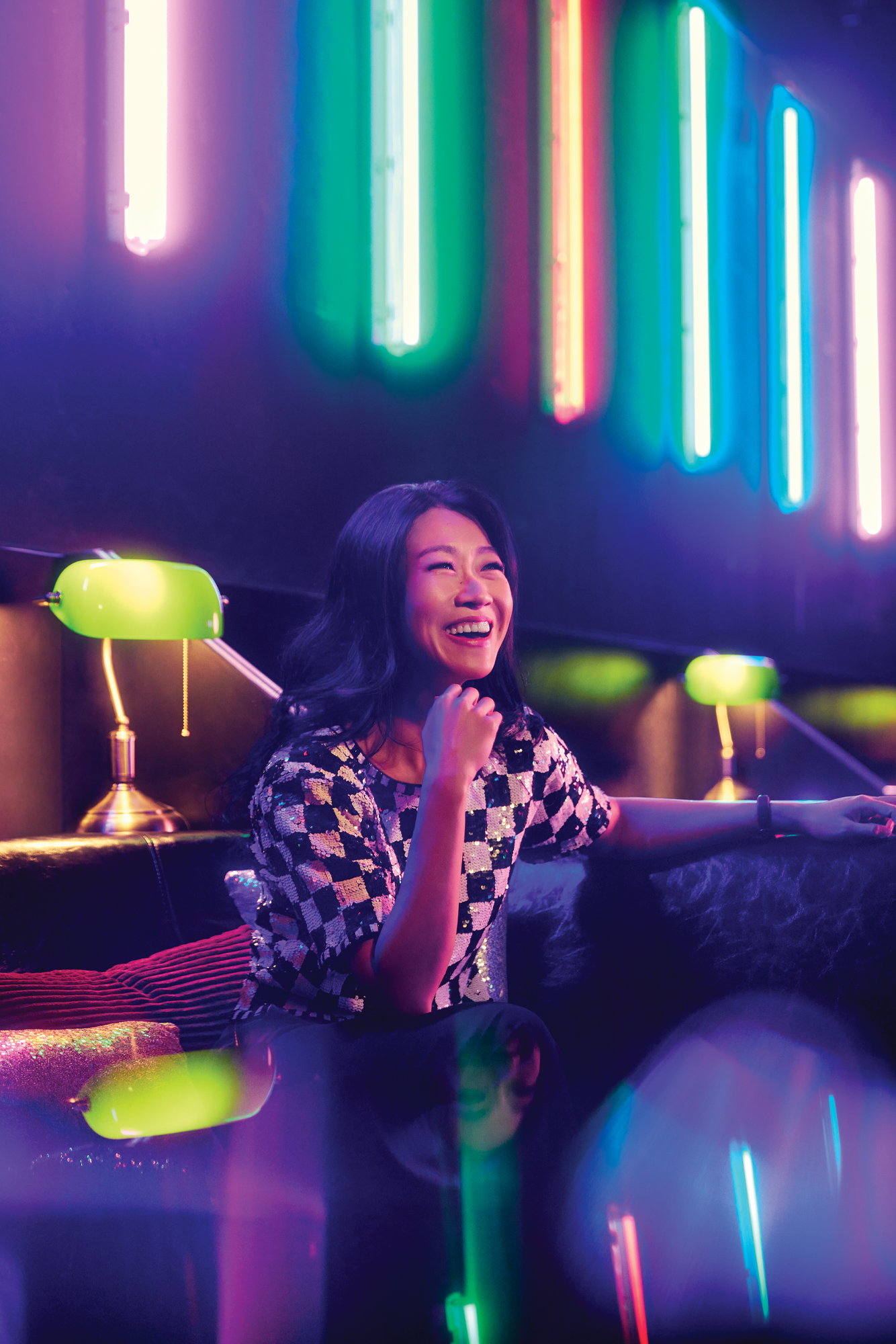 By Hashirin Nurin Hashimi
July 12, 2021
With its new concept, Projector X, The Projector takes over an abandoned nightclub at Riverside Point for an 18-month pop-up
When Karen Tan first stepped inside the abandoned Chinese disco on the top floor of Riverside Point in Clarke Quay, there were half-empty glasses at the bar, the dance floor was strewn with furniture and sound equipment, and in the changing room, costumes lined the racks, with make-up on the vanity, and heels everywhere.
"It was as if the occupants had vanished in the middle of the day—and left everything behind," declares the founder of independent cinema The Projector. "It felt like we had just stepped into a movie set."
Fast forward to two years later and Tan has transformed the dance floor into a pop-up cinema, as part of The Projector's new concept, Projector X, which opened in late April for an 18-month period. "The idea of pop-ups marries well with The Projector's approach of creating spaces that are not too polished, or too finished, and still quite raw," she shares. (Or is she making plans for the future? The Projector flagship at Golden Mile Tower is always under threat of an en bloc sale.)
"We felt that we could make something of the space by reusing or repurposing the furniture and fittings that were left behind. How often do you get to step back in time, and work on a sustainability project where you have to be resourceful on a shoestring budget," enthuses Tan, who's also the founder of Pocket Projects, a creative development consultancy focused on adaptive reuse.
Related: Tatler Tours: Willin Low Takes You Around Kampong Glam | The Best Food, Activities And Spots
"We like going into spaces where people don't see any potential in—and turning them around in interesting ways," she shares. The Projector flagship is a good example, for the multipurpose cinema, dining and event space has brought second life to the old cinema complex on Beach Road.
Tan is quick to point out that Projector X: Riverside is different from the flagship. "It's a cinema and also a cafe and bar, so that's similar to The Projector, but what we're trying to do with Projector X is to create a different sort of cinema experience, with a lot more legroom and even a personal coffee table to be used as a lap tray for food and drinks. This is Singapore's first—and hopefully last—purpose-built socially‑distanced cinema."
The seats were saved from being discarded by another cinema and refurbished as standalone pairs, while the six existing booth seats offer spacious seating for two. This makes the 48-seater cinema, which is equipped with a Digital Cinema Package, or DCP, projector, well within the strictest capacity limits of Singapore's safe management measures for Covid-19. And unlike any other cinemas here, kinophiles will be equipped with Bluetooth wireless headsets for greater sound quality—a more financially feasible solution than a full sound system.
Related: Everything We Know About the Upcoming Anita Mui Biopic
Despite its smaller floor space than the flagship, Tan says that Projector X: Riverside has "more pockets of space, which allow us to emphasise a lot more on collaborations with artists, creatives or other interest groups". For a start, there are the collaborations with Singapore talents such as street artist Steve Lawler, aka Mojoko, whose old film poster-inspired feature mural anchors the Neon Room cinema hall; drag queen Becca D'Bus, who put together the sequinned sashes left behind by the disco girls into a fabric mural; while poet-photographer Mark Nair's art installations—and prose—occupy the three existing back rooms, including the changing room, which are left as they were found.
When it comes to programming, Projector X: Riverside draws from the same slate as the flagship, from cult classics, documentaries and local films, to selections from film festivals and the Oscars season, but with exclusively curated flicks that respond to their physical environment. For example, the opening film Forever Fever (1998) is a disco-tinged musical comedy by Singaporean director Glen Goei.
Related: 9 Palme D'Or-Winning Movies to Watch Before Cannes 2021
You don't always have to tear down; you can reuse in creative ways. I think taking a step back as an urban development approach is a much more sustainable way forward.
Almost seven years in the business as an independent cinema, Tan says, "We don't take our existence for granted. Projector X speaks broadly to the larger theme of sustainability. You don't always have to tear down; you can reuse in creative ways. I think taking a step back as an urban development approach is a much more sustainable way forward."
While the cinema is very much a physical business, The Projector launched its own movies on-demand platform, Projector Plus, last July and is exploring ways of taking the cinema experience into the virtual world, "so that we can be a hybrid cinema".
Related: Bong Joon-Ho Confirms Two Sequels to His Oscar-Winning Movie, Parasite
Photography Darren Gabriel Leow
Hair Benedict Choo
Make-Up Benedict Choo