The Glamorous Accent Your Home Might Be Missing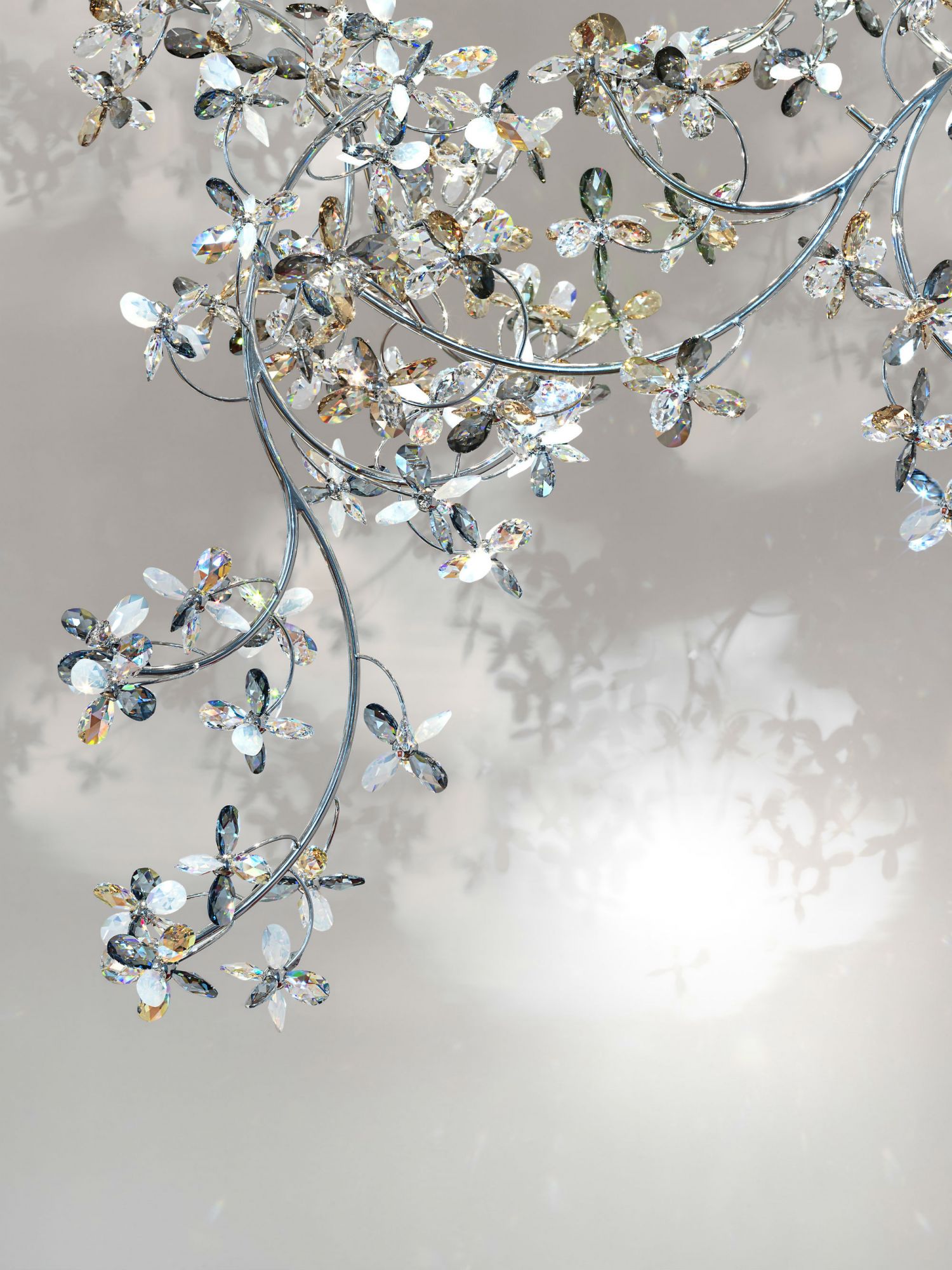 That bespoke lighting piece could instantly transform your home—the co-founders of German brand Windfall discuss the inspiring ways they have reinvented the design of the classic chandelier
When Clarissa Dorn and Roel Haagmans teamed up to realise their vision of crystal chandelier lighting, they did not imagine that they would one day be outfitting luxury boutiques across the world, the home of one of Google's owners in Los Angeles, and even a palace in Saudi Arabia.
These and more stunning interiors feature gorgeous glass chandeliers of Windfall, which lives to its name; the lighting purveyor has enjoyed a fortuitous streak of projects.
(Related: Are You Forgetting To Decorate This Space In Your Home?)
Since starting Windfall 15 years ago, the brand has become an open secret in luxury lighting, and the go-to for celebrities, the well-travelled, as well as global corporations. British Airways, Philippe Starck, Montblanc, Roberto Cavalli, as well as notable luminaries are among their litany of high-profile clients; most of whom approached them after seeing the stunning creations in the homes of friends or associates.
Yet global domination was achieved without any marketing or publicity; Windfall's website is still "experimental" (in Haagmans' words) and their very first catalogue came out only a year ago. From the beginning, both of them made a decision not to work with stores but through exclusive showrooms in selected cities like Moscow, Miami, Paris, Zürich, and Singapore.
Modest beginnings
The story of Windfall began in an apartment in Munich: Dorn and Haagmans were disenchanted with working for employers, and started out putting together their chandelier pieces on the dining table in Dorn's four-bedroom abode. In the firm's early days, everything happened in her apartment, from design to production of their crystal lighting collections.
Although it was hardly shabby—the home was a beautiful space with stucco ceilings—it was not exactly the venue one might have wished for a visit by a potential client; such as one hailing from Dubai, who called them up out of the blue, and wanted to see their chandeliers in person. In the end, the makeshift showroom was not an issue to the client; he was enraptured and won over by the sheer beauty of their crystal chandeliers.
(Related: 16 Glamorous Pieces For The Maximalist)
The pair had first met while working on a project in Kazan, Russia. Dorn's background in organising art projects and Haagmans' experience in classic chandeliers were perfect foil for their work.
Together, they combined their out-of-the-box thinking about how a chandelier should look like, with impeccable technical ability and craftsmanship, to create crystal lighting that weren't like any chandeliers the world had seen.
Gone were the candelabra arms, the scalloped ropes of hanging prisms; instead, their inventive designs feature interlocking arcs of crystalline light, dripping jewels of luminosity ending in tassels, and floating floral crowns that scatter light across the faces of awestruck guests.
(Related: 6 Elegant Pieces For The Classic Crib)
Made for you
Each Windfall chandelier is also a bespoke creation, custom-made to fit the unique setting of each space it decorates. Most of its lighting collections are also modular pieces that can be used as individual lamps, or as a beautiful cluster of lights to create a statement piece akin to an illuminated art installation.
"It's something you have to fall in love with, like a sculpture," says Dorn. Haagmans compares the experience of purchasing a Windfall chandelier to that of shopping for haute couture: "People who want something especially tailored will buy a bespoke piece."
"People who want something especially tailored will buy a bespoke piece"
While an unfettered mind is responsible for novel ideas, technical innovation also plays a big part in the design of each Windfall chandelier.
"We are developing new techniques to define a new language for crystal chandeliers," says Haagmans. "For instance, we arranged crystal beads within glass tubes instead of connecting them with metal clips to allow for different shapes, which is very different to classic chandeliers." This can be seen in the Tubees collection: crystal beads are encased in glass tubes that take the forms of floating leaves and ocean waves.
(Related: Home Tour: A Glamorous House Inspired By Italian Style)
Such technical innovation is paired with stringent quality standards. Windfall works closely with ateliers that have been doing the craft since the last century. Some of their projects are crafted by ateliers in East Germany that have worked for the former Bavarian king as well as Russian aristocracy.
"A design should be timeless, and that is our biggest challenge—to be timeless"
Even after their blitz of successful projects, Haagmans feels that there is still much to be done; the ambitious designer aspires to do better with every new creation from their lighting brand. "A design should be timeless, and that is our biggest challenge—to be timeless," says Haagmans. Their brand philosophy is simple: "We design with passion and we want to do something beautiful."
(Related: How To Add Instant Glamour To Your Home)
This story was adapted from Singapore Tatler Homes June-July 2018.