5 Luxurious Details You Should Know About The Capitol Kempinski
By Hong Xinying
October 03, 2018
Housed within the Capitol building, The Capitol Kempinski welcomed its first guests on October 1, 2018. Here's what we discovered during our preview tour of the new hotel
1/5 Check in at your own time and pace
Get to enjoy all 24 hours of your stay within the suite at The Capitol Kempinski, even if you've only checked into the hotel late in the evening. The check-out timings for the suite rooms are timed to match your check-in timing, which means you could walk into your room at 8pm and leave by 8pm the following day.
All guests will be ushered straight to their rooms—the entire check-in process is conducted within the cosy comforts of their accommodation (be it a room or a suite), instead of having to wait in line at the lobby area.
(Related: Hotel Review: Tatler Checks Into... Six Senses Duxton)
2/5 Enjoy the lofty heights of each room
The ceiling height stretches over 3m, which means lofty spaces for each of its 157 guest rooms and suites. Think high corniced ceilings, dramatic archways and grand windows that overlook the bustling street. There are as many as 50 unique room configurations available; and you could be staying at a distinctively different room each time, with a varying view of the city.
(Related: How To Decorate Like The British)
3/5 Explore creative corners for every meal
The signature restaurant and bar on the ground floor is one of the focal points of the hotel. It features intricate metalwork, burnished mirrors and other glamorous details that reference the Art Deco and Victorian-style architecture of The Capitol, and is decorated with a plush mix of leather booths and bar table seats. The Chengal wood flooring has been kept, and some of the original tiles can be found at the restaurant's cosiest nooks; these include a bar table for three, situated beside the windows.
As the dining area is currently only open to guests staying on the property, the guests get to enjoy pretty much most of the restaurant all to themselves for the time being; we can easily imagine it becoming a popular dining area once it's fully opened by the end of the year.
(Related: Which 7 Fashion Brands Are Restoring Heritage Buildings?)
4/5 Drink up in style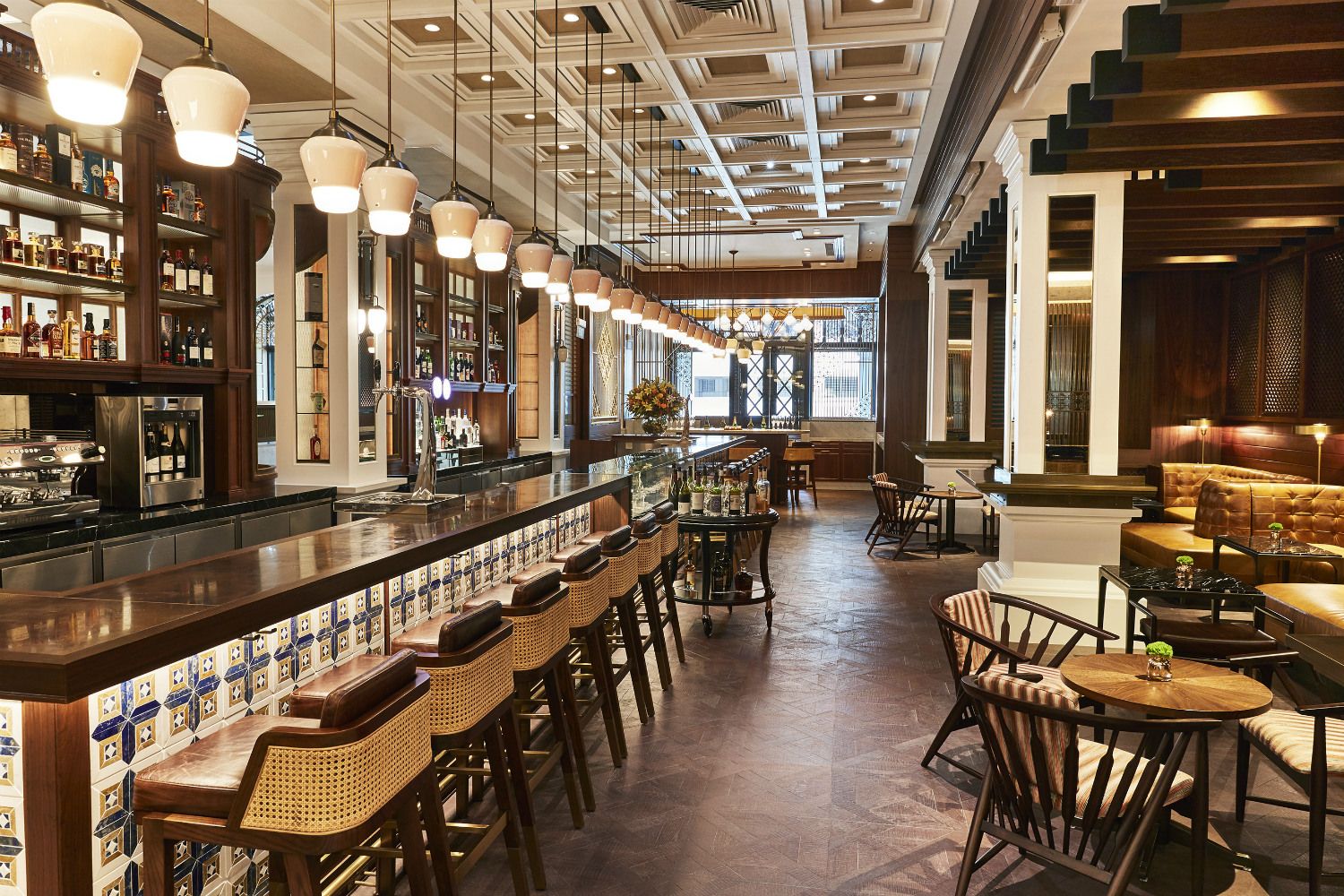 Another preferred corner within the signature restaurant is a 12-seater space that is adjacent to a Champagne bar counter. Get to sample your preferred bubbly alongside vintages specially produced for the hotel; its extensive collection pays tribute to the hotel group's early beginnings as a wine merchant during the 19th century.
(Related: A Secret Bar You Need To Know: The Indigenous Bartender Headquarters)
5/5 A new dream wedding venue
Dubbed the Salon, the elegant ballroom at The Capitol Kempinski can seat between 120-140 guests and features a vaulted ceiling at the stage area. Another key feature is the hand-painted 18m-long wallpaper from De Gournay—a Chinoiserie-inspired design that features an elegant array of florals and doves.
(Related: What's Your Wedding Concept?)