Home Tour: A House With A Green Alfresco-Style Dining Room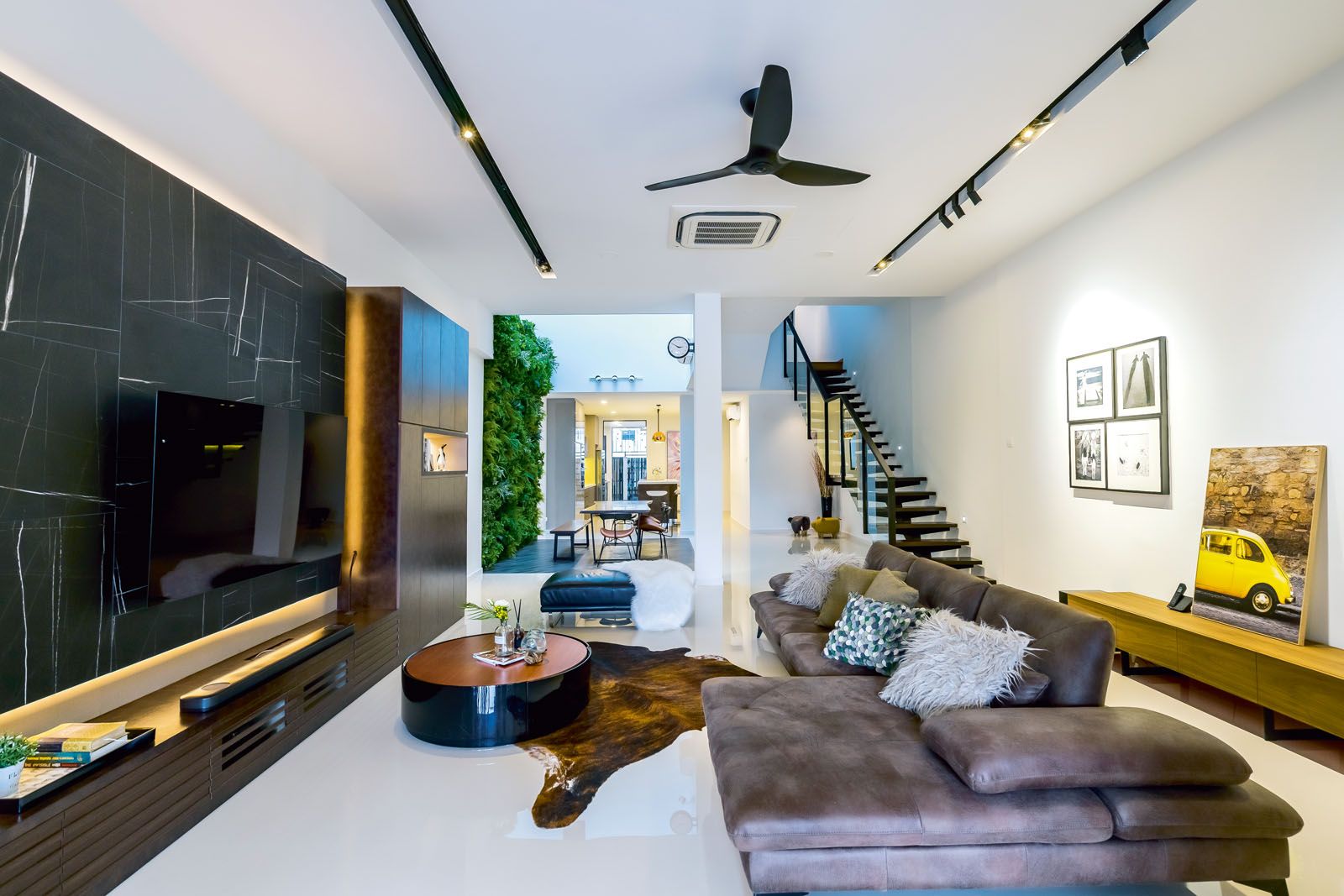 Through Luxur's expertise, this house was redesigned to create a new workspace, a dreamy light-filled dining area while making more room for a growing family
Formerly a two-storey terrace house with dim, cloistered interiors, this residence located along Windsor Park Road was given a complete makeover by interior and architectural design firm Luxur. Led by director and co-founder Alan Neo, Luxur has transformed the 3,400sqft dwelling into a bright, efficient and beautiful three-storey house for a family of four.
"There were a lot of technical issues in expanding an existing two-storey structure into a three-storey terrace house to accommodate the growing family comfortably," shares Neo. "The clients were most concerned about the brightness of the house, so we proposed incorporating a skylight above the dining area. We also suggested an open-plan design on the ground floor to get more natural light inside." As the couple frequently work from home, the design studio created a new third level as a conducive workspace.
(Related: How Interior Designer Beam Ker Seeks Inspiration From Her Travels)
Besides needing a private space to work from home, the owners also wanted the communal areas to be conducive to large gatherings as they enjoy entertaining. Neo thus designed the ground level as a large, open-plan space, where the living area transitions seamlessly to the dry kitchen and the dining zone.
In the living space, contemporary luxury is conveyed via a plush leather sectional, built-in cabinetry and TV console, and a backlit feature wall with marble-like veining. A modern island counter with white bar stools and a vibrant painting give the dry kitchen a relaxed and streamlined look that enables it to harmonise with the living and dining areas.
(Related: How To Design A Chef's Dream Kitchen In Your Home)
The owners liked the green walls they had seen in a number of Luxur's other residential projects, so Neo created a stunning vertical garden in the dining area, where the sunlight streaming in from the skylight keeps the plants well-nourished; the family also enjoys an al fresco-like ambience at mealtimes.
(Related: Go Green: 5 Inspiring Ways To Decorate Your Home With Air Plants)
From the living area, a floating staircase with glass-panelled railings leads up to the second level where the master bedroom and the children's bedrooms are located. The design of these steps ensures that the living areas maintain their modern aesthetic, while freeing up space beneath the stairs for additional storage.
(Related: Home Office Ideas: 9 Ways To Design A Stylish Workspace)
Adopting a "less is more" approach, the firm combined earthy tones and warm wood to create the home's modern-resort theme. "We believe that good and simple design goes a long way," says Neo. Being mindful of the needs of a family with young children, Luxur chose practical and easy-to-clean homogeneous tile flooring for the living, dry kitchen and dining areas.
(Related: 11 Steps To Designing A Bedroom For Blissful Slumber)
Cognisant of the owner's passion for photography, the designer hung some of his best black-and-white shots as wall art in the living area. Parquet flooring is applied to all bedrooms, while the children's sleeping spaces are fitted with built-in white and turquoise cabinetry to create a cheerful vibe. The result is a radiant and elegant abode that enables the perfect balance of work and play.
(Related: This Family Home Pairs Effortless Elegance With A Sense of Whimsy)
Luxur
Co-founded in 2010 by Beam Ker and Alan Neo, the award-winning practice has designed beautiful homes that feature clever spatial planning with a creative combination of materials. The team of architects and designers works closely with clients to balance practical needs with their design preferences to create inventive spaces that express the personalities of their owners.
Luxur
160 Paya Lebar Road
Orion Building #02-01
Tel: 6573 3284
luxurid.com