Home Tour: How A Dual Key Apartment Became A Couple's Cosy Abode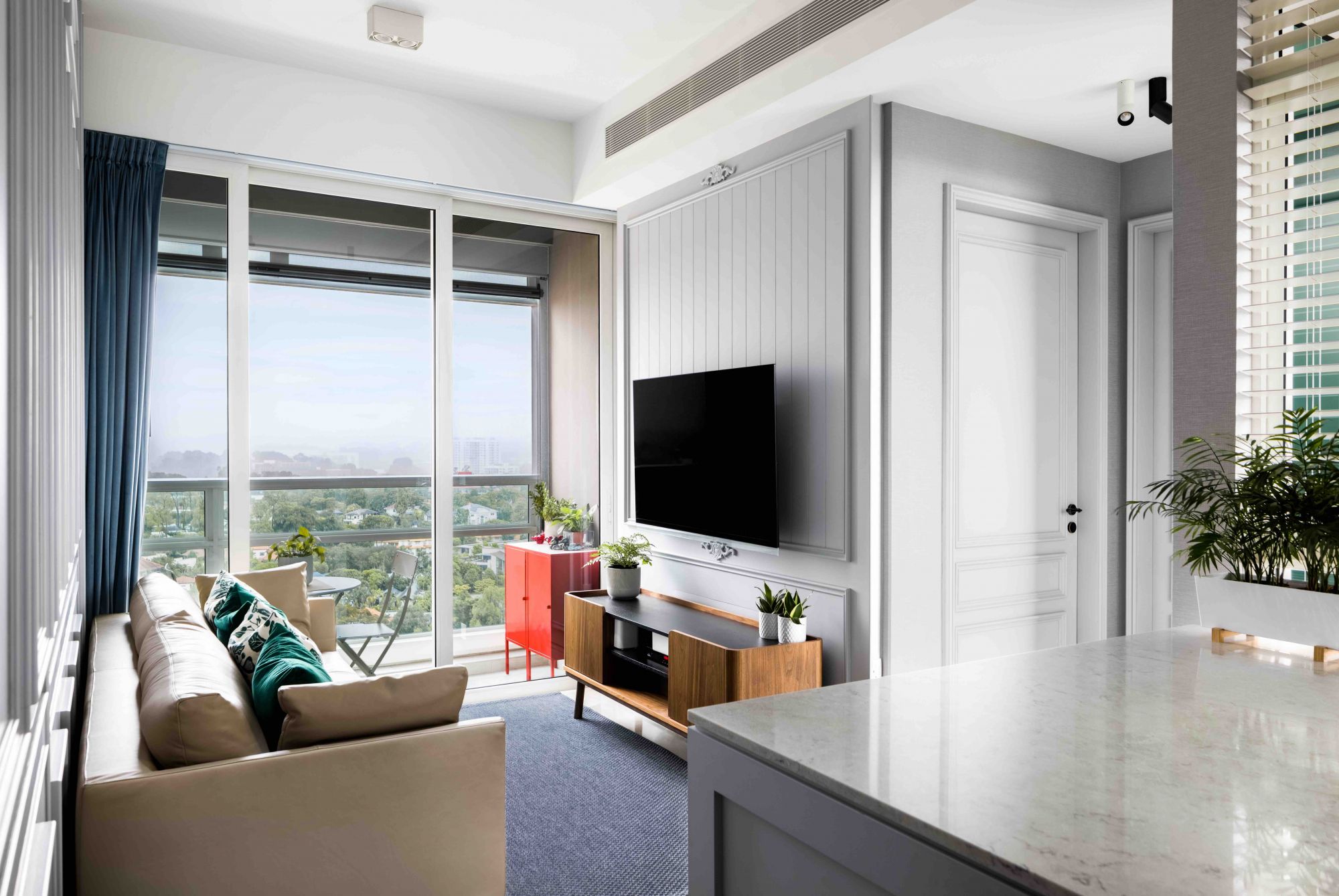 By Hong Xinying
February 10, 2021
Tatler+
Designed by The Scientist, see how the custom cabinetry not only provides ample storage space in this dual-key unit—it also contributes to the elegant look of this apartment
With breathtaking views of the city and the surrounding greenery, this high-floor apartment is home to a couple who adore the property's garden-living concept. The unit is situated in a condominium with a tranquil environment— its amenities include relaxing landscaped gardens, an infinity pool and spacious rooftop decks for yoga and other leisure activities.
The 861sqft two-bedroom residence is a dual-key unit; it was originally configured as two studio-like spaces with separate kitchens. Now that the couple live there, its layout had to be reconfigured to suit the owners' needs and lifestyle.
The clients enlisted homegrown studio The Scientist to improve the spatial flow of their abode and design ample storage solutions that could be seamlessly integrated into it. They also wanted to expand the master bedroom and kitchen, while creating a cosy living area. "In a nutshell, we needed to create lots of storage space within the apartment's spatial constraints, in a way that was also aesthetically pleasing," shares Alvin Ling, founder and design principal of The Scientist. Together with his colleague Teh Yee Ling, the designers embarked on a major overhaul of the unit, completing the project swiftly in 10 weeks.
One of the bedrooms was converted into an open-plan living area and kitchen. A spacious island functions as both dining area and secondary workspace for the couple, accompanied by white cabinetry for their culinary tools.
The biggest challenge of this project was to incorporate many storage options despite the apartment's compact footprint. The firm's solution was both ingenious and elegant—throughout the home, the cupboards feature French-style detailing in light grey. These cabinetry units are installed behind the sofa in the living room and along the corridor. The full-height cabinetry feature bevelled edges that also frame the linear proportions of the space.
For another decorative flourish, the firm added ornamental elements to the living room to reference the home's French influences. The art nouveau-inspired detailing is applied subtly to the feature wall that frames the TV console, bringing a graceful touch to the minimalist living room. Silver-toned hardware and brass door knobs in a vintage finish enhance the elegant look. Additionally, potted plants and green accent cushions mirror the garden theme of the property.
The creative process was highly collaborative, with the owners being as meticulous as the designers when choosing the hardware and furnishings. "Together with the clients, we selected the furnishings and intricate detailing on the walls, as well as door knobs and handles from Linea Cali and Bretz," says Teh. And it shows in the result: a home wonderfully designed and personalised as an intimate enclave for a couple to enjoy.