Home Tour: Actress Janice Koh Adds Vintage Touches to Her Living and Dining Rooms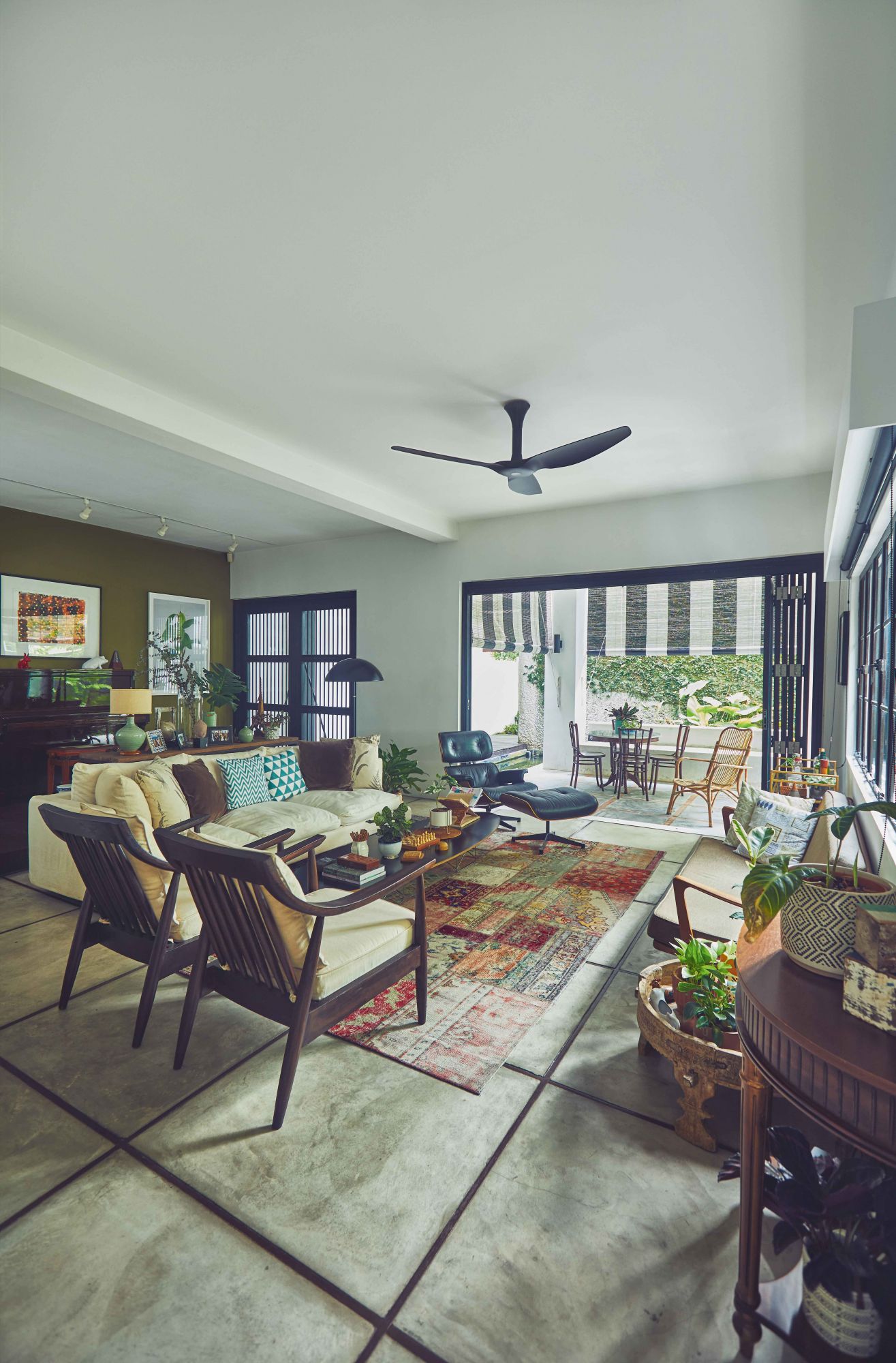 By Hong Xinying
January 26, 2021
For actress Janice Koh, a considered collection of art and furnishings marks her home's sense of place and the passage of time
Years ago when Janice Koh and her husband started looking for a new home for their family, the search led them to their current house, which was constructed in the 1970s, and it was almost love at first sight.
"We liked that the house had a history and that it included Peranakan-style elements that reminded me of my childhood," says Koh. "The only thing we did was to tear down walls to bring nature into the home."
The family has lived in the semi-detached house for 10 years now. In spite of appearing like an effortlessly curated mix of furnishings, the thespian professes it took her some time to create this thoughtful, layered setting.
"I'm a terrible decorator because I'm an impulsive shopper. I tend to buy things that I like even if they don't go with the things I bought," she laughs. "I had to hire an interior designer to help keep me disciplined. It's taken me a long time to learn this, but if we look at furniture as art, it can give us a lot more pleasure. It's worth taking time to collect the pieces you really love."
The first storey is where the mother of two teenage sons spends most of her free time; it also functions as an informal workspace. Here, she discusses her favourite alcoves in her home, while reflecting on the events of the past year.
I like my dining area … "Because mealtimes are really important. We catch up on each other's lives and it's over dinner when we get to have these meaningful conversations. I'm always at the dining table, getting photobombed by people during my meetings, and living with the smells of the kitchen. Entertaining, socialising and connecting with people over food is quite important to us. We try not to sweat the small stuff, like making the interior super neat; ultimately it has to be comfortable and reflect the way we live."
I was seriously considering … "Whether I should change my profession. If I'm not performing, who am I? Maybe the Covid-19 pandemic was a necessary pause for someone like me; it has presented me with an opportunity to take a break and reconsider what I want to do for the second part of my career."
In 2021 … "I hope to travel, I miss it. A lot of our family holidays revolve around being outdoors immersed in nature, which they call forest bathing. I want to live in a cabin by a lake, and take a walk in the woods."
I hope that the local arts scene will … "Go back to a time when people can gather at performing spaces once again. We're just waiting it out and hopefully as we wait, not too many people will pivot and we end up losing our talent pool. Live performing arts is about bringing a group of strangers to share an experience and having performers on stage communicating with them through dance, music and storytelling. You have that hair-raising experience together with fellow strangers. I don't think that digitalisation can replace that; it's just a balm to soothe our anxieties. There is no way that it can come close to a live experience."
Photography Darren Gabriel Leow
Art Direction Charlene Lee
Make-Up Benedict Choo using Nars
Stylist's Assistant Sarah Ng