Home Tour: A Bauhaus-Inspired House In Cape Town That Combines Greenery With Mid-Century Chic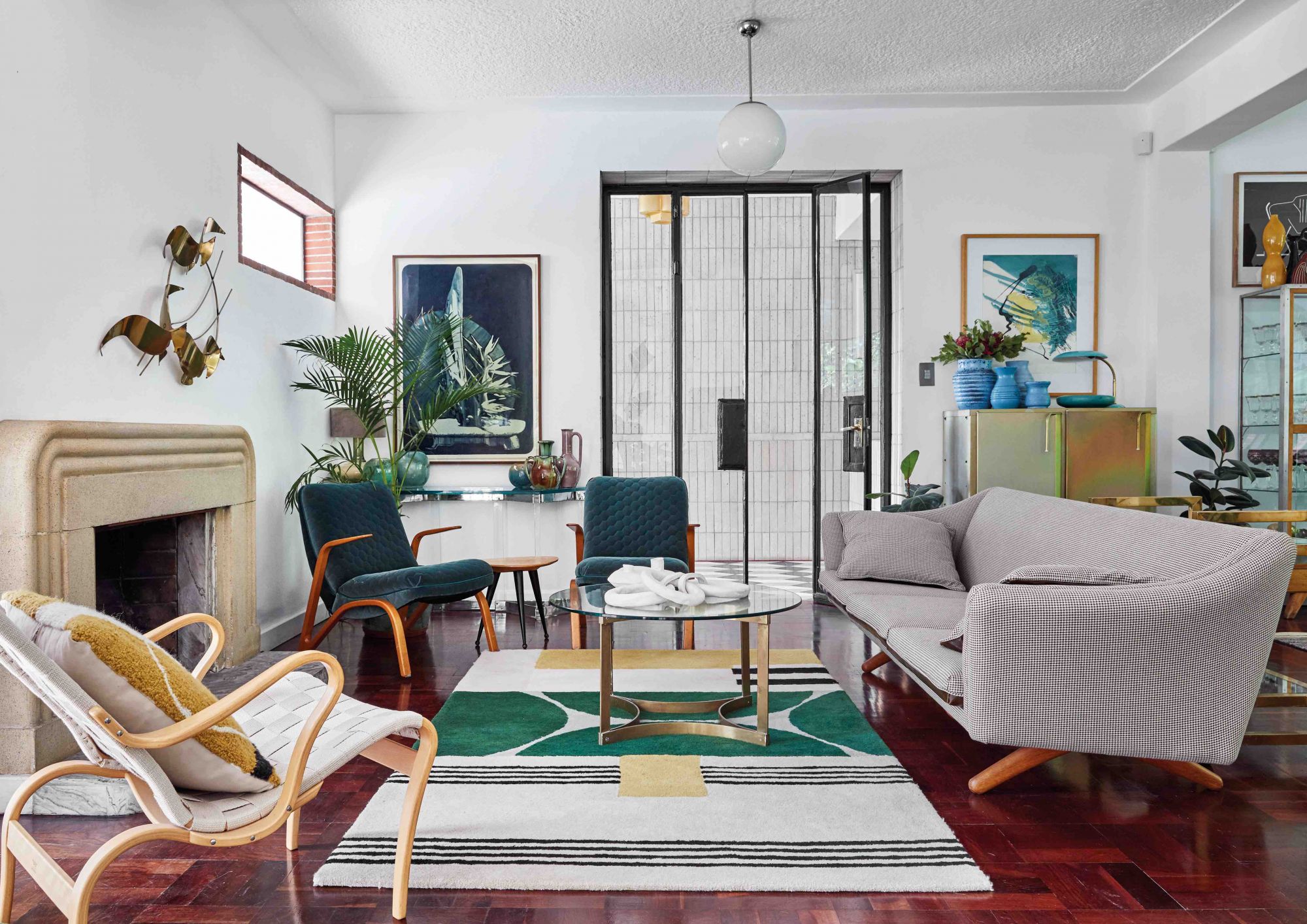 Our cover story for the April-May issue of Tatler Homes Singapore is a colourful abode in Cape Town with modern influences
Stylist and interior designer Laureen Rossouw first saw this property five years ago. She and her lawyer husband Koos were about to move out of their City Bowl apartment in Cape Town, South Africa, when she spotted a picture of "a dilapidated house with classic Bauhaus lines" in the papers. "I thought it might be a bad picture or wishful thinking," she says, but she quickly made her way to the house, which was ideally located in the City Bowl suburb of Oranjezicht, on the edge of one of Cape Town's most charming parks.
As soon as she saw the characterful building, Laureen was smitten. "I immediately phoned Koos to tell him I had found my dream house. He loved it too, although when he saw how much work there was to do, he couldn't hide his disappointment," she says. It took much persuasion to convince him, she adds—although not that much, it seems, since "at 3pm on the same day, we signed (the offer)".
And so began a lengthy process of planning and building, conceived by Laureen in partnership with her daughter Renée Rossouw. Renée is an architect by training and an acclaimed designer who was part of a group of young African creatives who worked on furniture giant Ikea's Överallt collection in 2019.
Inside the house, it's impossible not to be captivated by the visual feast created by the classic 20th-century furniture, authentic design objects and unique artworks that fill the interiors. But what really makes Laureen's painstakingly curated collection shine is the way it fits into the context of the reworked spaces.
"The exterior had all the good elements of a mid-century meets art deco house, but the interior spaces were almost completely redone as these didn't have (spatial) flow or enough light," says Renée. The mother-and-daughter duo turned the garden-facing kitchen into a breathtaking double-volume space. They added more glazing and openings elsewhere, including a large circular porthole in the dining area, as well as clerestory windows and interior glass and metal doors. The aim was to reconnect the house with its beautiful garden, which is now a lush masterpiece, and the greenery of the park landscape beyond it.
Besides having as an abundance of natural light in its interiors, the house is now an intriguing and visually pleasing exercise in geometry. It has become an embodiment of the fact that its sense of symmetry is not really about straight lines, but rather an expression of the most pleasing combinations of shapes based on rectangles and circles.
"My mom and I often collaborate," says Renée. "We alternate between creator and editor on different projects, depending on whose project it is. We have a similar understanding of colour and style: I'm a bit more minimalist and stripped down, whereas Laureen is more energetic and passionate."
On this project, she adds: "My mom was the driving force. I acted mostly as a sounding board and gave architectural ideas about light, volume and space. Once she started with the interiors, I designed some of the surfaces, like the floors and a mural, and some furniture. She furnished the space according to her ideas and desires."
(Related: Home Tour: An Art Deco-Inspired House In Sydney With Surprisingly Elegant Pink Rooms)
Laureen adds that "so much interior design is based on formulas about how spaces should work," adding that such a formulaic approach "had to be transcended" in this house. "Every space had to be considered and designed and then furnished, on its own terms," she says.
The result is beautiful. Mid-century design pieces including Le Corbusier chairs and a Bruno Mathsson chaise longue share the space with custom- designed flooring and wall panels created by Renée. The colours used throughout are vibrant, yet always tonally arranged to perfectly set off one another within each room. The final layer is formed by Laureen's collections of classic posters, local artworks and collectible objects.
(Related: Watch: A House That Is a Dream Come True In 'Remarkable Living', A Singapore Tatler x CNA Luxury TV Series)
Among the home's most stunning spots are the mezzanine study area, described by Renée as "a family room filled with the primary colours my mom and I love". Laureen's bathroom is another beautiful space. It features a spectacular marble-clad central bath with a glorious view of the garden's mature trees. Another charming spot is the outdoor living area, complete with a fire pit and a combination of vintage and custom-designed garden furniture. This is where the Rossouws gather as a family. "It feels really special," says Renée.
While Cape Town isn't an architecturally pleasing city, on the whole, it does boast some hidden gems, many of which are domestic buildings. And following the renovation that has given it a new lease of life, this home is now definitely one of them.
(Related: Editor's Note: Designing Your Home As A Sanctuary Attuned To Your Well Being)
The April-May 2020 issue is available with our compliments on Magzter.
Enter the promo code THSGApril2020; offer ends May 31, 2020