Edmund Wee of Epigram Books Has No Ambitions of Becoming the World's Biggest Publisher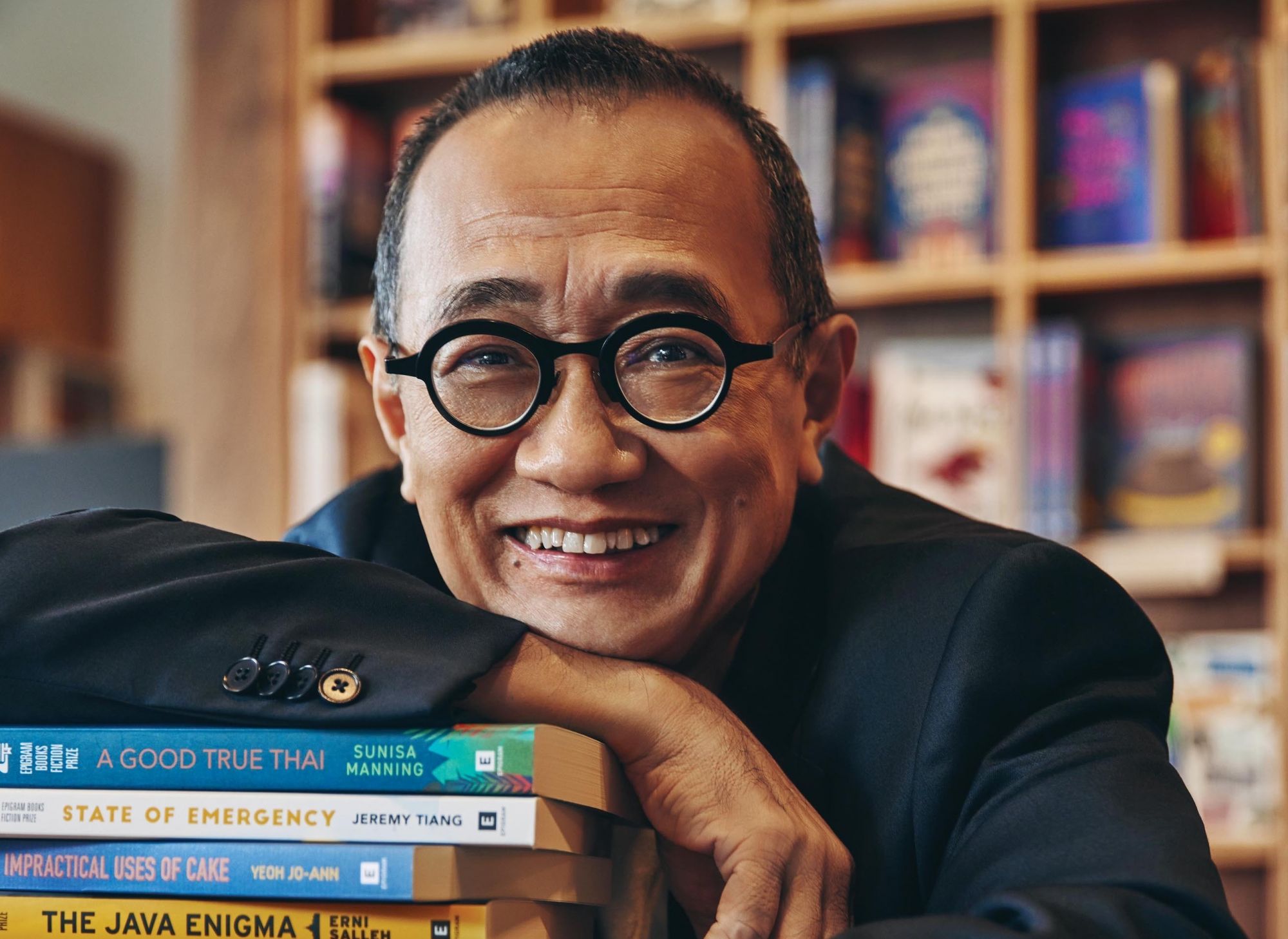 By Hashirin Nurin Hashimi
March 18, 2021
Meet the entrepreneurs who have made championing the arts their business—and are fully committed to helping artists in Singapore thrive. In the first of a three-part series, literary arts champion Edmund Wee expounds on why he remains committed to publishing Singapore literature and how he would go as far as changing his business model in order to do so
Singapore literature, or Sing Lit in short, has one of its biggest champions in Edmund Wee. Not only is the publisher and CEO of Epigram Books behind the country's richest literary award, known as the Epigram Books Fiction Prize (EBFP), the trade imprint he started in 2011 ("when the term 'Sing Lit' didn't even exist yet") has remained true to its premise "to champion homegrown literary talents"—and then some.
"A country needs to have its own stories," says Wee, and Epigram Books has steadily contributed over 300 books throughout the past 10 years, with upwards of 40 new releases annually. The breakthrough came in 2015 when it published Singaporean graphic novelist Sonny Liew's The Art of Charlie Chan Hock Chye, a fictional retelling of Singapore's history, which despite losing its government publishing grant became an international bestseller, and won three Eisner awards, the comics equivalent to the Oscars. "If you ask me, it is Singapore's most famous novel. We can now talk about Singapore literature on the world stage," enthuses Wee. The book has since been translated into various languages, including French and Portuguese, as well as traditional and simplified Chinese.
(Related: Tatler Reading List: 6 Singapore Literary Insiders Share Their Favourite Books)
In that same year, the independent publisher also initiated EBFP to award Singapore writers of unpublished English language novels. "Before this, Singaporeans mainly wrote poetry and even short stories, but there weren't many writing novels. Or maybe they did, but they didn't get published. With the book prize, we have published many of these novels," shares Wee, waving to the wall of books at the Huggs-Epigram Coffee Bookshop, where we meet for this interview and photo shoot.
The initial $20,000 prize money was doubled after the first year, and now one winner receives $25,000, while three other finalists get $5,000 each, as an advance against future royalties. In 2020, the prize was opened to writers within Asean. Wee cites some now-accomplished authors, who were published through the initiative while making sure to highlight: "I won't say that it's because of us, but we consider these small wins for the literary arts."
Case in point: Singaporean author Balli Kaur Jaswal, whose second book, Sugarbread, was a 2015 EBFP finalist. She's since published internationally with HarperCollins/William Morrow in the UK and US. Then, there's Jeremy Tiang, whose debut novel, State of Emergency, was a 2016 EBFP finalist. In 2018, the writer and translator worked on the English translation for Hong Kong action star Jackie Chan's memoir.
Despite these extraordinary times, EBFP still continues to publish shortlisted manuscripts. This year, in lieu of a gala dinner, which was cancelled due to the pandemic, it expanded the shortlist from four to six novels, with a total prize money of $50,000. "Every year, I go out and raise money specifically for the book prize, finding sponsors and donors, from big corporations to private individuals," shares Wee.
(Related: Meet Asia's Most Influential: The Culture List 2021)
Such is his dedication to keeping the literary arts scene alive, even "as a literary publisher, we struggle to break even". The Huggs-Epigram Coffee Bookshop, which opened in 2019, at the URA Centre on Maxwell Road, has been good for business but when it had to close during the circuit breaker period last year, overall sales plunged despite the spike of up to 30 per cent at the online Epigram Bookshop. Epigram Books also had to close its UK operations in January this year, which put paid to Wee's ambition of getting a Singapore book on the longlist of the prestigious Man Booker Prize.
Even so, he is in this for the long haul, even going as far as toying with the idea of becoming a non-profit literary foundation. "Since publishing doesn't make us money anyway, why don't we become a non-profit to administer the book prize, translate and publish books in Southeast Asian languages to English, organise a festival of Southeast Asian literature, and maybe start new prizes and one for children's books. Maybe this is one way out of the financial dilemma if we can get more people to support the cause."
So what is it about publishing a new book or author that still excites Wee? "It's finding a story that gives you new insight into your society or people of your country, apart from the obvious literary merits of plot, prose and personality," says the former journalist and psychologist, who started the design agency Epigram in 1991, designing corporate literature and books, and who was named Designer of the Year at the 2008 President's Design Award.
"I don't have ambitions to become the biggest publisher in the world. As long as people in Singapore read the books we publish, and their lives and Singapore society, and maybe that of Southeast Asia, are enriched through these books, then that's good enough."
Photography Darren Gabriel Leow
Art Direction Jana Tan
Grooming Benedict Choo