Philanthropists Danny Yong and Alvin Lim Team Up to Strengthen Their Charity Efforts in Singapore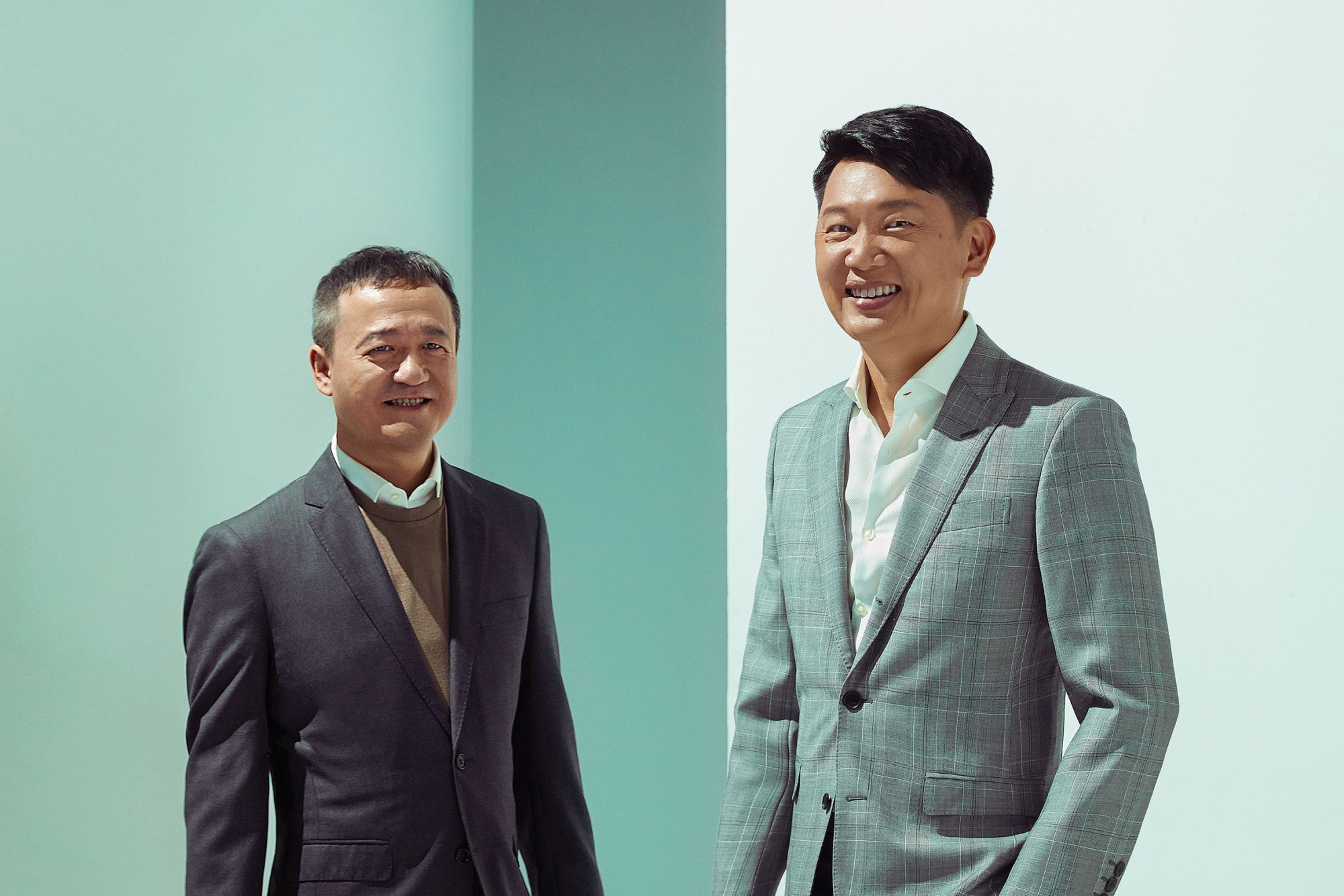 The Majurity Trust founder and chairman Danny Yong and Musim Mas Holdings CFO and executive director Alvin Lim are united in their desire to make a positive impact on the community and to inspire people from all walks of life to make a difference
With relaxed demeanours and an easy rapport between them, Danny Yong and Alvin Lim lob jokes at each other like long-time pals. In reality, the two men have barely had time to get acquainted—their cover shoot with Tatler Singapore on a Saturday morning was only their second face-to-face meeting.
But what unites these two industry giants is a burning drive to make a positive impact on the community and to inspire people from all walks of life to take action and make a difference.
Hedge fund manager Yong is the founder and chairman of philanthropic organisation The Majurity Trust (TMT) and founder of Yong Hon Kong Foundation, while Lim is the chief financial officer and executive director of Musim Mas Holdings, one of the world's largest privately-owned integrated palm oil corporation.
(Related: Introducing Asia's Most Influential: The Impact List 2020)
In July, the Musim Mas BlueStar* Fund was launched through a $1 million cash donation to TMT. Focused on alleviating and preventing youth depression and suicide, the fund is one of the "portfolios" under TMT dedicated to issue-specific causes.
Grants are disbursed through these funds, which also include the Silver Is Gold fund, which aids the elderly in Singapore, particularly by supporting persons with dementia and those in dementia care work, while the ACI Trampoline Fund was established during the pandemic to address the longer-term needs of vulnerable people in Singapore and help them bounce back after the crisis. TMT also funds the operational costs of running Ray of Hope, its flagship crowdfunding charity that enables the community in Singapore to directly help others in need.
MENTAL HEALTH CHAMPIONS
For Lim, the memories of a friend suffering from mental health issues who subsequently committed suicide during his university days still weigh on him. "It is tough to lose someone dear, what's more when the person was lost due to mental health issues.
"When I read that the suicide rate among children and teens between the ages of 10 and 19 rose almost three times from seven cases in 2017 to 19 cases in 2018, the pain and sense of deep loss resurfaced. Covid-19 has affected Singapore greatly, not just economically, but also mentally and more can be done to support those suffering from mental health issues," says Lim, who manages Musim Mas with his two brothers.
Yong, who is also chief investment officer and founding partner of Singapore-based investment management company Dymon Asia Capital, adds, "One life lost is one too many. Our shared conviction—that there is a pressing need to help our youth, who are struggling on their own—makes this collaboration a special and purposeful one."
According to TMT's research, there is an overall trend of declining mental health in Singapore, with depression as the most prevalent. Although suicide is the leading cause of death for those aged between 10 and 29 in Singapore, schoolgoing youths aged 10 to 16 who face mental health challenges such as depression and anxiety do not have much access to help. To alleviate this growing issue, the initiative provides grants to non-profit organisations that deliver innovative mental health programmes and services for schoolgoing children and youth.
"Support and early intervention is crucial to prevent their mental health from deteriorating, leading to more severe issues such as thoughts on suicide," explains Charles Tan, TMT's director for philanthropy.
REIGNITING THE KAMPONG SPIRIT
This tie-up, Yong says, is a prime example of how the collective action that TMT hopes to spur among philanthropists, charities and private citizens can bring about a snowball effect. For instance, he says he may not have had the opportunity to meet Lim if not for an introduction from another TMT initiative—Singapore Strong Fund—grantee, who noticed both organisations were interested in supporting work related to the areas of mental health and youth.
"It was this introduction that gave TMT the opportunity to share our research and findings and we are glad Musim Mas saw the urgency as we did," says Yong. "Our impact is always limited when we do good alone. But collectively, as more donors work together to take on specific issues one at a time, we will have larger and more positive outcomes over time."
In fact, he founded TMT in 2017 with the goal of revitalising the strong sense of community that embodies Singapore's kampong spirit. In 2020, almost $6 million was raised from its collective of donors, with 100 per cent of the donations going directly to fund the most innovative and effective charities that address the societal gaps identified by TMT.
Yong muses, "In the past, whenever I observed societal gaps or inequity in Singapore, I found myself instinctively asking, 'Why isn't our government doing something about this?' But upon deeper reflection, I asked myself, 'What is stopping you from doing something, albeit small, to improve the situation?'"
An effective government does not absolve us of the responsibility to take ownership to do our part to make our home a better place.
—Danny Yong
As the world grows increasingly complex, Yong believes that it will take more than a good government to oversee every aspect of society. "An effective government does not absolve us of the responsibility to take ownership to do our part to make our home a better place. I believe that Singaporeans can and should help one another. It is not mutually exclusive to what our government does," he says.
This commitment to help those who have fallen through the cracks stem from Yong's own formative childhood experiences when his father died from cancer when he was just 10 years old. He recalls, "My mother sat me down and said, 'Don't ever let anyone look down on you just because you no longer have a father.'"
This memory has shaped his outlook on life, encouraging his own sense of ambition while also instilling in him a strong sense of social justice. "While I strive to do my best not to be looked down upon, I am also constantly on the lookout to help those who may be going through difficulties, so that they too can hold their heads up high again," he says.
He set up the Yong Hon Kong Foundation in 2011 in memory of his father. The foundation has donated millions to charitable causes in Singapore, including the arts sector. Most recently, Yong is the founding donor of the National Arts Council's Sustain the Arts Fund, to boost the long-term sustainability of smaller arts organisations, and to nurture a culture of giving to the arts, which he believes is a universal language that can help improve the quality of lives in subtle yet powerful ways.
Our only criteria for our philanthropic focus is that whatever we do, it has to benefit the community.
—Alvin Lim
MULTIPLYING THE IMPACT
Lim, too, has made giving back a guiding ethos in his life and work. At the Singapore-headquartered Musim Mas, the organisation aims to be a responsible leader in the evolution of the industry through its innovative and sustainable practices.
"Our ambition is to provide high quality and innovative palm oil products and derivatives in a responsible way. This includes having a positive impact on the local communities in the areas where we operate," says Lim.
In 2006, the company launched the Anwar Karim Foundation, which is named after Lim's father, to improve the lives of those in the communities they operate in. These include providing scholarships for underprivileged elementary students across Indonesia, and funding free public health programmes, orphanages, senior citizen facilities and disaster relief.
This year, Musim Mas donated $5 million to five organisations here— the Alzheimer's Disease Association, The Straits Times School Pocket Money Fund, Singapore General Hospital, Metta Welfare Association and TMT via the Musim Mas BlueStar* Fund—to help those affected by the pandemic.
"Our only criteria for our philanthropic focus is that whatever we do, it has to benefit the community. So whether it is helping the aged or youth, we are more than happy to back various causes," he adds.
Both men are quick to point out that their organisations share many similar guiding principles and goals, which is what gives their partnership the potential to be even more impactful.
"As The Majurity Trust's name suggests, their goal is to get the community, from beneficiaries to donors, to move forward as one. At Musim Mas, we are very much on the same page. We aim to uplift the lives of our staff, our workers, and our communities," observes Lim.
Yong agrees, "Our synergies lie in the belief that we can do so much more for our community if we do it collectively."
To uplift the community and spur people on to help one other during the pandemic
Two initiatives by The Majurity Trust:
STORIES OF A PANDEMIC AWARDS
This initiative was introduced to recognise and celebrate published work by writers, photographers and artists who document the pandemic in Singapore. "This is an anxious, uncertain time for all of us, but when you read about how others are coping or learn something you did not know about the crisis, it deepens our understanding of what is happening," says Han Fook Kwang, chairman of the Stories of a Pandemic Awards judging panel.
This ongoing award highlights stories, photographs and commentaries that record the events of Covid-19 in a compelling way and cover issues that matter to Singaporeans. Han adds, "We should encourage as many people as possible to write their stories or post their photos or drawings and share them with others. When they do so, we help develop a shared experience of the crisis and a sense of connectedness that we are in this together."
SINGAPORE STRONG FUND
When the pandemic hit earlier this year, The Majurity Trust raised $550,000 from the contributions of various Singapore-based family foundations and philanthropists to support ground-up initiatives spearheaded by Singaporeans. The aim was to contribute to strengthening societal bonds to keep the community cohesive and united during the pandemic.
The grant provided monetary support to individuals and organisations, who had started their own programmes and projects to deal with this crisis in their own communities. Over 150 different projects ranging from care package distributions to providing refurbished laptops for children from low-income families were executed with assistance from the Singapore Strong Fund.
---
The December 2020 issue is now available with our compliments on Magzter.
Photography Darren Gabriel Leow
Photographer's Assistant Eric Tan
Styling Joey Tan
Grooming Zhou Aiyi