Discovering The Stunning Beauty Of Brunei Darussalam Through Its Culture, Food And People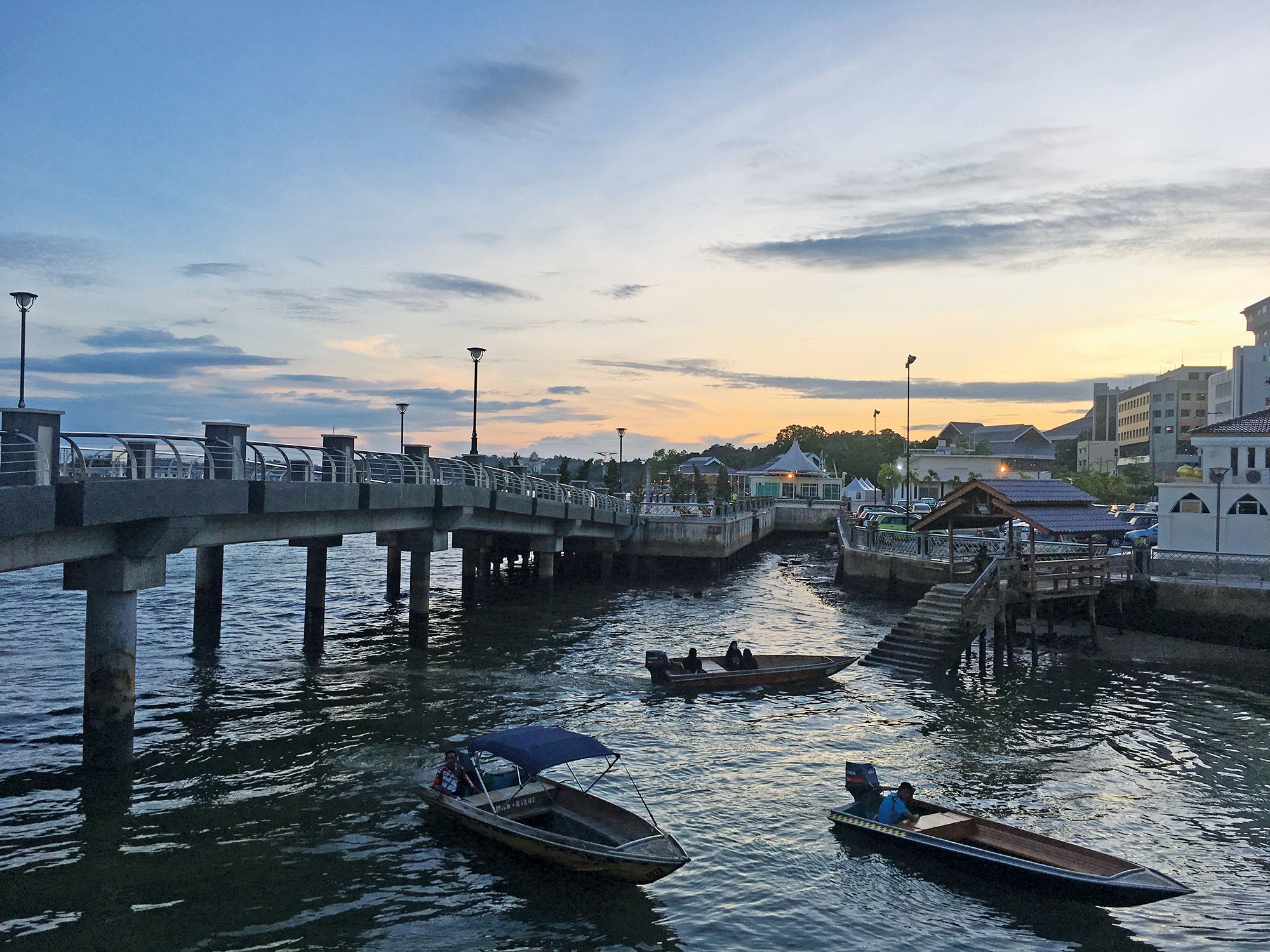 The oil-rich sultanate has been ruled over by Sultan Hassanal Bolkiah, the world's second-longest reigning monarch after Queen Elizabeth II
"How exactly do you eat this?"
A bowl of gelatinous, glutinous starch stared up at me. This though was not just any bowl of starch. This was ambuyat—the national dish of Brunei, made from sago (known locally as ambulung), from the scraped interior trunk of the sago palm.
My delightful hosts Adrian Rahaman and Noorsurainah "Su" Tengah quickly came to my rescue.
A tutorial ensued, and my buddy Ian Tann, in from Singapore, and I, in via direct flight from Manila, were each soon wielding a two-pronged utensil known as a chandas—imagine a cross of chopsticks for beginners and a bamboo fork—to twirl up gooey, bite-sized portions of semi-transparent ambuyat for dipping into a variety of local sauces based on everything from shrimp paste to durian.
(Related: Brunei Is Among Asian Cities With The Cleanest Air—Perfect For Your Next Urban Getaway)
A bowl of noodles in a richly spiced beef broth known as soto, a plate of prawns, small dishes of fish and vegetables, and what is known locally as "gearbox"—or the cooked up "knee" or shin part of a cow!—also filled our table.
Delicious, not dainty, might well have been a descriptor of our meal together at this riverside restaurant named Soto Pabo—after the initials of its entrepreneurial owner Pg Hj Abu Bakar Hj Othman—who stopped by for a quick hello at the end of our dinner.
This would be just one of several special meals and experiences over the course of four days I spent on my second visit to Southeast Asia's smallest nation by population—officially known as the Nation of Brunei, the Abode of Peace. In Malay, that's Negara Brunei Darussalam.
Located on a small bit of the north coast of the giant island of Borneo, the oil- and gas-rich sultanate has been ruled over by Sultan Hassanal Bolkiah since the abdication of his father on 5 October 1967. He is now the world's second-longest reigning monarch after Queen Elizabeth II. The sultan also has been ranked among the wealthiest individuals in the world with Forbes estimating his net worth at upwards of US$20 billion in 2011.
Controversially, it was also under this sultan that Brunei moved forward in April 2019 to implement a second phase of strict Islamic laws. That move sparked international outrage and was also part of my own conversations in and about Brunei, including with our US Ambassador to Brunei Matthew J Matthews.
(Related: Who Are The Richest Royals In The World And How Much Are They Worth?)

Should I have come to Brunei amidst the controversy? Our shared view is that through engagement, we can continue to encourage Brunei to uphold its international commitments on human rights as well as to ratify and implement an important UN convention against torture. However, these remain serious issues that travellers should not ignore in deciding whether or not to travel to Brunei.
Visitors who do come will and a nation that is home to 430,000 people—about half of whom live in the nation's capital and largest city of Bandar Seri Begawan. With just 5,765 square kilometres of land and relatively few people, Brunei is a nation where trees and wildlife abound. Some 80 per cent of Brunei is still under forest cover. In contrast, Singapore, which is one-eighth the size of Brunei, is home to more than 5.6 million people.
(Related: 5 Young Asian Royals To Follow On Instagram, Including Brunei's Prince Abdul Mateen)
During a whirlwind water taxi ride one early morning on a boat named "Rolex" by its owner, Saleh, I journeyed from the heart of the Bandar Seri Begawan up the Brunei River in search of long-nosed monkeys and crocodiles.
Less than an hour's boat ride away, our mission was half-way accomplished. In the distance, proboscis (long-nosed) monkeys swung before us, from tree to tree. High tide though kept the crocodiles, or so Saleh told me, hidden from view. "Come back again," he says, for a third trip.
On the journey back, as well as on a boat ride the night before, Saleh had taken me through the waterways of Kampong Ayer, literally meaning "water village," where many of the capital city's residents still live. This, a highlight of any visit to Brunei, is really more of a water city, with interconnected, stilted villages rising above the river with their own schools, restaurants, mosques and homes.
Venetian scholar Antonio Pigafetta visiting in 1521 is said to have dubbed this the "Venice of the East." A quick trip across the river to or from Kampong Ayer should set you back just a Brunei dollar (pegged one to one to the Singapore dollar) or two, but why not negotiate for a longer tour as I did for B$20 or so.
Stunning Islamic architecture is also a landmark of the sultanate. A highlight for me, after a morning of meetings, was a quick stop at the majestic Jame'Asr Hassanil Bolkiah mosque with its four towering minarets, beautiful tile work and 29 golden domes. (The nation's present leader is the 29th sultan of Brunei.) It can accommodate 5,000 worshippers at a time, making it the largest mosque in the country.
Food. Forests. Faith. Friends. All were certainly part of this return trip, as I got to see a bit of Brunei beyond the headlines.
That included a visit to Darussalem Enterprise, or DARe, an organisation working to help diversify the nation's economy away from oil and gas by nurturing and supporting local enterprises from start-up to growth.
There I addressed a dynamic group of young Bruneians working to create jobs, social enterprises and businesses, ranging from technology platforms to suppliers of organic vegetables to a home cleaning service that seeks to provide employment to single moms.
Over sushi with friend and entrepreneur Lily Chiam and her daughter Eden, I learned of Lily's work with Expression Music Academy set up in 1996 to further music education in Brunei. At the landmark Empire Hotel & Country Club and the downtown Radisson Hotel Brunei Darussalam, I took time over Indian and Indonesian food for conversations about the nation's continued need to drive job creation and diversification.
(Related: 7 Family-Friendly Luxury Resorts In Southeast Asia)
During a visit to see a wonderful initiative of social enterprise An-Nur Harapan, on whose board my friend Su serves, called UnikLearn, I had the chance to learn more about this training and internship programme for differently-abled youth. An-Nur Harapan aims to "do good for good" through a series of programmes that create lasting impact. The goal of UnikLearn—to empower the participating young people towards independent living by enhancing their social skills and personal interactions.
And for a bit of unexpected exercise, I joined Su, Ian, and a group of young Brunei movers and shakers at Shine Cycle for my first ever cycling class, complete with indoor light show. "Clip in. Rock out. Shine On. [And Party On]," says our coach Teddy at this self-proclaimed destination for strengthening body, mind and community.
(Related: Where Do The Top 20 Chefs In Singapore Go For Their Hawker Fix?)
In these and other stops beyond the tourist sights, the diversity of a changing Brunei was front and centre. If you do visit, take time to engage and to explore and to meet the everyday people at the heart of this small nation.
Most definitely also make time for a late-night stop for the best type of Brunei comfort food: Nasi Katok—a piece of fried chicken, a scoop of steamed rice and sambal (chilli paste) packaged up in waxed paper and sold for a dollar.
Local folklore has it that the dish comes from days of old when the only way to get food after midnight was to knock on the door of an otherwise closed restaurant or shop. A sleepy owner might then well emerge, preparing a simple dish of rice and chicken with some sambal. Nasi Katok literally means Rice (nasi) and Knock (katok).
"If I'm an advocate for anything, it's to move," the late Anthony Bourdain once famously said. "As far as you can, as much as you can. Across the ocean or simply across the river. Walk in someone else's shoes or at least eat their food. It's a plus for everybody."
Nasi Katok might not be as intriguing as a bowl of ambuyat, but it too is part of the complex and changing nation that is Brunei beyond the stereotypes.