6 Inspiring Ways To Design Your Bathroom
Go bold with vibrant colours and patterns and keep it minimalist and sleek—these bathroom trends will provide plenty of inspiring ideas that combine both form and function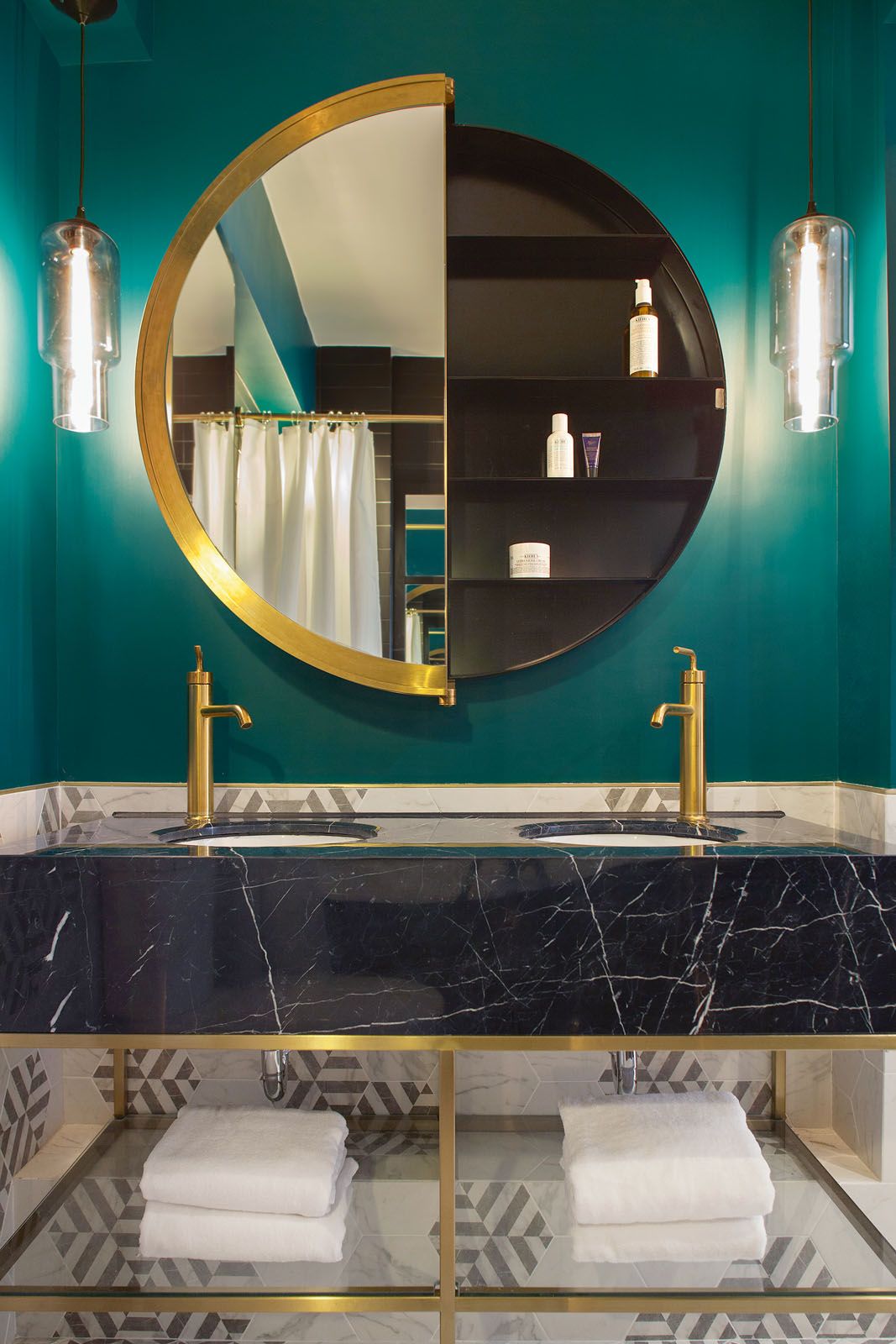 1/6 Colour palette: Dark and Moody
"Darker colours can create a sense of grandeur in the bathroom," says Sandra Brand, marketing manager of Hansgrohe Singapore. "It may be unnerving to begin such a dramatic transformation, so start with small steps by using wallpapers or countertops in a dark colour."
Don't be afraid to include wallpaper in the bathroom; it can be treated with a water-resistant layer to withstand splashes and humidity. "You can select a dark finish for the toilet seat and lid so that it blends in with the wallpaper," recommends Hannah Cecil Gurney, director of De Gournay.
(Related: 9 Ways To Design A Stylish Bathroom)
2/6 Shape: Rectilinear Forms
If you prefer a more streamlined and modern aesthetic, Design Intervention principal Nikki Hunt recommends fixtures and furnishings that feature rectilinear forms. "Rectilinear pieces are good for small bathrooms, but can make the space appear too clinical. Avoid this by incorporating earthy elements like wood cabinetry and indoor plants," says Hunt.
(Related: Here's A Smarter Way To Design Your Bathroom)
3/6 Feature: The Right Lights
It is also crucial to choose the right lighting products to create the ambience you're looking for. "Make sure the amount of light in your bathroom can be increased or reduced so you can create your desired mood and atmosphere," says Hunt. Good choices include the dimmable lamps from Michael Anastassiades' Brass Architectural collection, which offers wall-mounted as well as ceiling-mounted options.
(Related: Home Tour: A Glamorous Apartment Inspired By Cherry Blossoms)
4/6 Shape: Curves Ahead
Hunt observes that homeowners are setting aside more square-footage for bathrooms, as they become places to rest and recharge. "This means more space for round, curvy forms that have a sensual, embracing effect," says Hunt.
Elaine Lu of Hong Kong-based studio Lim + Lu agrees. "Rounded shapes exude softness and playfulness, yet still offer a classical aesthetic for the bathroom," she says.
Top picks include Victoria + Albert's Taizu (seen here), a bathtub designed by Hong Kong-based designer Steve Leung. Its large, curvaceous form is inspired by the ancient bronze and timber tubs that were popular during the Song Dynasty in China.
5/6 Material: Stone Age
"Design trends have clearly moved on from the 'less is more' minimalist message of the 2000s, when a clean, streamlined look dominated the scene," says Hunt.
According to the designer, natural stones with rich, distinct veins are increasingly popular for their dramatic patterns. Hard-wearing compact stone options, such as the Dekton Natural collection, are among the popular picks, as the non-porous material is highly resistant to stains, UV rays and scratches.
Similarly, tiles in marble-like patterns can be both durable and chic. For instance, the large-format tiles from Florim, which mimic the texture and appearance of natural stone varieties such as marble and travertine.
(Related: Home Tour: Design Intervention's Nikki Hunt Celebrates Tropical Style In Her Maximalist House In Singapore)
6/6 Material: Warm Metals
According to Hunt, gold tones continue to be in vogue for faucets and fittings. "Brass and rosy tones—as opposed to colder chrome— are popular, and this new trend is set to intensify in the years to come," she says.
Britta Butler, founder of Hong Kong-based B Squared Design, agrees. "Metallics like copper and bronze add a touch of luxury and look amazing next to natural wood elements," she says.
The April-May 2020 issue is available with our compliments on Magzter.
Enter the promo code THSGApril2020; offer ends May 31, 2020