5 Highlights Of Art Basel 2018 To Look Out For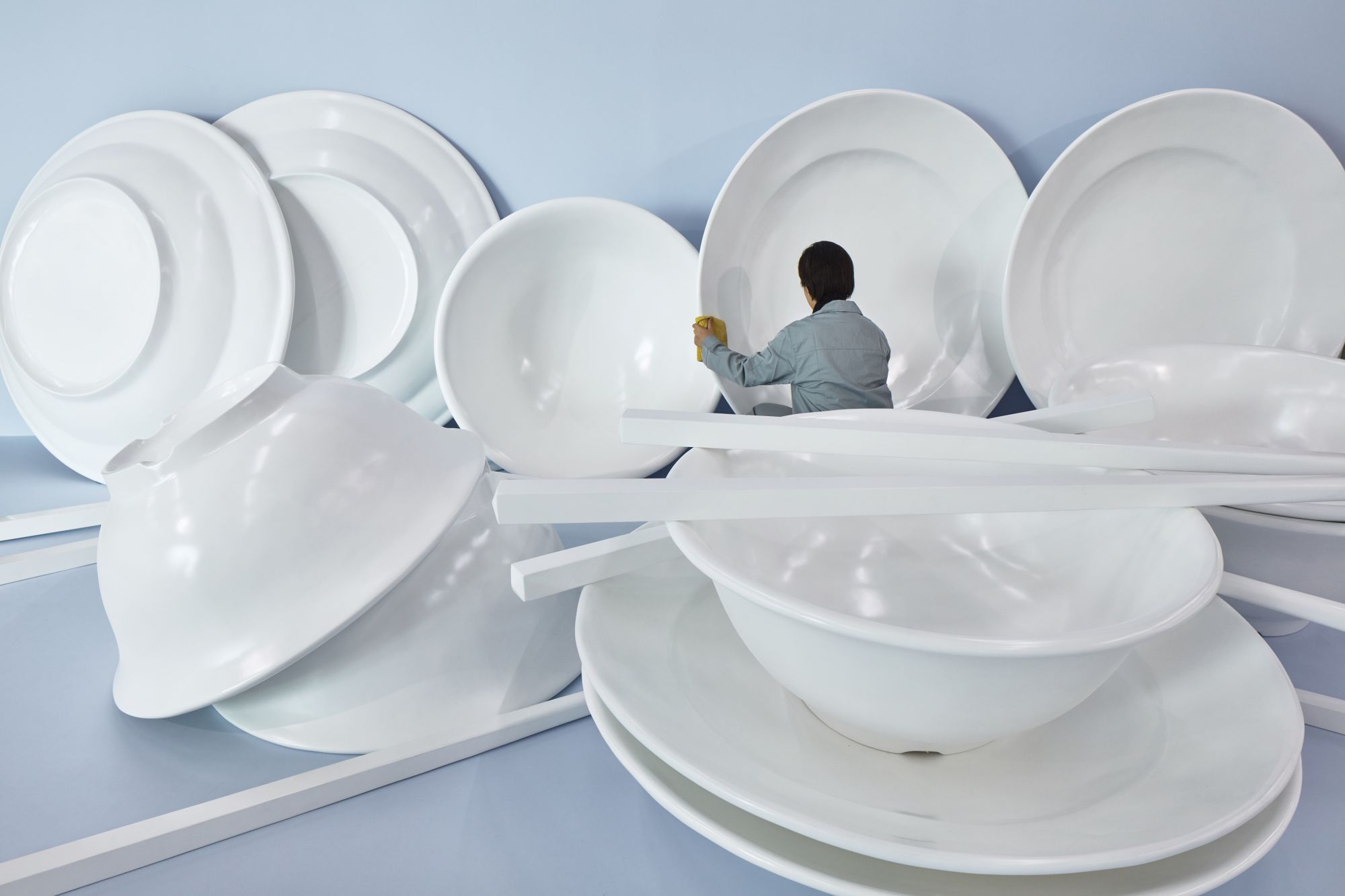 Here's the cream of the crop from this year's Hong Kong edition of the international art fair.
1. Works by Jeff Koons
Five recent works by Jeff Koons, presented by David Zwirner, are sure to be among the most buzzed-about. On view will be "Bluebird Planter" (2010-2016), a large-scale work in mirror-polished stainless steel; "Swan (Inflatable)" (2011-2015), also in mirror-polished stainless steel and giving the appearance of a Mylar balloon; and three works from Koons's "Gazing Ball" series, begun in 2013. Koons will also be present at the gallery's booth.
For those at home, David Zwirner will offer an online viewing room featuring prints that span the artist's career.
2. VR works from Anish Kapoor, Marina Abramovic
Marina Abramović and Anish Kapoor will present their first virtual reality works at the fair through a partnership with HTC Vive. Abramović will present the work "Rising," confronting viewers with the realities of climate change as they enter a virtual space where the artist will appear in a glass tank that is slowly filling with water.
Kapoor will bring his work "Into Yourself, Fall," which is described as a journey through the human body. Visitors will be able to explore the two VR works both at the fair -- in the HTC Vive Lounge -- and at home via the VR app store Viveport.
(Related: 10 Artists To Look Out For At Art Basel Hong Kong)
3. Ai Weiwei's solo exhibition
Among the numerous galleries mounting shows around Hong Kong during Art Basel, Tang Contemporary Art is featuring a solo exhibition of Ai Weiwei featuring his work focused on global refugees.The highlight will be the artist's "Law of the Journey," a 16.4-meter-long black inflatable boat carrying 61 human figures.
"Refutation" will run through April 30 at the gallery's new space in H Queen's.
4. Harbour Arts Sculpture Park
This brand-new space on the Hong Kong landscape opened last month with a collection of works by 19 local and international artists, including Yayoi Kusama, Tracey Emin, Jenny Holzer, Antony Gormley and Zhan Wang. The premiere, free exhibition at Harbour Arts Sculpture Park runs through April 11 and will likely be a hot destination for Art Basel attendees.
(Related: Navigating The Art Basel In Hong Kong)
5. Eye-catching works at Encounters
The Encounters sector, which is dedicated to large-scale installations and site-specific projects, is presenting 12 projects this year, including nine created just for the fair. Highlights include a work by Taiwanese artist Chou Yu-Cheng featuring giant-sized dishware, and "Start. Stop" by Subodh Gupta, an installation consisting of a large sushi belt carrying stacks of tiffin boxes and gleaming pots.