Where These F1 Hot Shots Should Head To For Their Fave Grub
By Dudi Aureus
September 03, 2018
When hunger strikes, the likes of Sebastian Vettel, Lewis Hamilton and Kimi Raikkoken are like any of us—they crave for their favourite foods. So we did a little digging and came up with a few winning dishes and where they can find them during this year's Singapore Grand Prix
1/8 Lewis Hamilton
Mercedes AMG Petronas
So, we've read that Hamilton loves truffle pizza so much, he once had 10 slices at a party in Bahrain. Well, he can't go wrong with this signature pizza at Amo. It's a gloriously hearty ensemble of mushrooms, mascarpone and Tuscan pecorino cheeses that's finished with a bounty of freshly shaved black truffles.
Amo | 33 Hongkong Street, S(059672) | 6723 7733 | Book here

Source: Formula 1
2/8 Sebastian Vettel
Scuderia Ferrari
It's easy to fall in love with food when you travel as much as Vettel, who appreciates the simple things such as muesli and lots of fruits. He also has an appetite for porridge, and we're thinking he'd love to calm his nerves with a comforting supper at Mui Kee. He'll have a slew of delicious congee to choose from, including the premium variety filled with Hokkaido scallops and baby abalone, or the one with lobsters. If not, it's hard to go wrong with the classic braised beef option.
Mui Kee Congee | 01-12 Shaw Centre, 1 Scotts Road, S(228208) | 6737 2422 | Book here

Source: Telegraph
3/8 Kimi Raikkonen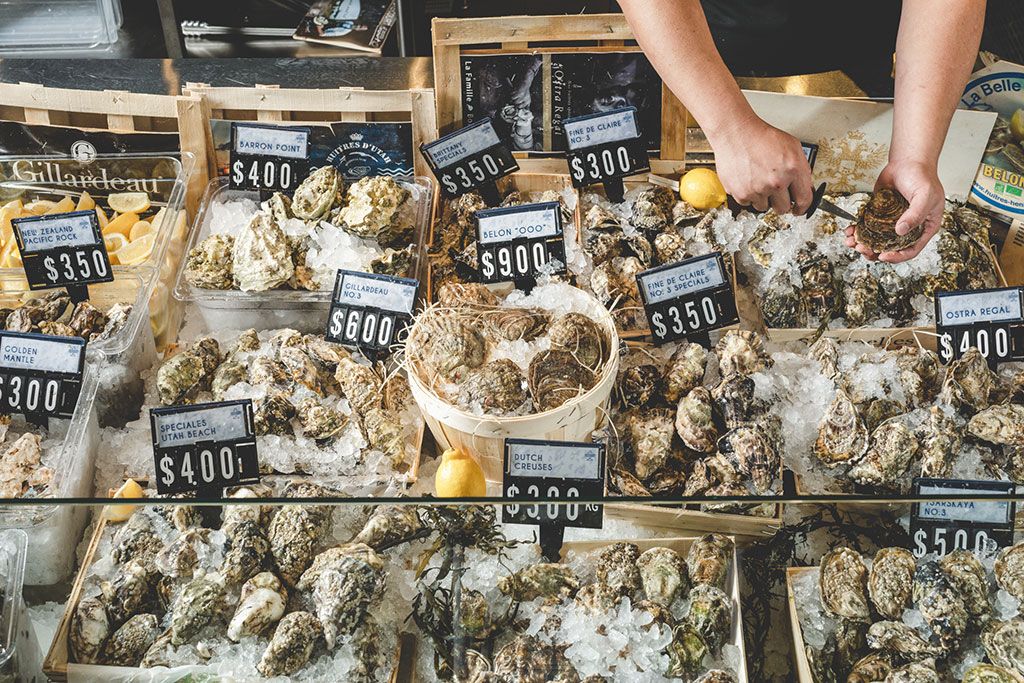 Scuderia Ferrari
This Finnish racer loves seafood, and has shared in an interview on the Formula 1 website how he likes salmon, and topping his pizza with tuna. So, it was easy to match his tastes with the bounty at Greenwood Fish Market, which boasts a seafood-centric menu. We suggest starting with the seafood platter, a two-tiered serving of lobsters, prawns and mussels, before going for the fish of the day, steamed in XO sauce and blanketed in fried garlic.
Greenwood Fish Market | 01-01 Block 8D Dempsey Road, S(249672) | 6256 1103 | Book here

Source: Formula 1
4/8 Valtteri Bottas
Mercedes
In contrast, Finnish compatriot Bottas has confessed his love for steak and vegetables in an interview with The National. He won't be disappointed with a visit to Skirt, where he can tuck into delicious and perfectly seared cuts—cooked in front of him in the open kitchen. We can only imagine how hungry these drivers are after a race, so we reccommend he have his pick of the Sher full blood wagyu skirt steak, the beef tomahawk and the Cape Grim filet mignon all to himself.
Skirt | W Singapore - Sentosa Cove, 21 Ocean Way Sentosa, S(098374) | 6808 7278 | skirt.singapore@whotels.com

Source: The National
5/8 Max Verstappen
Red Bull Racing
His favourite food since he was young has always been carpaccio. At Alba 1836, executive chef Chua Jing Xuan only uses the premium Tajima wagyu beef, which he thinly slices and serves with wild rocket, foie gras praline, fresh black truffle and a topping of crescenza cheese and Parmigiano Reggiano. It's a simple but well-executed appetiser Verstappen will appreciate.
Alba 1836 | 28 Duxton Hill, S(089610) | 6222 2048 | alba@alba1836.com.sg

Source: The Sunday Times Driving
6/8 Nico Hulkenberg
Renault Sport
Like Hulkenberg, many of us wouldn't mind having sushi for the rest of our lives. It's also possible to indulge when in Singapore with all the delicious ways top Japanese restaurants here are serving it. For Edomae-style sushi, Sushi Kimura, which earned its first Michelin star this year, is a fine choice. Chef-owner Tomoo Kimura is also entertaining to watch, as he crafts every serving of sushi like a piece of art. Of course, he only uses fresh produce flown in regularly from Japan—whether it's tuna, clam or the seasonal kinmedai fish.
Sushi Kimura | Palais Renaissance, 390 Orchard Road, S(238871) | 6734 3520 | reservations@sushikimura.com.sg

Source: Formula 1
7/8 Daniel Ricciardo
Red Bull Racing
Black Tap Burger has opened just in time for Ricciardo to satisfy his burger cravings while he's in Singapore for the F1 race. We're sure he likes his burger a certain way, but we're equally confident he'd like the crowd favourite Greg Norman Burger—a hearty bite of wagyu beef patty, house buttermilk-dill sauce, blue cheese and arugula sandwiched between fluffy buns. He should also go all out and finish the meal with one of the brand's famed and insanely huge milkshakes.
Black Tap Burger | L1-80, Bay Level, The Shoppes at Marina Bay Sands, S(018956) | 6688 9957 | BlackTap@MarinaBaySands.com

Souce: Herald Sun
8/8 Fernando Alonso
McLaren
Alonso is another pizza lover but when it comes to chosing his toppings, the humble star ingredient for him is ham. The question is where would he go for a decent version? Well, at Fratelli Pizzeria, by Italian chef brothers Enrico and Roberto Cerea from three-Michelin-starred Da Vittorio in Italy, the dish of choice in this case is the Saporo di Bosco. It's packed with Italian pancetta ham, mushrooms, pine nuts and truffle shavings. For an even more irresistible option, he can top it with buffalo mozzarella and scamorza, and loads of garlic cream.

Fratelli Pizzeria | 02-144 & 145 Hotel Michael, 26 Sentosa Gateway, S(098138) | 6577 6555 | fratelli@rwsentosa.com or dining@rwsentosa.com

Source: Formula 1