The Feast That Was The Tatler Ball 2017
By Don Mendoza
November 12, 2017
In line with this year's official call to embrace the rebel in us, the dinner table at Singapore Tatler's 35th anniversary ball was aptly iconoclastic.
The theme for this year's ball—a fitting celebration to mark Singapore Tatler's 35th anniversary—is all about indulging the rebel in all of us. And as intriguing as is to imagine the pomp and spontaneity that was on display, we have to savour the delectably bold feast guests were treated to.
This was evident from the first clinking of glasses, filled with the Delamotte Brut, distinctive in the dominating majority of Grand Cru chardonnay it uses in its proprietary blend, which includes only a small amount of pinot noir and pinot meunier. It helps that it is also from the fifth oldest Champagne house in Le Mesnil, regarded the single greatest Chardonnay growing village in the region.
More importantly, it was delicious with bites of lobster tail with kaffir lime and spicy mayo on a rice crisp; and also, the brioche topped with foie gras mousse and Bailey's jelly, among other creative canapes.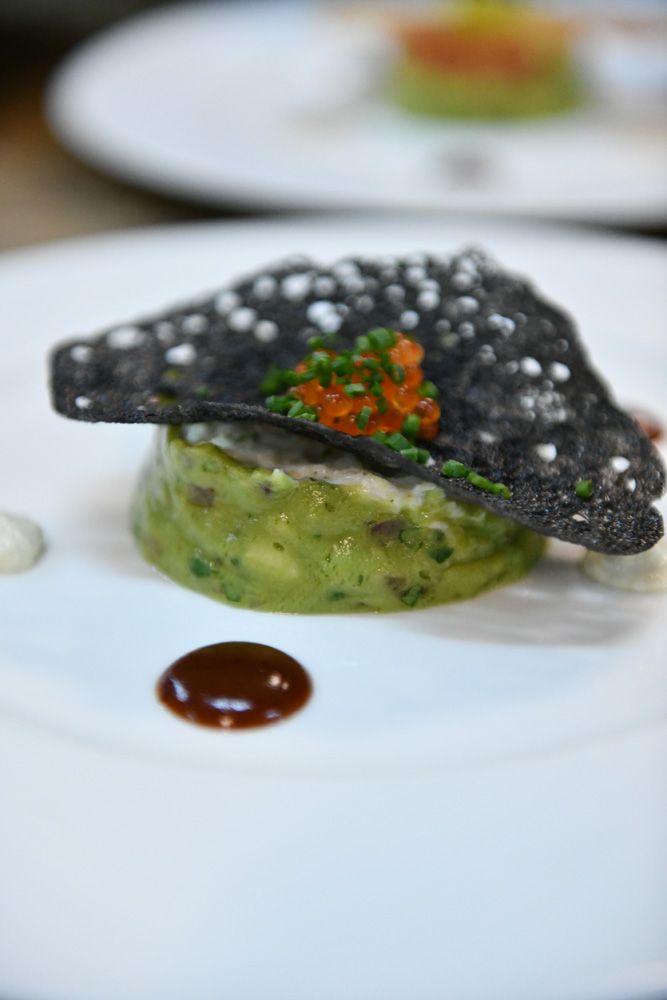 But these were only a taste of things to come. The first course, which showcased a pairing of sweet crab meat on a bed of avocado, was not only unexpectedly flavourful, but also surprised with its crisp hat of squid ink tuille, piqued by discernibly measured dollops of horseradish and the tamarind-miso dressing. It was the ideal appetiser—fresh flavours and a good hit of crustacean umami dominated while the added lift from the mildly acerbic dressing did not overwhelm.
Topping this refreshing start to the meal was the evening's white wine: the 2016 Luca Ferraris Sensazioni viognier, which boasts a rebellious tale of its own. In the hopes of standing out in a market rife with chardonnay, sauvignon blanc and blends of the two most commonly grown varietals, the winery decided in 2006 to grow a hectare of viognier in a cool area in the district of Casot. Today, Luca isn't just the only vintner to plant the French variety in Piedmont, but also makes a lusciously aromatic expression of the grape.
Speaking of lush endeavours, the decision to combine the evening's soup and noodle dishes led to an inspired amalgamation—matcha soba in a warm dashi topped with nicely mi-cuit blue lobster and Hokkaido scallop, a trio of caviar, crisp egg bits for texture and a hint of truffle oil.
And just when one might expect a citrus sorbet to cleanse the palate before the main course, here, guests got to experience a boldly refreshing intermezzo of green basil sorbet with just the right amount of tang from the addition of balsamic vinaigrette.
The T Dining team who helped curate the menu had suggested this alternative, which was also the ideal prelude to the exquisitely savoury choice of either the Australian beef short ribs with a long pepper glaze and confit of king oyster mushroom.
Those who preferred something for the sea were treated with the choice halibut, seared and served with braised leek and shimeji, topped with a light laksa foam.
Both were complemented with a red of exceptional finesse—the 2009 Montevetrano di Silvia Imparato Colli di Salerno IGT from Campana, Italy. It's a rather androgynous pour—deliciously giving and elegant, yet not overly—that the winery's owner had dubbed a rebellious rock star.
But it was not the only beverage deserving of the spotlight. For the big toast, guests had the option to savour The Macallan Rare Cask—a rich and decidedly rare showcase of complexity drawn from the distillery's broadest spectrum of casks (16, to be precise). It's rare because less than 1 per cent of the casks maturing at the distillery have been deemed worthy of this bottling.
Not coincidentally, the whisky's leading notes of vanilla and chocolate paired wonderfully with dessert—vanilla bean-infused coconut pudding encased in a dark chocolate ganache sphere—which was a stunning balance of light and dark.
Accompanying guests postprandial was a decadent cheese bar paired with luscious dessert wines. But it wouldn't be the inimitable Tatler Ball without its signature serving of Teochew muay, complete with generous servings of salted radish omelette, pork belly with preserved vegetables, you tiao and salted egg, and the likes.
How's that for a lusciously rebellious finale?