On The Pass: Julien Royer Of Odette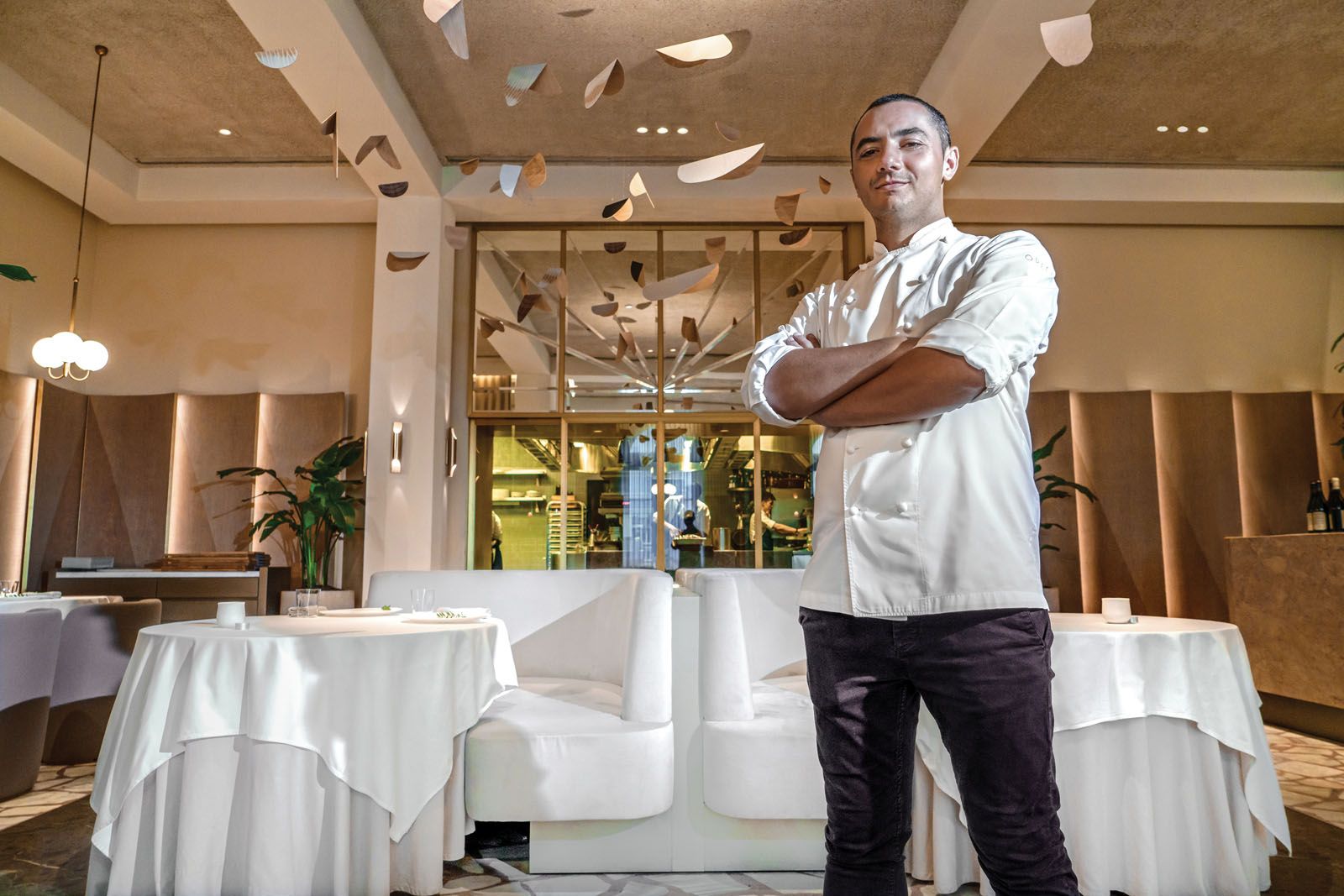 For Julien Royer, the award- winning chef of globally lauded Odette, it is people who form the backbone of his creative process
Family, people and produce underpin the ethos at Julien Royer's Odette, which is arguably also one of Singapore's most gorgeous restaurants, resplendent in its soft shades of pink, oyster and pearl. Royer grew up on the family farm in central France's sleepy Auvergne region and learned the fundamentals of cooking from his maternal grandmother, for whom the restaurant is named.
Heart and Soul
At Odette, the immaculate two-Michelin starred dining experience is as thoroughly beguiling as the restaurant's decor—the front-of-house crew has mastered that fine balance between being attentive yet unobtrusive, while Royer's uniquely artful nouvelle cuisine delights the senses as much as it charms the palate.
By sourcing the best ingredients from small producers and farmers from around the world, Royer pays homage to his pastoral heritage while ensuring that only the best ends up on his diners' plates. "The food I serve is the food I want to eat at a fine-dining restaurant," says the 35-year-old chef. "I like that it falls between the range of tradition and innovation—food that's tasty and uses classic cooking techniques, but is interpreted in a modern way."
Royer adds that while the restaurant's culinary DNA is French, his cuisine has progressively opened up to the use of Asian ingredients. "I am, for example, a big fan of citrus and the wide variety available in this part of the world is amazing," he says. "I am also obsessed with the Japanese art and philosophy of dining, which you will also sense is translated in your experience at Odette. Lastly, the use of spices is something I am beginning to appreciate more and more. And Singapore is at the perfect crossroads of Southeast Asia to do it."
Step by Step
Time and easy access to much of Asia's bounty have presented Royer with the opportunity to understand the preferences of his diners. He has spent years tasting as much of the flavours of the region as he can "to understand what deliciousness means to our guests".
Taking inspiration from the idea of a dish like Vietnamese pho, for example, is a new dish of foie gras and Japanese abalone paired with smoked eel that's torched tableside. It's topped with nasturtium, kinome leaves, tarragon, chervil, cilantro and spring onions, and nished with a hot smoked-eel dashi consommé. "It has layers of textures; the flavours are both subtle and intense," he explains, adding that the hot broth releases delicious, delightful aromas from the herbs. "The dish evokes the idea of pho. But in technique, ingredients and flavour, it is Odette."
It's dishes such as this that offer clues as to where Royer's culinary path is headed. And while it must seem tempting for a chef who's clearly at the top of his game to make plans for bigger things, Royer says he's perfectly happy with what he has right now. "The focus is to work on our base and evolve our food for our diners. To purvey this kind of dining experience takes a lot of time and energy, and I don't want to burn the candle at both ends. So I take it step by step, stone by stone."
Produce and kinfolk
People and produce are the chef's greatest inspirations
Producers
"We have to go see them, try the products and build relationships. I have visited most of our farmers to see how they work. For example, on a recent trip, I met a butcher in my hometown who specialises in an old breed of cattle that's fed so that the meat can be dry-aged for a long time. They are 80 per cent grass-fed and, towards the end of their lives, they are fed corn. We are going to work with him soon."
Ingredients
"I'm always inspired by what ingredients are in season. Inspiration can come from travel, from other people or from techniques that I've seen other chefs use. But the base for us is always to choose the right ingredient."
Team
"I have evolved as a chef and a man because of the people around me. I make dishes that I like to eat, but I also need to give people what they like. When I taste something, I do it with my closest team and we share our feedback. We always adjust the avours based on each other's palates. Sometimes, we each have an idea of what we want to make, but we adjust that last touch of seasoning or acidity as a team to make sure we please as many people as possible."
Restaurant, $$$$, French, Marina District

---
Images Jason Ho Photography