Marina One Is A Mecca For Food Lovers
By Dudi Aureus
December 18, 2017
TATLER FOCUS
The new skyscrapers to grace our skyline aren't just for homes and offices—there's an oasis filled with interesting dining concepts to discover as well.
The towering buildings that make up intergrated property Marina One, in Marina South, is the latest development project designed by world-renowned architect and supergreen architecture champion, Christopher Ingenhoven.
His vision was to create a "green heart" in the city, so the four buildings consisting of offices, residential homes and retail spaces are anchored by a massive and lush gardenscape—with all the flora you can imagine—complete with breathtaking waterfalls.
(Related: 5 Of The Best Steakhouses In Singapore)
For a grand view to whet the appetite, though, the fourth level (dubbed as The Oasis), as well as B2, levels 1 and 2, are a food lover's dream. At The Oasis, you'll find its signature restaurants which include Majestic Restaurant (opening January 2018), as well as New Zealand steak and lamb restaurant, Wakanui Grill Dining, housed within a gorgeous glass structure in the west tower.
The latter's interior features subtle Japanese design influences (much like its original Tokyo restaurant), but the menu is deeply rooted in the land of sheep and pinor noir. It serves sumptuous New Zealand dry-aged ocean beef and succulent spring lamb, which the chefs skilfully cook over binchotan charcoal to give the meats' full-on flavours a light smoky edge.
(Related: Meat On Sticks: 5 Restaurants Serving Up Delicious Food, Skewer-Style)
Even if you're into seafood, you'd do well to dine here. The menu is diverse and includes fresh ocean bounty, including Ora King salmon and fish you can have sashimi style, green mussels and other seasonal catch. Add to that the quintessential pavlova—a must when dining in any New Zealand restaurant—as well as the wine list dominated by new world labels, with a handful of bottles sourced from boutique wineries.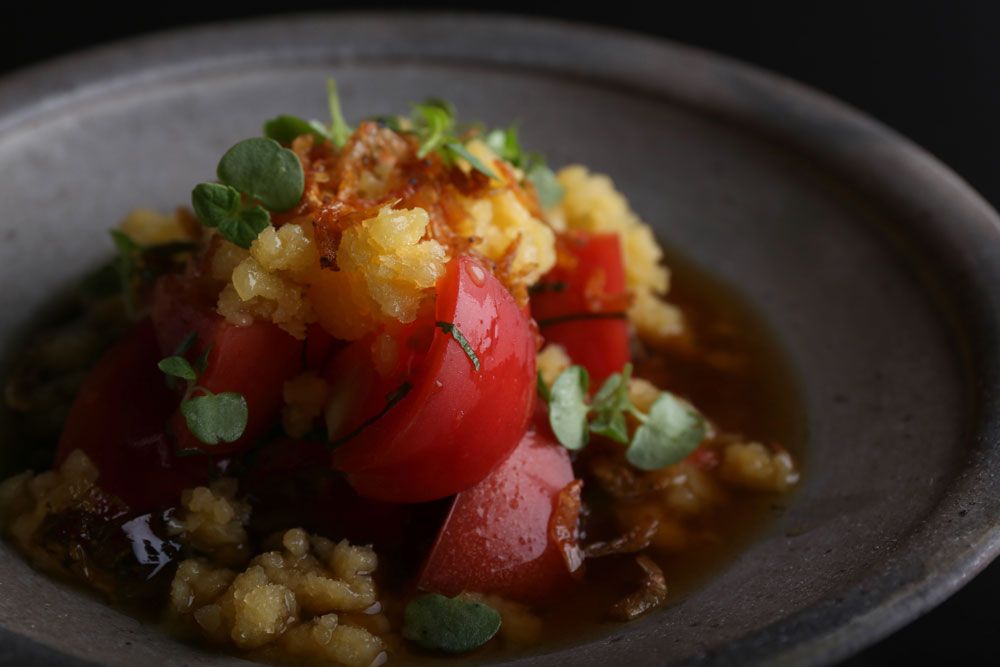 But this not the only must-visit grill at Marina One. There's also Nude Grill, which is known for its succulent cuts of beef and veggies sourced from Japan, New Zealand and Thailand. Go for the A4 Kagoshima wagyu zabuton if the mere mention of a good steak has your mouth watering. But if you want to try other specialities, you can also have the foie gras parfait with longan glaze, or a whole poussin (baby French chicken) with glutinous rice in a bamboo tube.
(Related: 3 Hot Spots To Enjoy The Best Cappuccinos In Singapore)
For a cup of coffee, and perhaps a croissant or two, you can head over to Nude Chill, located adjacent to the restaurant. It's a specialty coffee house during the day that transforms into a lively watering hole come nighttime. As the name suggest, there's good reason to take your time to savour the bartenders' creative tipples and other signature classics.
To be sure, these aren't the only must-visit restaurants to visit at Marina One. There are other places to suit any occasion, whether you're out with family, friends or colleagues. On the ground level, you'll find cosy places which include PizzaExpress, Anglo Indian Café & Bar and Kazu: Sushi • Grill • Sake—opening early next year.
The offerings extend to the basement level where you'll find coffee places (Ya Kun Kaya Toast, Starbucks, Ah Khoo Kopi Toast), and lunch spots (Baja Fresh Mexican Grill, Break & Bake, Yolibox, Dinez and Mos Burger). And if these aren't enough, there's a food court on level 2, where Cookhouse by Koufu, Yong Tau Foo and other sumptuous options are found.
With all these said, you can bet that Marina One is a great addition to our Singapore skyline. Find out more about the offerings here.
Tatler Tip: Spend at least $20 at The Oasis and redeem $5 off your parking fee (T&C's apply).