6 Romantic Cocktails To Complete Your Valentine's Day Celebrations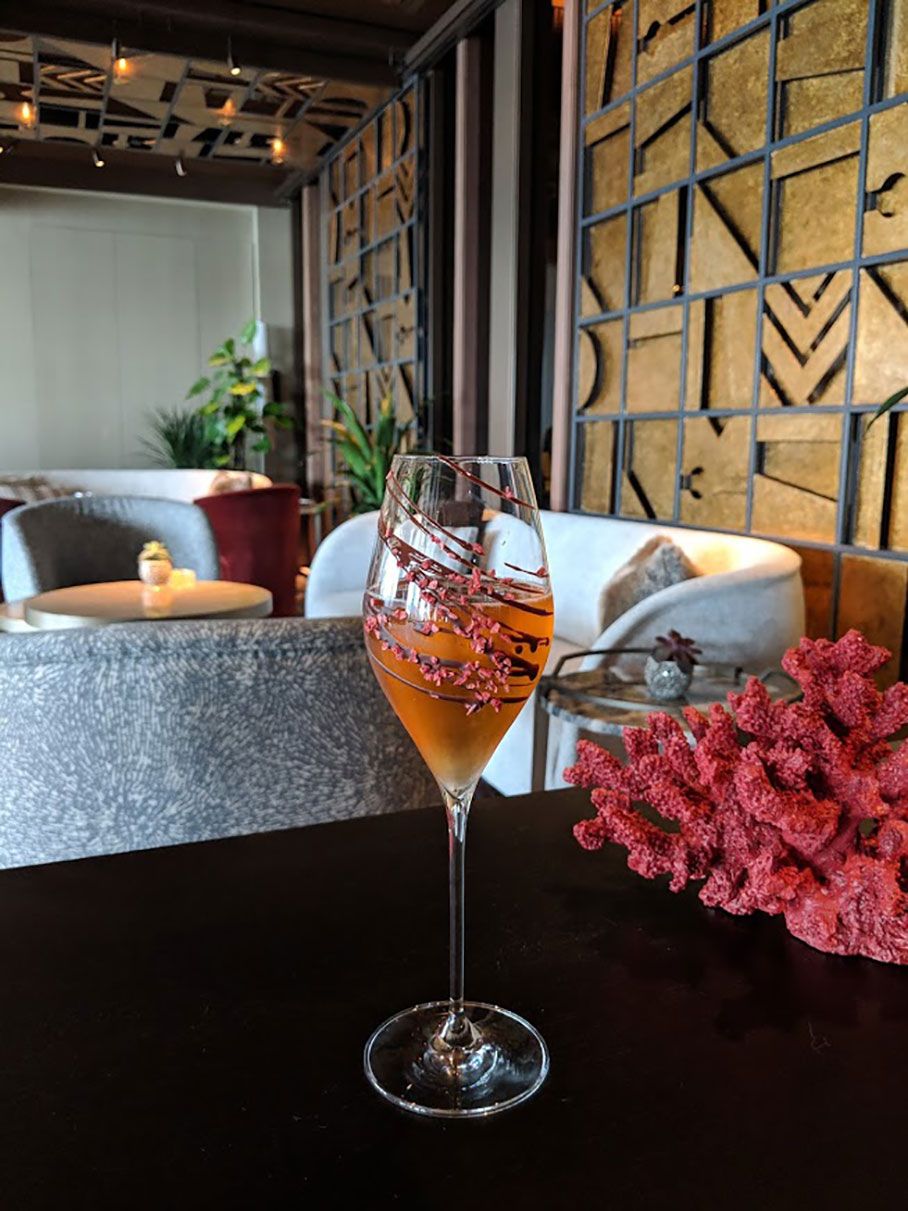 By Dudi Aureus
January 31, 2019
Whether it's a pre-dinner pick-me-up or a postprandial fix you're craving, these aphrodisiac creations will surely put you in the right mood
As a prelude to an evening of romance and fine dining, hitting the bar for any one of these specially-concocted cocktails is highly recommneded. Best of all, if you're still contemplating where to head to for an intimate repast, the option to stay for dinner dine is on the table. Either way, these delicious love potions are worth savouring anytime you feel like an alternative to the traditional nightcap. You can thank us later.
(Related: The Hunt For The Perfect Chinese New Year Tipple Is Over)
1/6 Bed of Roses
Azlam Kadir, head bartender, Mitzo
Why drink it "It's the perfect date night drink as one of the main ingredients is red dates mixed with Aphrodite bitters, which is said to have aphrodisiac qualities. When combined with Carpano Antica formula and Campari, and topped up with prosecco, the Greek god/goddess of love in you will be awakened!"
Warning One is not enough, lah.
2/6 Champagne Times Two
Michele Mariotti, head bartender, Mo Bar
Why drink it "Champagne is often associated with love, and with Champagne Times Two, we decided to take it to a much more concentrated level. Refined and elegant, it's made with brioche and caramel-infused cognac, chocolate bitters and champagne, and garnished with grapefruit salt. Perfect for male and female guests."
Warning Consume in a fully airconditioned room, as this takes the heat up a notch.
(Related: 7 Of The Rarest Champagnes In The World)
3/6 My Funny Valentine
Rusty Steven, beverage manager, Skai Bar
Why drink it "This is a refined and romantic version of the classic lychee martini, which I crafted to give guests a unique experience while keeping the familiar flavours. It's a refreshing concoction of Codigo Rosa tequila, lychee, vanilla, rose, lime and clarified milk, topped with a delicate hibiscus tuile, courtesy of our pastry chef, Koo Jee."
Warning Tequila makes people fall in love instantly.
4/6 Blush of Roses
Andrew Loudon, head bartender, Tippling Club
Why drink it The aptly named cocktail is an amalgam of rose, grapefruit and dry maraschino cherry liqueur, which head bartender Andrew Loudon says combine incredibly well with each other, allowing the botanicals in the gin to shine through. "These (flavours) are balanced out with fresh citrus and then charged with a splash of soda water," Loudon adds. "The cocktails blush pink colour and the contrast of a red rose and candied grapefruit garnish combine to make the drink as visually stunning as it is from a taste perspective."
Warning Not a recommended replacement for a dozen roses.
(Related: V-Zug Debuts Its First Fine Dining Restaurant In Singapore)
5/6 First of Summer
Dave Balidoy, bartender, Adrift by David Myers
Why drink it "The vodka-based cocktail literally turns on the heat with the addition of jalapenos, but the watermelon lends a natural sweetness for a thirst-quenching finish. The fruit is naturally rich in non-essential amino acid citrulline, which dilates blood vessels and stimulates blood flow, making it one of the best choices for a nightcap."
Warning Watermelon is Viagra in fruit form, so drink up ladies and gentlemen!
6/6 Wô Aì Nî
Lilliyin Ederle, bar manager, table65
Why drink it "I took inspiration from the classic gin-based Bijou, created by Harry Johnson, but made it my own by replacing gin with bourbon and adding Bulleit Rye, Chartreuse and Antica Formula Carpano Vermouth. Plus, the name says it all: 'I love you'."
Warning This cocktail is all about temptation and desire of sensual love.
(Related: How Singapore Restaurants Keep It Interesting In A Competitive Dining Scene)