Jim Thompson Thai Restaurant & Wine Bar Brings the Complete Thai Experience to Singapore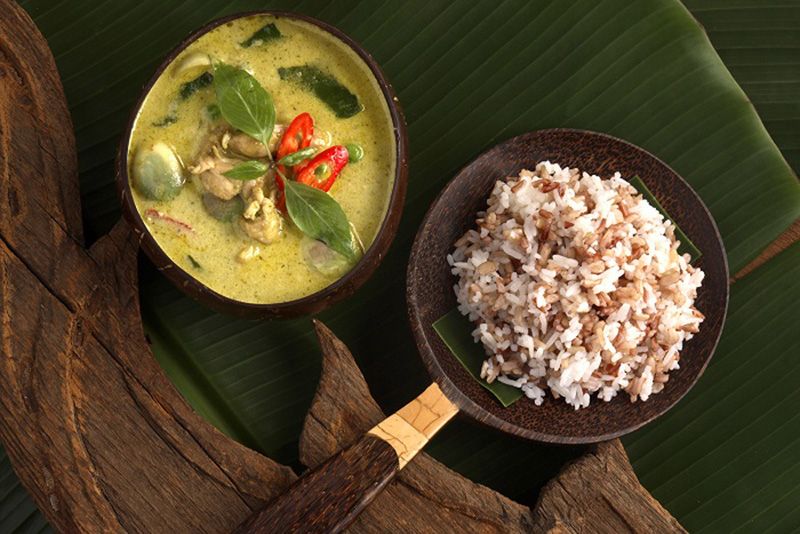 By Dudi Aureus
August 18, 2016
The stalwart in Thai fine dining tempts us to revisit the restaurant soon with its monthly specials, refreshing cocktails and signature dishes.
The great Wolfgang Puck said that in today's competitive F&B dining scene, it's not enough that restaurants serve sumptuous food. They have to offer a memorable dining experience—from the food, setting down to the service. That idea might resonate with you when you visit Jim Thompson Thai Restaurant & Wine Bar for sublime food and refreshing tipples.
Situated in the secluded Dempsey Road, the restaurant gives you some sort of sanctuary away from the maddening CBD crowd. It also invites you to just chill with friend in its al fresco area replete with comfortable chairs and tables.
We all know how harsh the weather can be in Singapore, so if it's too hot and humid, you can take refuge inside the main dining room. The interiors look more like a classic provincial house with high ceiling, huge fans and big, cushy furniture. Completing the look are Thai artefacts decked on the walls and at the bar.
When you've finally settled in your seat, check out the menu and salivate on the extensive selection of Thai dishes. Yes, it's quite hard to choose what to order so we advise you to start with the chef's specials. For the month of August, Thai chef Jarutus Aumpha (or Joe) and his kitchen team have introduced four new offerings that are hard to resist.

Thompson garee pup
To start with, have the Thompson garee pup or Thai style samosa curry puffs, which are golden triangles of deep-fried goodness filled with creamy smooth sweet potato mash, studded with minced chicken and onions, and enhanced with curry flavour. It's so easy to munch on these, but it can get quite heavy on the palate. Best pair it with the Thai basil sangria, a signature drink concocted with dry wine, brandy, orange juice and basil syrup. It's light and refreshing, and serves as a good palate cleanser for the next course.

Thai basil sangria
Another must-try is sure to spice up your night; the phad pak boong gai grob is a piquant dish of stir-fried morning glory that may be too hot to handle for ordinary palates. Deep-fried chicken pieces sit atop the vegetables, but they don't do much to temper the heat. If you can handle more alcohol, the tipple of choice is the Jim Thompson mojito infused with lemongrass, mint and lime.

Jim Thompson mojito
Other dishes on the chef's special are good for sharing: the salad kaek prepared with fresh vegetables and elevated with the addition of ingredients such as tofu, chicken satay and egg; and the pla thod sam si, which comes as a huge piece of seabass that's deep-fried and enlivened with green and yellow curries and sweet chilli sauce.

Gaeng khew wan gai
Jim Thompson has established itself as a stalwart in Thai fine dining, so your meal here won't be complete without signatures such as gaeng khew wan gai or green curry with chicken (you can also order it with beef or prawns). It comes in a golden pot heated by a candle below to ensure that it remains warm throughout the meal. The sauce is thick and redolent with flavours of curry and coconut milk. Soft chicken pieces are generously added, together with Thai eggplants and fresh basil leaves. The staff recommend enjoying it with a glass of sauvignon blanc to perk up the taste.
You can't go wrong with the pad Thai here, too. Served in a huge portion, the glass noodles topped with meaty prawns have that distinct 'wok hei' flavour and served with a side of fresh bean sprouts and peanuts.

Thai coconut ice cream
Down to the dessert, the restaurant delivers with its mango sticky rice and classic Thai coconut ice cream served in coconut shell. The former is sensational with its sweet mangoes and sticky rice, while the latter is cold and refreshes the palate after all that spice.
When it comes to the food, Jim Thompson Thai Restaurant & Wine Bar has got it in the bag. But the staff go beyond that with a full Thai experience: the Thai traditional dancers weave through the crowd quietly and the service staff take care of you until you walk out the door.