A Taste of Home: Daniel Boulud on Finding Authentic French Flavours in France and New York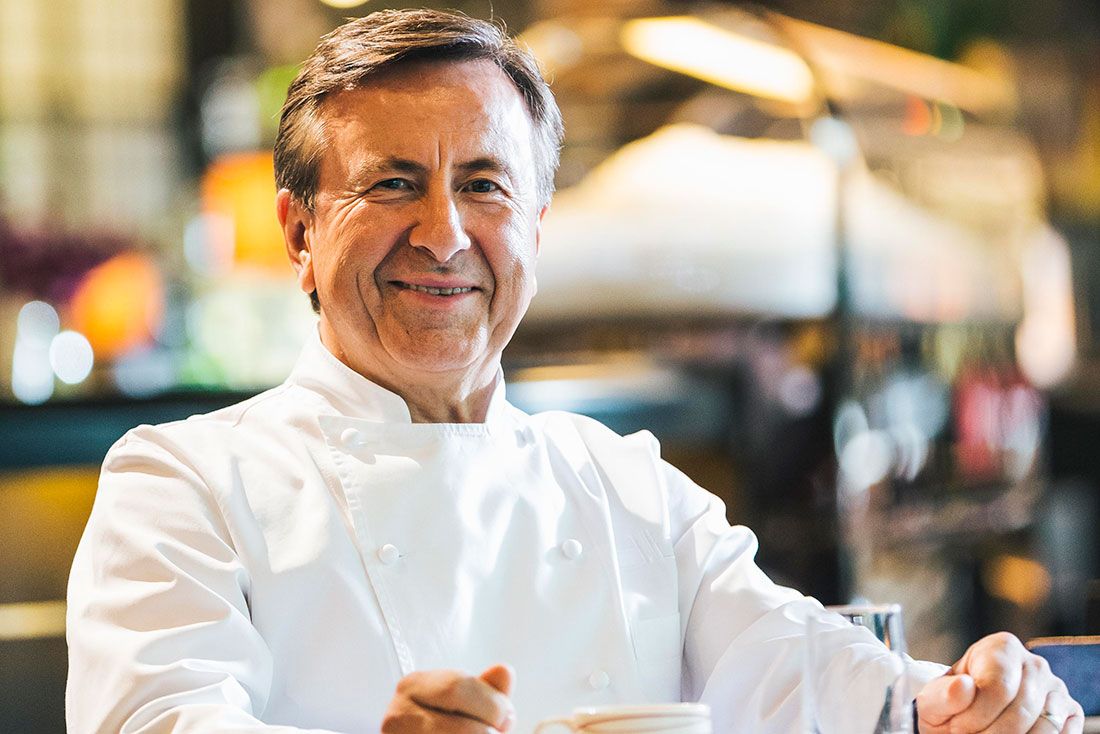 By Dudi Aureus
June 08, 2021
The celebrity has been based in the US since the 1980s and while he built his empire of restaurants across the globe, he can't help but miss the flavours of his childhood
Daniel Boulud is one of the most celebrated chefs of our generation, having built a successful restaurant empire with outlets in the US (where he is currently based), Canada, Dubai and Singapore. His decades-long career has seen him pen a number of culinary books, win James Beard awards multiple times, earn coveted Michelin stars and World's 50 Best Awards distinctions, and mentor chefs who would become renowned culinary figures of their own. But instead of resting on his laurels, he keeps going because of his love for food and passion for culinary excellence which began at an early age.
Raised on a farm just outside Lyon, France, Boulud's childhood was spent raising livestock, making cheese and charcuterie from scratch, and eating delicious dishes cooked by his food-loving family. This inspired him to quit school at the age of 14 and work in a small-town restaurant, which would be the beginning of his stellar career whose milestones include working at Michelin-starred establishments in France, moving to the US in 1981 to work as a private chef for an ambassador, and helming Le Cirque in New York as its executive chef one year later.
His biggest break came when he opened his eponymous restaurant in 1993 and introduced gourmands to his novel style of cooking—elevated French cuisine that is grounded in the rhythm of the seasons. From this point, he built his empire whose concepts varied from bistro-style cuisine to Mediterranean-focused fare. These take cues from his food memories growing up in France, working in the US, travelling the globe and dining at the best restaurants.
Related: Waku Ghin at Marina Bay Sands Singapore Re-Opens its Doors After a Major Facelift
What do you miss most when you are away from France or haven't been back for a while?

Daniel Boulud (DB) When I am away from France, I truly miss touring the Burgundy and Rhône regions for the wines and visiting all of the best winemakers.
What is the first dish you eat when you return and where do you go for it?

DB Each time I return home, I never miss the opportunity to have the poached chicken with truffles in pig bladder at Paul Bocuse in Lyon.
Do you have a favourite restaurant in France for fine dining and more casual experiences?

DB How do you choose? There are so many fantastic restaurants in France, but for fine dining, definitely Maison Troisgros in Ouches, and L'ami Jean in Paris for a more casual meal.
If you have visitors/guests with you, where do you ensure you always go to give them a real taste of France?
DB For a taste of France in New York City, I bring visitors to my restaurants Bar Boulud, a wine bar with Lyonnais and bistro cuisine; Boulud Sud for Mediterranean cuisine; and Daniel for creative and seasonal cuisine, exceptional wines and service as you would find in France.
Where do you like to meet up with old friends for food/drinks?
DB I love to meet up with friends at Crown Shy and La Veranda in New York City. In France, meeting up with friends at Le Comptoir is always great.
Do you have a favourite bar and/or café in France?
DB In Paris, The Bar Hemingway at the Ritz. In New York City, Bemelmans Bar at the Carlyle Hotel.
Anywhere else that you never miss visiting when you are back?
DB I always make a point of visiting Guy Savoy in Paris.
What do you always take back home with you when you leave France?
DB I never fail to bring back some saucisson de Lyon, a dried cured pork sausage from the region of Lyon, and delicious charcuterie from Gilles Verot in Paris, the best charcutier in France.
Where do you go to find authentic flavours of home where you live?
DB To get a taste of home, I go to Gabriel Kreuther Restaurant in New York City for an authentic Alsacian taste, or to Balthazar Restaurant for a fantastic steak-frites like in Lyon.